Share This:









As we approach the 10 year anniversary (next year) of the 17 Winchester Super Magnum cartridge release, there are still shooters/hunters who are wondering why there is not a great bolt-action rifle available for this incredible cartridge? With the rise of .22LR rimfires in competition shooting and the expansion of high quality rifle availability, those of us who shoot the 17WSM have been asking ourselves why we've been left behind by rifle manufacturers. The need for a high-quality, incredibly accurate, bolt-action rifle chambered in the 17WSM cartridge has been answered. Primal Rights introduced their exclusive 17WSM TS Customs/RimX, bolt-action rifle last year and after reading the specifications of their build, you can see that they have included only the highest quality components in their search for the best accuracy possible. The question I will be answering in this article and in the accompanying video, is this: Is the Primal Rights 17WSM the most accurate 17 WSM made?
The question I will be answering in this article and in the accompanying video, is this: Is the Primal Rights 17WSM the most accurate 17 WSM made?
Primal Rights and Varminter Magazine: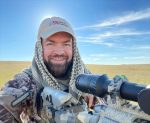 Greg Dykstra, the Owner/President of Primal Rights, has spent years perfecting accuracy for hunting and competition shooters. Through his advanced reloading tools and custom rifles built to his exacting standards, he has made it his mission to allow his customers to achieve superior accuracy by offering only the best products to his customers. Now all this may sound like a motivational speech, directed by powers outside of Varmint Magazine's purview, but rest assured, these opinions are given to you buy someone who has vetted out a few of his products and used one of his custom rifles for almost a year in the field. When it comes to varmint hunting, Greg is one of us. He spends a lot of time in the field testing his rifles on prairie dogs and coyotes, before they are released to the market, which is extremely important. Here at Varminter, we believe that field testing is necessary to prove out products that are developed in board rooms, manufactured in factories and tested in climate controlled, indoor ranges, with zero time seeing sunlight. Greg is a hunter and shooter, therefore everything that Primal Rights builds has been shown to perform, long before it leaves their headquarters.
Greg and I follow each other's companies on social media, so when I received a message from him asking to speak to me about this project, I did not hesitate. As we spoke on the telephone, he explained to me the background and development of the 17WSM rifles. He had chosen the components with purpose and worked with an excellent gunsmith (Travis at TS Customs), to bring this project to fruition. After hearing everything about the rifle build and his testing in the field, I was sold. He and I agreed on getting us one of the 17WSM rifles and allowing to test it at the range and during some hunts over a few months.

Components and Specifications:
The components for the Primal Rights 17WSM rifle build are a who's who of top manufacturers. Nothing was over-looked when putting this rifle together. Nothing.
Components / Specifications:
Zermatt Arms RimX Action
Lilja 9-twist .17 Barrel, 20″ length, Threaded 1/2×28 w/cap, Cerakote black
McMillan A3A Edge (carbon fiber) Stock
McMillan Molded-In Carbon Ambush Patterns
McMillan LOP Spacer System & Soft Recoil Pad
TS Customs Adjustable Cheek Piece Hardware with QA Knob
Flush Cup Sling Mounts Front/Back & Left/Right
Hawkins Precision Bottom Metal
Henderson MLOK Rail Flush-Mounted in Forearm
Triggertech Diamond & Special Triggers
Typical Weight – 9lbs
OAL w/20″ barrel & spacers – 40″
As you can see, the components within this rifle are from companies with years of history in the custom rifle, varmint hunting and competition shooting world. Everything was perfect in fit and finish and was literally the first rifle I've ever received where I didn't feel like it was lacking in any way. When I knew the rifle was on the way, I felt that one of the traditional riflescopes I used would not be sufficient to really prove out the accuracy of this rifle. Therefore, I decided the rifle needed a high-end, dedicated optic that would not be a variable I would have to worry about in the field. I decided on a Zeiss Conquest V6 5-30x50mm riflescope. This choice turned out to be a perfect match for my needs while shooting groups and hunting.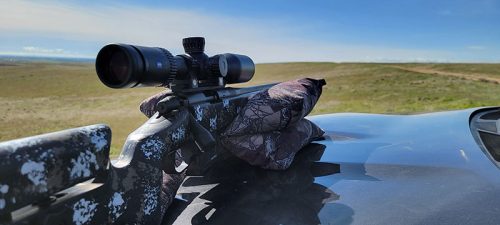 Accuracy Report:
If you've seen our Instagram posts over the past 4-6 months, you have seen me complain about the ridiculous wind we had all spring here in Idaho. This is not your typical "it's just spring in Idaho" wind, this was an almost daily 15mph-30mph wind that did not give us any relief! Even with the wind, I spent a great deal of time shooting groups with this rifle. The first groups I shot out of the rifle at 100 yards, was captured during a live video where I walked up to the target and explained to everyone what I was looking at. Too say I was impressed is an understatement! They were amazing (see 2:35 in the video – sorry about the gum chewing)!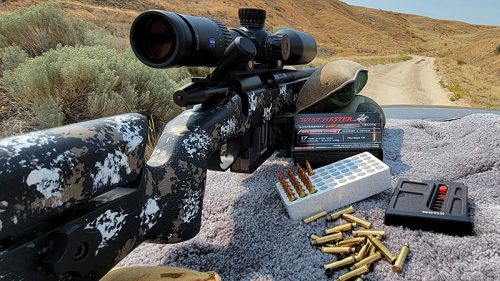 While testing the accuracy of the Primal Rights 17WSM, I shot both Winchester ammunition and the American Eagle branded ammunition (all 17WSM ammunition is currently being made by Winchester). I focused on the 20 grain bullet offering because my experience has shown that it is more than capable of cleanly killing any colony varmint in the Western United States. I shot five total #5 shot groups of each lot used. My groups were 5-shot groups at 100 yards, resting on bags from the hood of my parked vehicle (legal in the State of Idaho). The following were my results:
American Eagle – 20 Grain Ammunition (one lot average):
Smallest: 0.251″
Largest: 0.568″
Average: 0.382″ – 5 Group Average
Winchester – 20 Grain Ammunition (three lot average):
Smallest: 0.386″
Largest: 0.620″ (windy day)
Average: 0.458″ – 15 Group Average
Winchester – 25 Grain Ammunition (one lot average):
Smallest: 0.468″
Largest: 0.682″
Average: 0.631″ – 5 – Group Average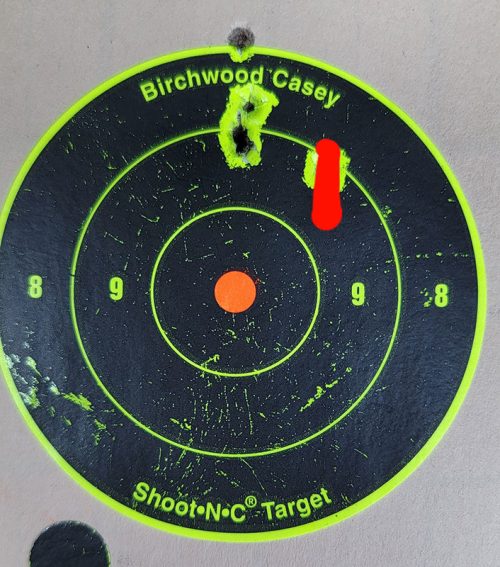 This is a total of 25 groups, 5-shots in each group. Not only do the numbers on the 20-grain offerings show GREAT results, the consistency is AMAZING!! Remember, the biggest issue we have had with other rifles in the past has been the consistency of our groups. If I remove the three largest groups shot with the Winchester 20 grain ammo, which were all shot on a windy day, then the average for that ammunition drops to just 0.324″. That is a three lot average, meaning I shot those groups using three different boxes of ammunition, all manufactured at different days/times. This is accuracy AND consistency I have not seen with any of my #14 other rifles chambered in the 17 Winchester Super Magnum cartridge.
This is accuracy AND consistency I have not seen with any of my #14 other rifles chambered in the 17 Winchester Super Magnum cartridge.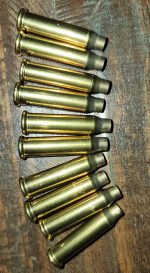 After I shot each group, I inspected the brass to check for cracks, or excessive pressure signs. There were none. In fact, the brass was amazingly clean around the neck and shoulder. Anyone who shoots a firearm chambered in 17WSM can attest to the excess soot found on the cases after shooting. While the majority of soot on and around your fired case necks can be caused by low pressure, poor/lack of annealing, or the brass not filling the chamber, I have long suspected a chamber that is slightly out of spec (larger). This is not a proven fact, but it does show that the Lilja barrel Primal Rights is using on their 17WSM rifles has a consistent chamber. Let me add a comment about the Trigger Tech trigger. Many of us know the pain of shooting a poor trigger in our Savage B.MAGs, or the added expense of an aftermarket trigger for the Rugers and Franklin Armory rifles. The combination of the Trigger Tech trigger and the Zermatt action is excellent for a light, crisp break that we don't typically find right out of the box. A great trigger can really make a rifle shine and it certainly does in the Primal Rights 17WSM.
The Hunt Report:
I spent many hours in the field pursuing varmints with the Primal Rights 17WSM. Many were solo hunts, so the shots are not featured in the video. During that time, I was able to kill a marauding Badger at 113 yards, Pigeons at 105 & 164 yards and numerous Ground Squirrels at distances that ranged from 107 yards to 288 yards. Based on the accuracy, for the field/hunt testing I decided to shoot both the Winchester and the American Eagle branded ammunition. Setting up and shooting varmints with this rifle really was an enjoyable experience, as you'll see in the video when both Cache and myself had a turn behind the trigger.
For the hunt video, we focused on shooting rockchucks on a farm/ranch that was in desperate need of controlling their population in areas that would not be ideal to hunt with larger centerfire rifles. Although our shots were only from 100 yards to 126 yards, many of the shots required precise placement to allow for recovery and removal from the edge of the pastures. I shot first, then Cache took over and shot the rest. It was his first time shooting this rifle and he enjoyed it quite a bit. With my Griffin Optimus Micro suppressor, the Rockchucks stayed active, even while we shot the same pile of rocks. Check out the video for the full hunt.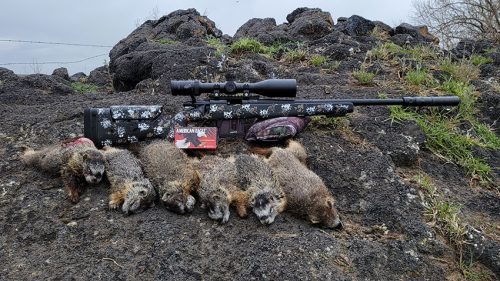 Conclusion:
To answer the original question, the Primal Rights 17WSM is now the most accurate 17WSM rifle I own. Over the first nine months I had this rifle in my possession, I shot over 600 rounds and carried it almost everywhere I went. I was so impressed by its accuracy and functionality, I ended up selling some of my other 17WSM rifles, including two unfired Volquartsen rifles, to help fund my purchase. To me, this is a legacy rifle. One that you use until you wear the barrel out, rebarrel and start again. This rifle will stay in my collection until I pass away. After that, a deserving grandchild will be the recipient. Who knows, maybe he, or she, will be writing an update to this original article in thirty years! For more information, head over to http://primalrights.com/ and check out the options, or call Greg and chat with him about this project and how you can get one for your collection.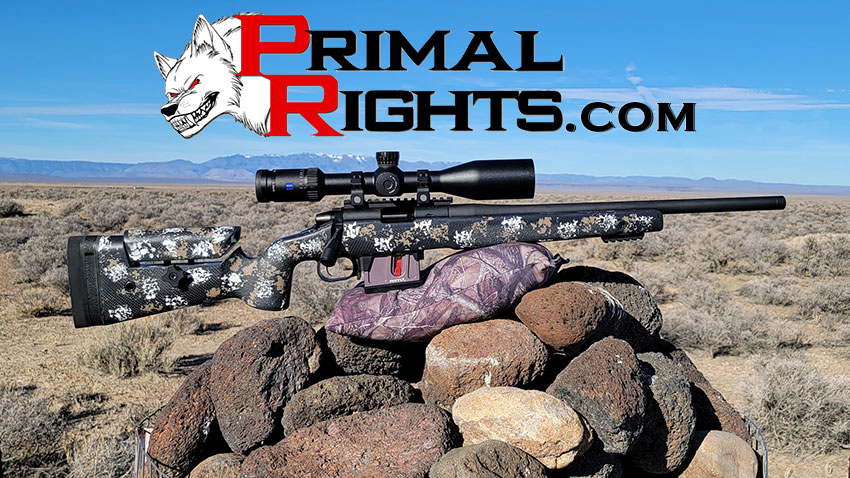 Latest posts by Eric Mayer
(see all)
Share This: