Share This:









As we reported on April 23, 2022, CZ-USA issued a warning to stop using the new CZ Model 600 bolt-action rifles immediately. Today, CZ-USA announced a RECALL of their Model 600 bolt-action rifles on their CZ600Recall.com site, stating the following:
CZ-USA has recently learned of a potential safety issue with the CZ 600 bolt-action rifles. CZ-USA is voluntarily initiating a recall of these rifles to protect the safety of its customers because of the potential for a catastrophic failure if the barrel is not installed correctly.

To prevent the possibility of death or serious personal injury, you should immediately stop using your CZ 600 rifle and not load or fire it until it has been returned to CZ-USA to be inspected and modified.

CZ 600 rifles were designed to allow the users to replace the barrels themselves to change the caliber. CZ-USA has learned that if the barrel is improperly installed, it is possible that the rifle could still be fired, but potentially result in a catastrophic failure. CZ-USA will correct this issue by permanently installing the barrels in CZ 600 rifles. As a result, the barrels on CZ 600 rifles will no longer be interchangeable. CZ-USA understands that this solution may not be acceptable to some of our customers, in which case we will issue a full refund upon presentation of a valid receipt for the purchase of your rifle.
There are instructions how to check your serial number, then start a claim. The option is to have the factory permanently affix the barrel, or request a refund.
This means the much-touted feature of allowing users to interchange barrels and boltheads in the Model 600 rifles, is the cause of this recall. Unfortunately, this is one of the big selling points of the Model 600! This recall includes all of the Model 600 styles (Alpha, Trail, Range and Lux). We will be contacting CZ to try and gather more information on this recall. Our #1 question is whether there is anything that needs to be done to rifles that are out in the market and only have the factory installed barrel. This is very disappointing to us and we will keep you updated.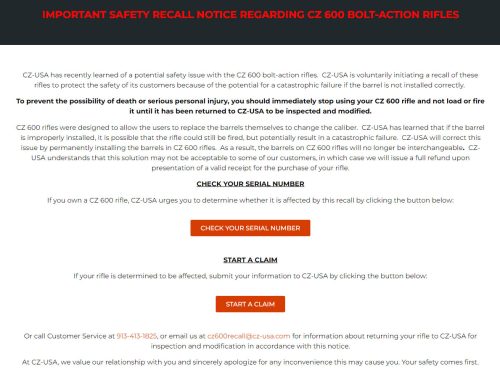 Latest posts by Varminter Magazine
(see all)
Share This: