Share This:









The first installment to our Fireball Projects. We will be discussing the simple to build, budget friendly, .17 Fireball AR15, created with a Deadshot Barrels – 18″ barrel. In this article, we will discuss the project. List the suppliers for each of the parts and include links to budget friendly AR15s that can be used to build out your own AR15 chambered in the .17 Remington Fireball cartridge.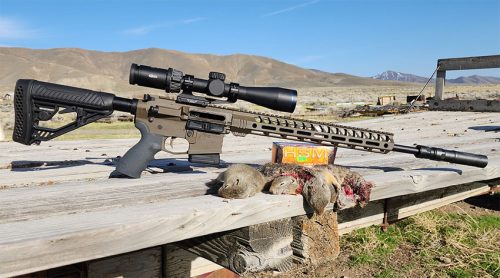 The AR15 Rifle Build and Barrel Manufacturer:
The AR15 used for this project was put together using a billet upper/lower that was purchased about 4 years ago for $125.00. Obviously, those prices aren't available today. But, many of us have an .223/5.56 AR15 laying around that isn't used too much. Also, companies like Palmetto State Armory have released decent AR15 complete uppers and lowers for pricing unheard of just a year ago. Let's break it down (these items were purchased on sale at various times in the past few years).
$125.00 – Freedom Flag Products AR15 Upper/Lower set
$160.00 – Founding Fathers Armory 14.7″ Handguard
$ 60.00 – PSA / Toolcraft .223/5.56 Bolt Carrier Group
$250.00 – Deadshot Barrels – 18″ AR15 .17 Fireball Barrel – 1-10″ Twist Rate (see copy of sales order below**)
$ 99.00 – CMC 3.5lb Trigger
$ 30.00 – Adaptive Tactical EX Performance Adjustable MILSPEC Stock w/ Buttpad
$ 23.00 – Ergo AR15 Grip
$ 40.00 – AR15 Upper/Lower Parts Kits
$ 13.00 – Magpul AR15 5.56 Magazine – #10 Rounds
$ 23.00 – Standard Charging Handle
______
$823.00 – Total Build Cost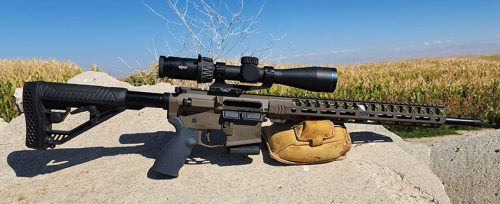 Some of you may start off by asking how an $823.00 AR15 could be considered "budget friendly". Considering the cost of a custom, or rebarreled bolt-action rifle, the $823 is actually about $500 less than a B/A rifle. But, let's look at this two other ways. First, with an AR15 chambered in .223/5.56 that you already own. Second, with today's available AR15 products.
Using Your Own .223/5.56 AR15 Rifle: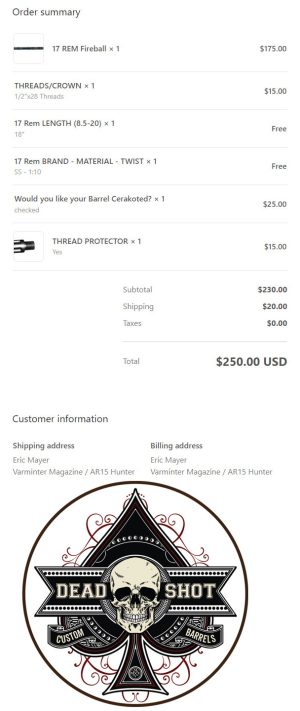 If you already have a .223/5.56 AR15 at home, your cost will only be the Deadshot Barrels .17 Fireball AR15 barrel ($250). Every other component of your current .223/5.56 AR15 will work with your new .17 Fireball barrel. However, I highly recommend an adjustable gas block, so you can tune it perfectly with, or without a suppressor. This is the simplest and cheapest way to get into a .17 Fireball rifle.
$250.00 – Total Build Cost – Deadshot Barrels – 18″ AR15 .17 Fireball Barrel – 1-10″ Twist Rate (Cerakote and Thread Protector Included)
——————
Using Today's Available AR15 Products:
This is going to be very easy to explain. Companies like Palmetto State Armory (PSA) are now offering their AR15 complete upper and lower sets at prices not seen in years. PSA AR15s have been shown to be quality rifles that perform well, even with the lower cost. Here is an example of the pricing:
$300.00 (on sale) – PSA 16″ MID-LENGTH 5.56 NATO 1:7 NITRIDE 13.5″ LIGHTWEIGHT M-LOK UPPER with Bolt Carrier Group & Charging Handle
$110.00 (on sale) – PSA AR-15 COMPLETE LOWER MAGPUL MOE EDITION, NO Magazine
$ 13.00 – Magpul AR15 5.56 Magazine – #10 Rounds
$190.00 – Deadshot Barrels 18″ .17 Fireball Barrel – 1-10″ Twist Rate (no Cerakote, or thread protector)
______
$613.00 – Total Cost (before shipping and FFL fees)
——————

Range and Accuracy Report:
Although I intend to handload for this AR15 in the future, I try to do all testing with factory ammunition. Right now, the only two companies currently offering factory ammunition for the .17 Remington Fireball is HSM Ammo (Hunting Shack Munitions) and Nosler, Inc. Remington Ammunition shows that their factory ammo will be available soon, but that did not come to fruition while I was working with this rifle. I tested both the HSM Ammo, loaded with the 20 grain Hornady VMax projectile and the Nosler Varmageddon Ammo, loaded with the 20 grain FB Tipped Varmageddon projectile. (AmmoSeek.com is a great place to search for available ammo. We am not paid by them. It is just a resource that I use.)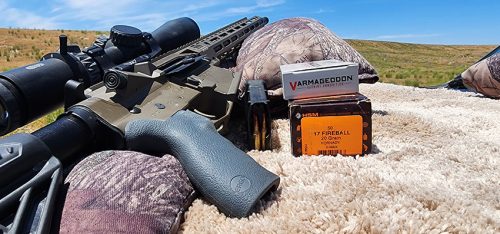 Velocities out of the 18″ barrel in my AR15 were in the 3668 (Nosler) to 3820 (HSM) range, with the HSM Ammo having the edge on velocity. Groups were all very good, from original barrel break-in to my last 100 yard groups shot a week ago (see below) and both ammo offerings performed extremely well on ground squirrel and prairie dog sized varmints.

If you notice, I have two of the same pictures of the last Nosler ammo group I shot. I'm not sure what happened with the "flyer" up in the bullseye, but without that one shot, the 4-shot group measures 0.380″ with the Nosler Varmageddon ammo. After all the testing I completed, this Deadshot Barrel has proven to be accurate with the two factory offerings I tried. I can't wait to develop a load using some of my own 20 grain Hornady VMax, or Nosler HPs to see how they shoot!
Hunt Report:
I used this AR15, Deadshot Barrels .17 Fireball build to take numerous varmints, of all sizes. From Badgers to Ground Squirrels, a 20 grain projectile out of this wicked .17 caliber is completely capable of making quick, clean kills (sometimes very acrobatic) on most varmints and small predators. I find it ideal for Ground Squirrel, or Prairie Dog sized varmints. As you will see in the second half of the video, many of the Ground Squirrels I shot were turned inside-out and launched up into the air. The .17 Fireball was developed to be a low cost (handloading), low report, little recoil, accurate, but energetic cartridge. It definitely holds its own against the big brother .221 Fireball! By the way, watch for the QUADRUPLE on Ground Squirrels in the video!!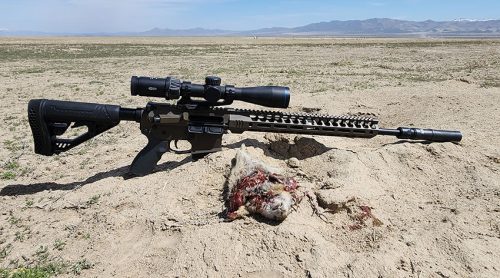 Final Thoughts:
If you are someone who has never shot a .17 Remington Fireball and are asking yourself why someone would go with this round over the other .172″ caliber based centerfires (.17 Remington, .17 Hornet, etc), then my answers may educate you, or even surprise you. The first and easiest answer is this. I like to shoot unique cartridges. I'm not going to say that the .17 Fireball is as unique as a wildcat, but it is unique for other reasons. The first unique trait is the velocity this little round can achieve. The .17 Fireball is a member of a very small group of factory cartridges that can reach 4000 feet per second with ease. With a barrel length that can provide for all the burn time for this round, you can be pushing a 20 grain varmint projectile at speeds that are devastating on varmints. The second is the ability to handload this cartridge to that same 4000 fps, with 3 grains less powder than the larger .17 Remington cartridge. This may not seem like a big deal, but what other factory cartridge can get a 20 grain projectile to 4000 fps with only 17 grains of IMR 4198? Lastly, this .17 caliber centerfire cartridge has the one thing unique to its caliber. I like to call it the "lightning bolt effect". When you hit a varmint with a small projectile, at 4k fps, with close to 800 foot pounds of energy, the results are extraordinary! Even as a seasoned Varminter, the results will stun you. It is one of the few sub-calibers that still makes me gasp on many of the hits. Watch the final slow-motion shot on the video and you will see what I mean.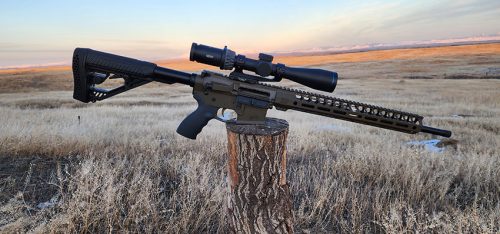 Editor's Note:
This is Part One of our Fireball Project series. We will be publishing articles on our Howa Mini-Action builds (.17 and .221 Fireball), as well as our Shaw Barrels semi-custom rifle build, so stay-tuned!
Latest posts by Eric Mayer
(see all)
Share This: