Share This:









I know what you're thinking. Why is Varminter Magazine covering a bolt-action pistol and why in 6.5 Creedmoor? The reason is this, we like to hunt with unique firearms/cartridges/airguns/etc and always jump at the chance to try something new. We've also proven before that the 6.5 Creedmoor, when loaded with the correct projectile, is a varmint's nightmare! When Eric contacted me and asked if I wanted to take over the coverage on a Savage 110 PCS pistol, chambered in 6.5 Creedmoor, I quickly said "Yes". I'm going to start this out with an admission. Until I had this Savage 110 PCS pistol in hand, I had not really hunted with a dedicated, bolt-action centerfire handgun.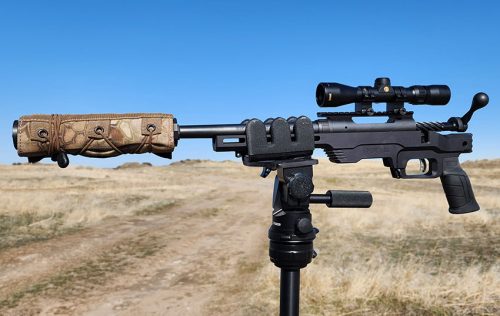 After receiving the PCS 110, I mounted an older Bushnell Elite 3200 2-6x32mm power pistol scope and a trusty Harris Bipod, for shooting off rocks at rockchucks. We have shown time and again that the 90, or 95 grain projectile in a correct twist 6.5 Creedmoor, is perfection for hunting varmints of all sizes. Because of this, I handloaded some ammo using the Nosler 90 grain Varmageddon bullets, which I would shoot along with some factory ammunition we had leftover.
Range and Velocity Report: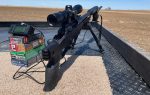 At the range, I found that shooting a handgun at 100 yards, with a 6x power, 32mm optic, was not ideal. I didn't have any other optic options at the time, so I sat down and did my best to shoot groups and familiarize myself with the 110 PCS. My groups were not terrible, with most being "minute of rockchuck/coyote". But, it seemed like the more I shot, the tighter the groups got. I was also enjoying the ergonomics of the pistol, so that contributed to these better groups.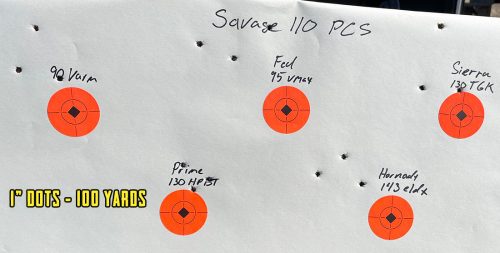 I was also pleased with the velocities. I did not know what to expect with the 10.5″ barrel on the PCS 110, but they were faster than I assumed.

Once I had my range testing complete, it was time to head out into the field for some rockchuck hunting!

Hunt Report:
There is not much I can write to describe how the Savage PCS 110 and 90 grain Varmageddon handloaded ammo performed, that the accompanying video does in full color! For this reason, I will describe the hunt from the perspective of using the PCS 110 in the field during the hunt.
Ergonomics – As stated above, the ergonomics on this pistol made it very comfortable to shoot. The MDT Chassis is a great match for this 110 PCS action and is high-quality.
Function – This pistol functioned flawlessly and the added bonus of the left-hand bolt made it easier to stay on target while chambering a round for the shot. Being that the Savage 110 action is familiar to me, it removed any user error while working the bolt.
Trigger – The 110 PCS, like all 110 actions, include the tried and true Savage Accutrigger. It is easily adjustable to your preferences and functioned well. I am a fan of aftermarket triggers, but in this case, it was not needed.
Accuracy – The groups above don't give the true accuracy of this pistol. As I stated, the more I shot the 110 PCS, the better I did. Every shot in the video was over 100 yards, with the farthest shot being 190 yards. The lack of a higher powered optic hindered what I feel this pistol is capable of achieving in the accuracy department.
Ease of Use in the Field – This is a no brainer. I used the pistol mounted to a tripod for a couple of shots, but once I moved solely to the Harris Bipod, everything came together nicely. Carrying around this 21.5″, approximately 6 pound, pistol was a breeze. When a clear shot was not presenting itself, it was nothing for me to pick-up the pistol and move 60-70 yards to another shooting position. The video shows a couple of the shots where I felt like I had to move higher to have a safer shot environment, along with a better opportunity of a clean kill shot.
Pistol Report/Sound Level – Since I had my Gemtech One mounted to the 5/8×24 threaded barrel, report from the 110 PCS was not an issue. As you will see in the video, many rockchucks stood around while I shot at others near them. The suppressor did an excellent job of cutting down the report and allowed for follow-up shots on other targets
Specifications (from the Savage Arms Website):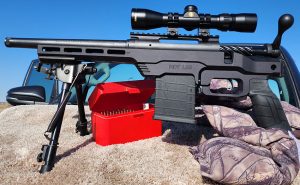 FEATURES
Carbon steel, matte black, barrel and receiver
Medium-contour 10.5" barrel, with threaded muzzle 5/8-24 (.223 Rem. threaded ½-28)
Machined aluminum, 1-piece chassis with 7" free floating modular forend with Mlok slots and Cerakote
1-Piece 0 MOA rail
Left hand bolt, right side eject
Spiral fluted bolt body
2.5-6 lb user-adjustable AccuTrigger
Picatinny rail at rear of chassis
Accepts most AR-15 pistol grips
Barricade grooves milled into the front of the magazine well
Ambidextrous magazine release and AICS Magazine
Available in: .223 Remington, 300 AAC Blackout, .308 Winchester, .350 Legend and 6.5 Creedmoor
Barrel Length (in)/(cm): 10.5 / 26.670
Barrel Material: Carbon Steel
Caliber/Cartridge: 6.5 CREEDMOOR
Magazine Capacity: 10 (I purchased and used a 5-round magazine for hunting)
Magazine: Detachable Box Magazine
Overall Length (in)/(cm): 21.5 / 54.610
Overall Width (in)/(cm): 1.68 / 4.267
Overall Height (in)/(cm): 7.25 / 18.415
Rate of Twist (in): 1 in 8 5R
Receiver Material: Carbon Steel
Weight (lb)/(kg): 5.625 / 2.55
Final Thoughts: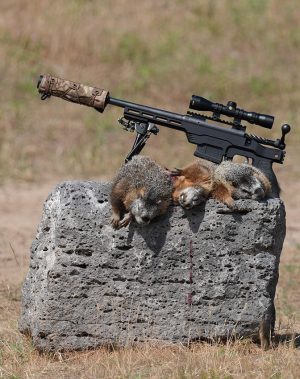 Being new to handgun hunting, I found myself thoroughly enjoying the hunt with this Savage 110 PCS pistol in 6.5 Creedmoor. Although I was initially concerned about velocities and FPE at the distances we shoot, that concern was quickly dispelled and had zero impact on the kills in the field. The 110 PCS is a great option for folks getting into handgun hunting. I believe seasoned handgun hunters will also find this to be a well built, ergonomic and accurate combo. With the MDT chassis, the expectation of a plastic stocked firearm is completely thrown out the window. Instead, you have a chassis that is from a company that specializes in making high-end products for everyone in the shooting/hunting spectrum. The forethought to go with the left-hand bolt is a huge plus and follows the path of other, higher end, custom pistols/handguns. I do not have any cons about the Savage 110 PCS we received and shot. My only suggestion is to the purchaser, which is to invest in a quality handgun optic with the most power that you can comfortably stay steady with for your shots. This will NOT be the last handgun/pistol/revolver type of article I do. I already have my eye on some other rimfire and centerfire options for the near future, because I'm sold on the challenge and fun.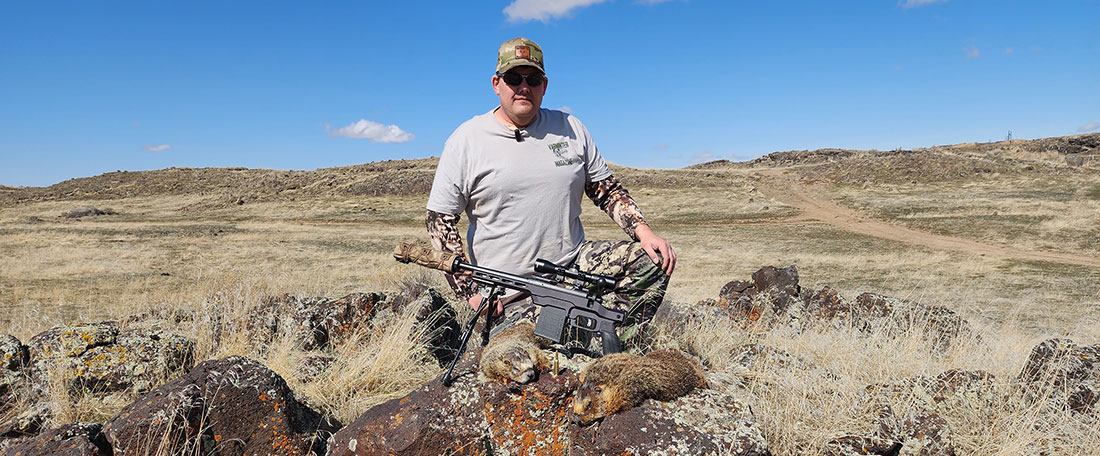 Latest posts by Cache Carlson
(see all)
Share This: