Share This:









It's important to start with a solid foundation. This is true if you are building a bridge, a house, or a custom rifle. This custom build was going to be a dual-purpose hunting and target shooting rifle, with weight being of little concern. As always, accuracy was first on my list of needs, because I planned to shoot this at distances beyond your typical varmint/predator hunting ranges. I understand that the 6.5 Creedmoor gets hated on constantly. However, I feel it is a very efficient cartridge and has solidified its place in the type of varmint hunting we do here in the West. Besides, I was already set up to reload for the 6.5 Creedmoor and had quite a bit of quality brass from Peterson Cartridge begging me to load it and take it out to the field (does your brass speak to you as well?)!
The Rifle Build:
Zermatt Arms TL3 Action:
The foundation for this build is the Zermatt Arms TL3 action. I chose this action for the number of options it offers, that fit my needs:
Interchangeable Bolt Head

Oversized Bolt Knob

Controlled Round Feed

Enclosed Mechanical Ejector

Pinned Picatinny Rail

Bayonet Style Firing Pin Assembly

2 Lug. 90° Bolt Throw

Right or Left Hand Receivers

DLC Coated Floating Bolt Head

Black Nitride Finished Bolt Body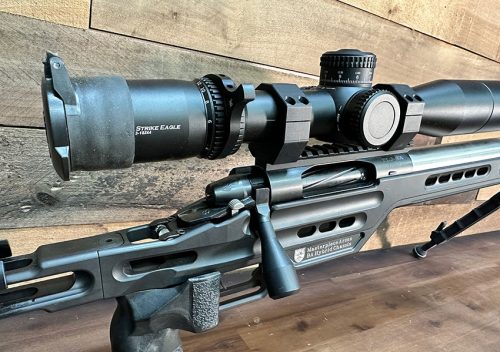 Krieger MTU Contour 1:8″ Twist Barrel:
Now that the foundation was laid with the action we needed an equivalent quality barrel. Krieger Barrels makes some of the finest barrels being produced today. I chose to go with an MTU contour in a 1 in 8″ twist. For the chambering process, we relied on the Pacific Tool and Gauge's Premium Chamber Reamer with precision ground bushing. The finished barrel length was 25 inches long.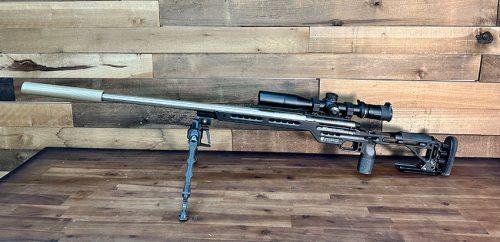 Masterpiece Arms BA Hybrid Chassis:
Next on the list was the chassis or stock, in this case, we went with a Masterpiece Arms BA Hybrid chassis. This chassis is highly adjustable to the needs of the shooter as well as being relatively lightweight.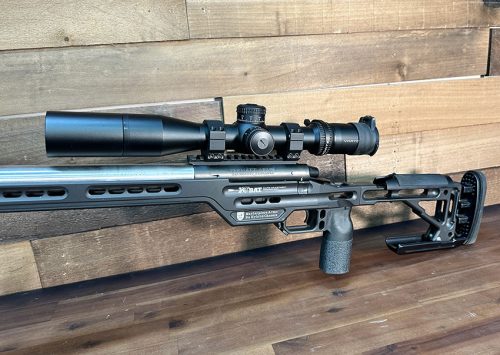 Bix N' Andy Dakota Trigger:
The Bix'n Andy Dakota trigger for the Remington 700 series of rifles brings their high performance to you in an affordable package. The design uses a searless trigger mechanism which allows for greater reliability thanks to fewer moving parts. The Dakota is user adjustable with a single screw adjustment between 1 and 4.5 pounds of pull. It also features a removable safety and bolt release and the housing can be opened for cleaning and maintenance.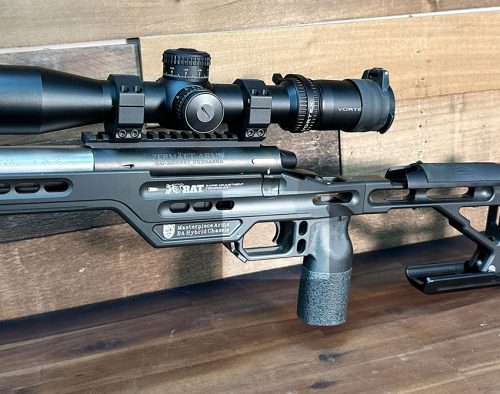 Burris Veracity PH 4-20x50mm Scope:
The optics were a Burris Veracity PH, and I can't say enough good things about this optic. I found the glass very clear and the internal display for distance is truly innovative.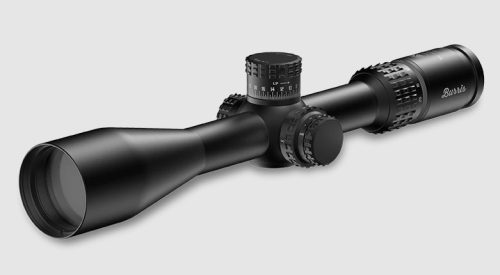 Accu-Tac PC-4 Bipod:
The bipod was one of the handful that we use from an Accu-Tac PC-4 bipod. These bipods are highly adjustable while staying rock solid.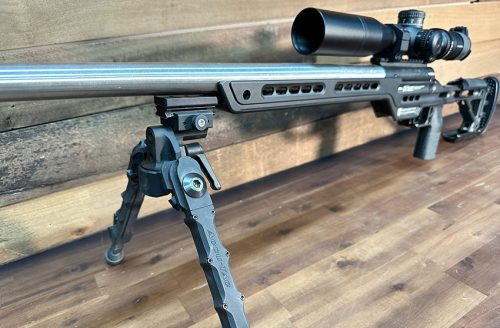 Thunderbeast Arms Ultra-9 Suppressor:
The last piece of gear was the Thunderbeast Arms Ultra-9 direct thread suppressor. The ULTRA 9 is available in .30 caliber and 6.5 mm caliber. The .30 caliber version is best for maximum flexibility for .223 up to .300 RUM. The 6.5 mm caliber version optimizes suppression performance on 6.5 mm and smaller calibers.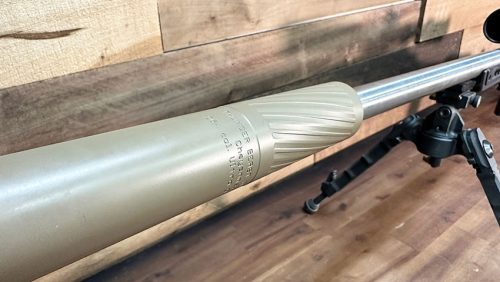 Range Report:
When the rifle was complete, I began the standard break-in procedure that I use on all new rifle barrels. This consists of a series of ten 1-shot/clean, then five 3-shot/clean, then two 5-shot/cleans. During the break-in procedure, I shot groups. I found the rifle to be very accurate with the Hornady 143 grain ELD-M factory ammo. A week later, the weather seemed to open up a good window for hunting, so I headed up to Northern Nevada with my sister in tow, to meet Eric and hit the range.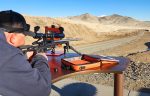 Range day started with me mounting the Burris Veracity PH riflescope onto the 6.5 Creedmoor, then zeroing it in at 100 yards. Once that was complete, I used the Labradar Chronograph to the muzzle velocity for the ballistic calculations that I would need to enter into the Burris Connect app. The Labradar gave me the average muzzle velocity of 2,762 feet per second with my handloaded Hornady 143 grain ELD-X ammunition. After transferring the information to the Veracity PH, I used the heads-up display and pushed out to the range limit of 400 yards. The Veracity PH, coupled with the 6.5 Creedmoor performed beautifully and we had first round hits on MOA sized targets for distances of 100, 200, 300, and 400 yards.
Once the range work was complete, we headed North to our hunting area. The farm we would be shooting had an influx of coyotes, due to the emerging ground squirrels in the alfalfa fields. The farmer asked us to remove some, because his closest neighbor was having issues with the coyotes attacking their sheep. Although the late morning was a bit windy, we spotted coyotes right away and in almost every pivot! The coyotes we observed were voracious and hunting the ground squirrels hard.
Our first set up was on a coyote that was out beyond 800 yards and never really showed interest in us or a call. We decided to move to another pivot, when we noticed a coyote moving in from about 600 to 700 yards out. This coyote was working steadily across an alfalfa field until she came within 327 yards and stopped abruptly, rolling her neck into the dirt (only afterwards did we realize that she was in a spot where she was marking her territory). The Veracity PH optic made it simple to continuously track the coyote as she came closer to my shooting position. After the final range was determine, it was a simple turn of the elevation turret to know exactly where the bullet would strike. After she rolled in the dirt, she stood up, giving me a clear shot. It was a very clean hit right through the vitals and she dropped instantly, with barely a quiver. The Hornady 143 grain ELD-X bullet left a large exit wound, which is exactly what it's designed to do.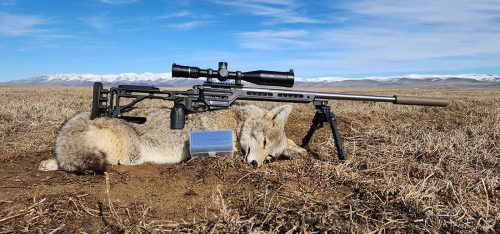 A couple of hours later, we were fortunate enough to come across a field where there was a coyote actively hunting ground squirrels towards the center of the pivot. This time the distance was quite a bit farther at over 500 yards. I moved into a prone position and started tracking the coyote. As it was hunting ground squirrels, the coyote kept on moving, not allowing for a quality shot. After a quick chase of a ground squirrel, it stopped, allowing me to range it again at 557 yards. I reached up and turned the elevation turret to the appropriate distance, made my wind call, and took the shot. It was a clean heart/lung shot, which caused it to spin a few times, then dropped dead.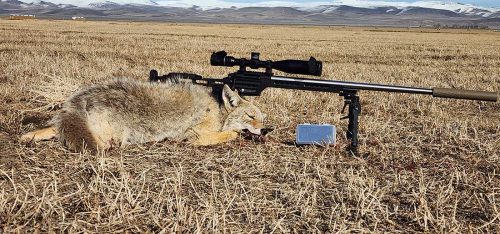 Initial Thoughts on 6.5 Creedmoor Rifle Build:
As stated in the opening paragraph, this built is meant for dual use. First, as a longer range varmint/predator hunting rifle. Secondly, as a long-range rifle for target and competition. The components I chose for this build, works well for both applications. My choice of the 6.5 Creedmoor cartridge came after years of using it in other rifles while varmint/predator hunting. Although the 6.5 Creedmoor gets a lot of hate in the hunting community, there is no doubting the fact that it has been one of the most popular cartridge sold in the past 15 years. In the past, we have demonstrated that using projectiles in the 90 to 143 grain range in the 6.5 Creedmoor can be successful while varminting and predator hunting.
"In the past, we have demonstrated that using projectiles in the 90 to 143 grain range in the 6.5 Creedmoor can be successful while varminting and predator hunting." – David Hillis
Now that my initial testing with the Veracity PH scope is complete, I will be re-mounting the Vortex Strike Eagle 3-18x44mm riflescope. Also, now that I've had a chance to use it in the field, there will be a change from the chassis to a traditional stock. The reason for this, is personal preference for both range and field work.
Initial Thoughts on the Burris Veracity PH Riflescope:
Being the first of the Varminter crew to use the Burris Veracity PH riflescope gave me a unique perspective while using it at the range, programming it and then hunting with it. This perspective comes from a background of long-range target shooting and years of varmint/predator hunting. Although this was just an initial use of the Veracity PH, I found the optic to be an excellent addition to longer range shooting out in the field. The ability to dial in quickly, without having to refer to another source of information, made adjusting my dope, on constantly moving targets, seamless.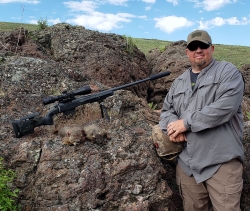 Latest posts by David Hillis
(see all)
Share This: