Share This: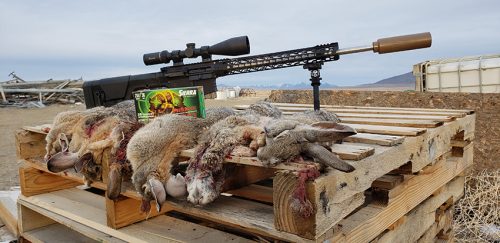 Using a suppressed .204 Ruger AR15 for cottontail rabbit hunting is probably going to get us some grief from the traditional rabbit hunting crowd, but as a varmint hunting tool it is a versatile, worthy cartridge/rifle combo for the job. You'll see what I'm talking about when you watch the included hunt video.
Cottontail rabbit hunting typically includes an accurate rimfire rifle and a still hunt in the desert, or along brushy edges. Some still stick to the shotgun and Beagles chasing them back into range, but that is normally done back east where the brush and briars are thick and difficult to maneuver. We were contacted by a farmer who was being slammed with cottontail rabbits eating out huge portions of his alfalfa fields. Anywhere the desert meets up with agriculture, tasty (and not so tasty) varmints will congregate and do immense damage. The area he was having problems bordered an area where old farm equipment, tires, piping and other items gave the rabbits a safe place to live, away from the predators that are hunting them constantly. Cottontails adapt to their environment and will live almost anywhere that gives them safe haven. Inside obsolete irrigation pipes, underneath tractor tires, inside stacks of discarded pallets and motorized farm equipment, they find a nook and turn it into a permanent home. The close proximity of this dumping area to the alfalfa made for a breeding ground for the cottontail rabbits. Most of you have heard the term, "breed like rabbits", well that was the case here.
We hunted the area last January, so it was very cold and no matter what time of day we hunted, the rabbits were on the move. We arrived in the early afternoon of January 7th and got set-up on the perimeter of the area. Our shooting zones were approximately 3/4 of a 300 yard circumference, with shot averages in the 160 – 200+ yard range. We had one, or two within 75 – 100 yards, but the majority were at the previously mentioned ranges. David set-up with his .204 Ruger AR15 build, while I manned the video camera. What we saw was amazing. There were dozens of rabbits, everywhere in front of us. Many were very wary when we arrived and had made it to cover before we had a chance at some shots, but others milled around working their way to the alfalfa field. David was using the new Sierra Bullets Prairie Enemy ammunition, that was loaded with 36 grain Blitzking bullets. I am a fan of the entire Prairie Enemy line of ammunition, but I am really hoping they begin offering the projectiles used in the this ammo as a component, but that is an entirely different discussion.
Once set-up, we started spotting rabbits for David to remove from the area. As you will see in the video, David and his .204 Ruger were efficient in killing any rabbits that gave him an opportunity. Shot after shot, he was taking them out with, what seemed like, relative ease. The flat-shooting .204 Ruger, coupled with the extremely accurate AR15 that David built, made for a perfect cottontail rabbit rifle. He also had the Thunder Beast Arms Dominus-CB suppressor mounted on his rifle. On the rare occasions that he missed, the suppressor knocking the sound out, gave him second chance opportunities that he took advantage of. As the bodies were being stacked up, there was not one case of wounding and the animal getting away. In fact, even outside of the video I recorded, only one rabbit received a graze would, but it was dispatched almost immediately.
As the day came to a close, Jake, Cache and I all stepped in to remove some of the rabbits. Jake shot his AR15, chambered in 6.5 Grendel. Cache was shooting his CZ-USA Model 550 based custom .22 Creedmoor and I was shooting my CZ-USA Model 527 chambered in .20 Tactical. All three of us made some great shots, with excellent results. Granted, some of the rabbits received more damage from our rifle/cartridge choices, but all were quick and humane kills.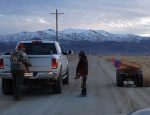 When we arrived earlier in the day, we noticed a pair of gopher trappers hitting the area hard. Their were blue and orange flags everywhere, so we knew they were trying to deal with another varmint that was causing damage. On the drive out, we met up with one of the trappers and asked him if he wanted our rabbits. He was VERY appreciative and stated that they had not eaten any meat in a while, due to being so isolated and a good 35 miles from the closest town. We hit the road for the drive home and all I could think about was how perfect the day turned out. We helped out a farmer who was having a serious issue, got video of some great shots and in the end, helped out other varminters with some fresh rabbit meat. Days like those make you forget the frustration from days that don't go so well (and there are a lot more of those)!
As promised, here is the information on the .204 Ruger – AR15 Rifle Build, as well as the specs on the Thunder Beast Arms Dominus-CB suppressor, with some thoughts from David on the suppressor.
.204 Ruger – AR15 Rifle Build Specifications:
Freedom Flag Products: Upper/Lower
Straight Jacket Armory: .204 Ruger Barrel – 22"
Larue Tactical: MBT Trigger
Magpul Industries: PRS Stock
Odin Works: Ragna Handguard
Seekins Precision: DNA Charging Handle
Larue Tactical: Grip
Burris Optics: XTR Signature Rings
Burris Optics: Fullfield E1 – 6.5×20-50mm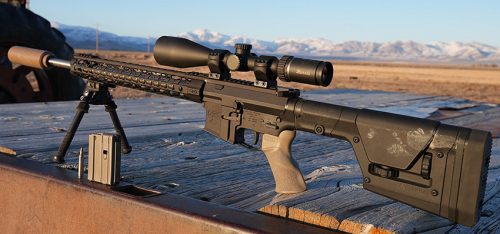 I first saw the Thunder Beast Dominus-CB at the 2020 SHOT Show when it was released to the public. The diameter of this suppressor is what first interested me. It is short and compact, weighing only 9.6 ounces and was right in line with what I look for in a hunting suppressor. The fact that it was a .30 caliber can, made it something I needed to have. I placed an order for one of these suppressors while on the SHOT Show floor and it arrived the following October 2020, which was in line with Thunder Beast Arms' estimates.
After the suppressor arrived, I mounted it on my .204 Ruger, AR15 build that was eventually used during this rabbit hunt. At the range, I found the larger can still dissipated the sound well, leaving the .204 Ruger report down to a gentle hiss at the ear. Although nothing can be done do remove the crack of the super sonic bullet, cutting down the report from the rifle is very important in varmint hunting situations. I found that the Dominus-CB made a great addition to my .204 Ruger AR15, so it stayed on this rifle through-out the winter of 2020-2021.
Rabbit Hunt:
As discussed earlier in this article, I was contacted by the farmer who needed our help removing cottontail rabbits from a few areas around his alfalfa fields. This wasn't a situation where we could come in and take them out with shotguns, or even rimfires. Do to the dense concealment that the rabbits could take advantage of, we had to set-up about 100 yards from the center of the circumference we would be shooting. Another thing we had to keep in mind, was the echo of the report within the abandoned equipment and irrigation piping, but the Dominus-CB suppressor helped reduce it. Our goal was to save the meat, because they would be eaten.
Eric spotted the first rabbit, which was hunkered down in front of some old tractor tires. He ranged it with his Vortex Fury Range-Finding Binoculars and called out the yardage. I found the rabbit in my scope and I placed the crosshairs on his neck/head and pulled the trigger. The Sierra 36 grain Blitzking hit its mark and the rabbit was instantly dead. You will see in the video, the report was minimal and did not scare off any of the other rabbits in the area. Also, as you watch a couple of my misses, you will see that the rabbits had no adverse reaction to the sound of the shot. This was 100% due to the Thunder Beast Dominus-CB suppressor. The reason I know this, as previously mentioned above, Eric and Jake shot their rifles unsuppressed and cleared out the shooting area after taking just TWO shots! It was very clear that the rabbits were sensitive to unsuppressed gunshots.
Final Thoughts:
The Dominus-CB is a superior suppressor, packed into a small package. It's lightweight, sound reducing capabilities and compact footprint is ideal for hunting situations. When using it, you don't have the feeling of a heavier suppressor on the end of your rifle. I am comparing the Dominus-CB to another suppressor I own, the Silencerco Omega 300, which is 4.6 ounces heavier. With a small caliber rifle like a .204 Ruger, the added weight and length can really be felt while in the field hunting colony varmints, rabbits and most of all, coyotes. Although the Omega 300 is an excellent suppressor, for my particular hunting needs with this and other small caliber rifles/AR15s, the Dominus-CB fits the need perfectly.
Specifications:
Maximum rated caliber:
.30 caliber, up to .300 RUM
Material:
Titanium
Length:
6.25 inches
Diameter:
1.8-inch max OD
Mounts:
CB series brake or flash hider
Weight:
9.6 ounces
Brake threads available:
1/2-28*, 5/8-24, 9/16-24, 9/16-28 3/4-24, 3/4-28, M16x1.0, M18x1.0, M18x1.5
* Note: The 1/2-28 brake has part number 223CB-BRK:1/2-28 and has a .223 caliber aperture!
Finish:
Black CeraKote; OD Green or FDE available
Brake Material:
Heat-treated 17-4 stainless
Brake Finish:
Ionbond DLC
Use:
Precision/Long-range
#204Ruger #AR15 #RabbitHunting #CottontailHunting
Latest posts by Eric Mayer
(see all)
Share This: