Share This:










Tikka has built a reputation for offering quality firearms, for an affordable price. Up until now, they have focused on the centerfire platform. However, they are now entering the rimfire market with the new Tikka T1x MTR rimfire rifle. This rifle is loaded with everything we love about their T3 centerfire rifles, in a rimfire. Unique to the T1x is the ability to place the barreled action into one of their T3, or new T3x, rifles. This truly gives this rimfire a centerfire feel, in the calibers we love (.22 Long Rifle and .17HMR). Here is our video with Miikka Tammlnen from SAKO in Finland from the floor of the 2018 SHOT Show, where he discusses this new rifle in length. The full press release and more images are located in the press release below the video:
Here is the press release directly from Tikka/SAKO:
(Accokeek, MD) January 23, 2018: Tikka launches Tikka T1x MTR, a brand new rimfire rifle to the acclaimed product range at this year's NSSF SHOT Show in Las Vegas, January 23-26. Tikka products are distributed by Beretta U.S.A.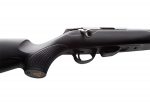 The new Tikka T1x MTR rifle is designed from the ground up to combine the capabilities needed for both range shooting and small game hunting in rough terrain. Tikka T1x is equipped to handle various shooting tasks in all weather conditions, and it's based on the T3x centerfire platform to offer the shooter the best possible user experience. The market has high demand for a rimfire with an excellent price-quality ratio.
"Responding to the high demand and requests from the market, we're now proudly presenting the first ever Tikka rimfire rifle. The brand new T1x meets Tikka's high quality standards for both usability and precision, which makes it a natural fit for the Tikka rifle family" commented Mr. Raimo Karjalainen, General Manager at Sako Ltd.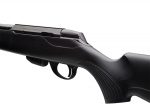 Tikka T1x MTR is compatible with the majority of T3x accessories, which allows the shooter to adapt the rifle according to their personal preferences. Also, the action of this rimfire rifle shares the same bedding surfaces and inlay footprint with the T3x centerfire rifles for an optimal experience. The cross- over profile barrel was engineered so that the rifle would offer the benefits of a heavier barrel without much added weight. We're truly proud of the Tikka T1x MTR. It's a rimfire rifle that's worthy of the revered Tikka name.

Go online and get acquainted with Tikka T1x at tikka.fi
Latest posts by Eric Mayer
(see all)
Share This: