Share This: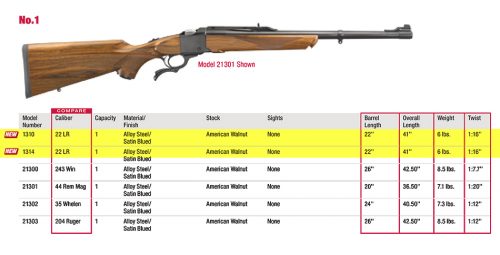 It was recently announced that Talo Distributors Inc. ordered a "Talo Exclusive" Ruger No. 1 in .22 Long Rifle rimfire for 2018.
From their website, "TALO is a wholesale buying cooperative that was started in 1965 by fishing and hunting wholesalers in Texas, Arkansas, Louisiana, Oklahoma. TALO commissions limited editions of firearms from Smith & Wesson, Colt, Glock, Ruger, and North American Arms and distributes them to stocking sporting goods dealers across the US. Collectors should contact their local dealer and ask them to order a special edition from a TALO wholesaler". This means that they can order custom rifles, like this Ruger No. 1 in .22 Long Rifle.
The Ruger No. 1 is a single-shot rifle with a strong history. Originally released in 1967, over the years it has been chambered in many cartridges that are near and dear to the varmint hunter. From classics like the .218 Bee and .22 Hornet, to more modern cartridges like the .204 Ruger and the 6.5 Creedmoor. This rifles have also been used as the base for many custom wildcat chamberings. However, to our knowledge, this will be the first rimfire Ruger No. 1 released to the public.
This new Ruger No. 1 in .22 Long Rifle can be ordered from one of the numerous wholesalers Talo supplies, but be aware that many of their commissioned firearms sell out quickly by gun owners who are looking for something unique and rare. It is recommended that you contact your local gun shop and verify that they are an ordering dealer from one of the wholesalers listed on the Talo website.
Editor's Note: You can't help but wonder what a 17HMR, 22Mag, or a 17WSM would be like in this rifle!

Latest posts by Varminter Magazine
(see all)
Share This: