Share This:









4 Minute ammo reviews are tricky. One, it's nice to keep things short and sweet, so the viewer can see the results without investing a bunch of time to get to the meat of the review. However, it also limits us to what information we can provide, while still leaving plenty of time for in field results while hunting. When CCI released their .22 Magnum with the VNT projectile in 2019, we started using it almost immediately. I like when new rimfire ammo is released, because you just don't see it that often. Although Hornady had their 30 grain VMax 22 Mag ammo, CCI did not have their own branded 30 grain polymer tipped ammunition, so they tapped into another one of the companies under the Vista Outdoor umbrella and came out with a 30 grain Speer poly tipped projectile. It wasn't a stretch to see that the new ammo with the yellow tipped projectile, had the almost the same ballistics as the Hornady ammo. This was my chance to use it and see if it also performed as well as the Hornady ammo.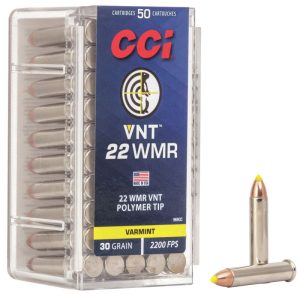 CCI VNT .22WMR Ammo Specifications (from their site):
Caliber: 22 WMR
Grain Weight: 30 Grains
Muzzle Velocity: 2200 FPS
Muzzle Energy: 322 FPE
Bullet Style: VNT
Ballistic Coefficient: .116
Package Quantity: 50, 150
Usage: Target Shooting (I'm not sure who put that in on CCI's site, but obviously it is not the main usage)
Cost #50: $22.99
Cost #150: $54.99
Firearm Used in this Report:

Savage B22 MAGNUM FV-SR Bolt-Action Rimfire:
Barrel Color/Finish: Blued / Matte
Barrel Length: 16.25in / 41.275cm
Barrel Material: Carbon Steel
Caliber: 22 WMR
Magazine Capacity: 10 (Rotary)
Hand: Right
Length of Pull: 13.5in / 34.290cm
Overall Length: 34.75in / 88.265cm
Rate of Twist (in): 1 in 16″
Weight: 5.6lbs / 2.54kg
Thread: 1/2″x28
Suppressor: Griffin Optimus Micro
Range Report:
CCI VNT .22 Magnum (WMR) – 30 Grain VNT Poly Tip Projectile:
Muzzle Velocity:
2200 FPS – Factory Listed
2198.8 FPS – Actual from a suppressed 16.25″ barrel.
Accuracy at 75 Yards:
Best: 0.597 MOA
Worst: 0.720 moa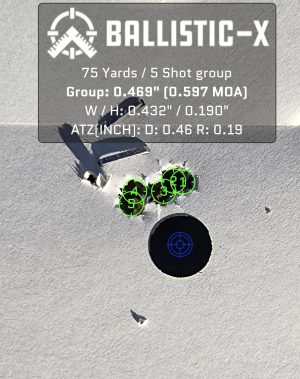 I sighted-in at 75 yards, because most of our shots during the hunt report was <75 yards. However, many shots taken at 140+ yards were calculated, taken and connected. The 30 Grain VNT ammo performed very well and gave consistent results. If you shoot a lot of .17 rimfires like I do, you will definitely recognize that any .22 Magnum ammunition is ballistic-wise, much different. If you want to extend your range, knowing your drop at 25 yard intervals is necessary.
Hunt Report: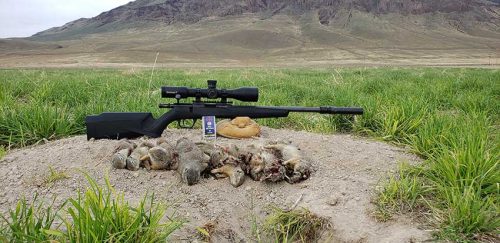 As I stated in the opening paragraph, we've been hunting with this ammunition for quite some time. Included in our video are shots from 2019, all the way up to this month (March – 2023). Through-out the time I used the VNT ammunition, I was impressed with the bullet performance on everything from Ground Squirrels, to Jackrabbits and even a few Rockchucks. They hit hard and blew up well, even on smaller varmints. The highly frangible VNT projectile was reminiscent of the Hornady 30 grain VMax's performance, but actual in-field comparisons are impossible to calculate. Because of that, we video our hunts using the ammo we are reviewing and let you see the actual results. Deciding on your own whether the damage you witness is viable for your types of hunting, or if the projectile will do too much damage to edible small game. With regards to the latter, the accuracy achieved is capable enough to place your shots strategically for little meat damage. In the meantime, we used them to hunt crop damage causing ground squirrels that are taken out with maximum performance to cause a quick kill. You will see in the video above that the VNT 30 grain .22 Magnum ammo did just that.
Final Thoughts:
I have experienced great results from almost all CCI manufactured rimfire ammunition in the past and this 30 grain VNT .22 Magnum ammunition was no different. It shot well and performed perfectly on smaller varmints, to larger Rockchuck sized critters. When this ammo was released, a box of #50 was $12.00. Now, it averages slightly above what other .22 Magnum rimfire ammo is selling for. I think the extra cost is worth trying it in your rifle, if you've been having performance problems from other .22 Magnum ammo. This ammo is a great option.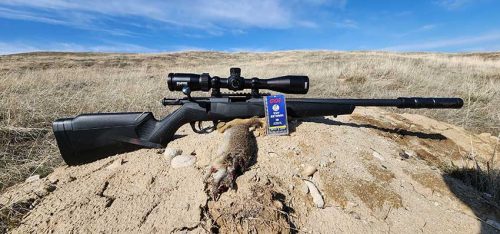 Latest posts by Eric Mayer
(see all)
Share This: