Share This:









There was lots of news and new products from AirForce Airguns at SHOT this year. First, was the news that they are now working with Rapid Air Weapons (RAW). RAW makes high-end, precision, airguns in the $1700 to $2200 range (more, depending on customization requests). They offer most of the same calibers that Airforce does, but the style of rifles are much different and geared towards target shooters and hunters.
The other news is that Theoben is now part of the AirForce family! They will be releasing new airguns and plan to bring back some of the popular, older, Theoben airguns. These two new additions to the AirForce group will expand their rifle options into two solid airgun lines. We look forward to what's coming from AirForce!
On the new product side, AirForce announced the release of their new E-Pump compressor. This compressor is designed to be portable, so you can take it with you into the field to fill your airgun directly from the compressor.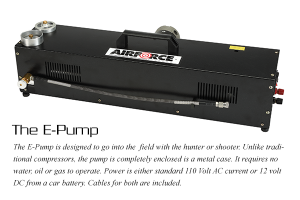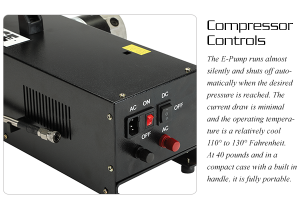 AirForce also announced a new Texan Carbine. This is a great addition to their Texan line of airguns and will meet the requests of many airgunners who wanted a powerful rifle in a more compact form.
Here are the specs from the AirForce Airguns website:
Features
.308, .357 or .457 Caliber Lothar Walther Barrels
Pressure Relief Device
Adjustable power. See our manual for more information on how to tune your rifle for the specific ammo being used.
Low Effort Side Lever Cocking
Technical Specifications:
Velocity: up to 930 feet per second*
Max Fill Pressure: 3000psi / 200 bar (Only use compressed air or dry nitrogen
Action: Single shot
Weight: 7.5lbs
Length: 39 inches
Barrel: 24.75 inches
Trigger: 2 stage, adjustable for position
Sights: Open or optical may be installed
Air Tank Volume: 490cc
Safety: Automatic on cocking
Energy: up to 400 foot pounds*
* Depending on caliber, pellet weight and power setting
Latest posts by Eric Mayer
(see all)
Share This: