Share This:









Back in the summer of 2013, Aero Precision released their Ultralight scope mount. We were lucky enough to get our hands on this mount to use on our main varmint/hunting AR. Overall we were very pleased with the unit, which offers a lot of value. However, there were some that were not happy that you sometimes had to bridge the mount over from the receiver onto your hand guards. This would normally only happen with longer, high magnification scopes, like the Hawke Sidewinder 30 Tactical SF 4.5-14×42 we tested last year. While we did not have any issues when doing this, there are many that do not wish to bridge the scope mount.
To answer this "problem", Aero Precision released their extended scope mount around the beginning of 2014. Again the folks at AP were kind enough to send us a sample to test and use on our rifle. The mount is pretty much identical to the original Ultralight in ever way, save the rear scope ring. It has been moved forward approx. 1″, which allows you to shift your scope forward a bit more. With most scopes, this should help eliminate the need to bridge the mount over onto your hand guards. They also made some small aesthetic changes, namely removing the lines that run in between the rings, along the top of the mount.
Lets take a close up look at the new unit (click to enlarge photos).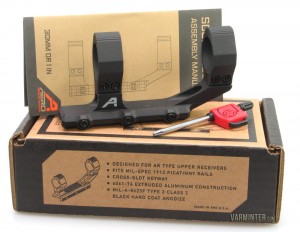 Here you can see what's in the box.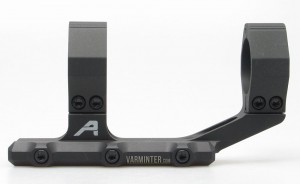 Right view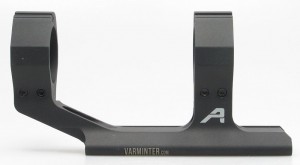 Left view
Top view

Bottom view
Below you can see some comparison shots of the Original and Extended Ultralight mounts.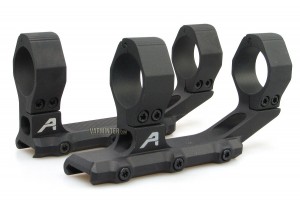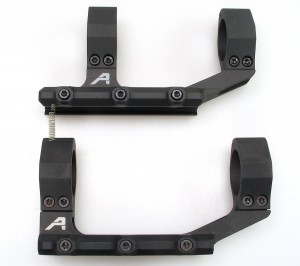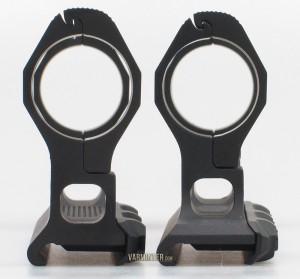 Original (left), Extended (right)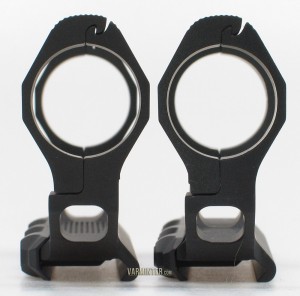 Original (left), Extended (right)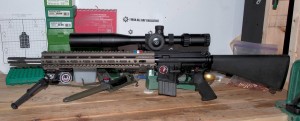 Here you can see the mount attached to my rifle, with my Hawke Optics scope.
The new Extended mount offers the same core features as the Original Ultralight:
Lightweight yet rugged construction – weighs just 2.98oz

Made from 6061-T6 extruded Aluminum

Mil-A-8625F Type 3 Class 2 black hard coat anodized

Made for Mil-spec 1913 picatinny rails

Includes T13 Torx wrench

Available in 1″ or 30mm config 

Made in the U.S.A.
The first thing I noticed when I opened the familiar AP box was the awesome instructions they now include. If you read my original Aero Precision Ultralight Scope Mount Review, you'll remember that one of my cons was that there were no instructions included. Well, I'm not sure if my comments caused the inclusion of the new set or not, but either way it was a pleasant surprise.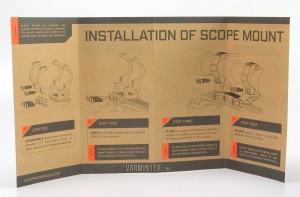 Here you can see the booklet they include. While simple, it's nice to see torque specs, etc.
Once I got the mount out, I quickly installed it onto my rifle. I moved the mount to the forward most position on my upper receiver, and went through the process of installing my scope using my Wheeler professional reticle leveling system. While moving the rear ring allows you to move the scope forward a bit, I ran into one small problem; the front ring. The front ring is in the same exact position as seen on the original model. This limited me from moving my scope as far forward as I would have liked, to get the best possible eye-relief for my scope. Now, I did get the scope mounted up and leveled, and I've had a good amount of time behind the new setup. It works. I am having to adjust my cheek position a bit further back than normal when using the higher magnification settings of my scope; but at the lower power settings, it's fine.
The low down
I'm a huge fan of Aero Precision's scope mounts. Not because they've sent me some to test, but because they are VERY well made, they work well, are affordable, and AP offers great customer service. I like the extended mount, a bit better than I liked the original mount (which is still a get unit). However, I think the Extended mount could be the perfect non-QD mount if they had moved both rings an inch forward. This would have allowed me to get the perfect eye-relief with my scope (approx. 3.5-inches). With a MSRP of $89.99, the AP Ultralight Extended mount is still an excellent option for mounting a scope to your AR; especially if weight is of concern.
Update 4/1/2014: When I originally wrote these articles, I never tested whether or not the mounts would "return to zero" after being removed and reinstalled. Since they are not QD mounts, I simply didn't test this. After receiving several questions on the subject, I decided to hit the range and see. I setup a target at 50 yards, and proceeded to shoot some groups to make sure my zero had not shifted since the last time I shot the rifle. I then removed the mount and scope completely from the rifle, and then reinatlled the setup. I was pleasnely surpriced to see that my 50 yard zero as still dead on. So, there you have it. So long as you install it in the exact position it was in previously, these mounts will hold zero.
Pros:
Very well made
Lightweight & 

Rugged construction

Made from quality 6061-T6 extruded aluminum

MIL-A-Type 3 Class 2 black hard coat anodize 

finish

 should match most Mil-spec receivers

Affordable price tag

Nice Torx wrench included

Handy instructions included
Returned to zero after being removed and reinstalled on our rifle

Made in the U.S.A.
Cons:
No quick-detach (QD) option as of 03/2014 (AP has commented on some forums that they are working on a QD option)

Like we saw with the original mount, when tightening the scope rings, they can pull the scope to where it is no longer level with the receiver

The mount still may not put the scope far enough forward in some situations (e.g. with large scopes), forcing you to bridge over onto your hand guards
Options: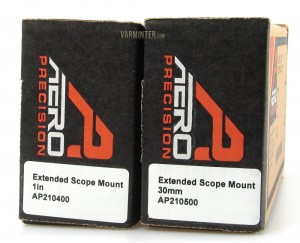 The Ultralight Extended is currently available in 1″ or 30mm configuration.
This Aero Precision Ultralight Extended Scope Mount Review was written by:  Will Chambers

Latest posts by Will Chambers
(see all)
Share This: