Share This:









Hunting with a MSR can be very rewarding when you make a shot; especially a long or tough one. However, if you're using your stock trigger, you may get some frustrating results. This is likely due to the nature of the GI trigger that is installed in the majority of factory built rifles. These are "battle" spec triggers, which are not geared towards precision shooting; which is a necessity for hunting, especially when small game is involved. Thankfully, there is a huge aftermarket of fire control groups and spring kits available to your average shooter. Today, I'm going to introduce you to a small sample of that market, and compare them to the stock GI trigger that came in my Colt LE6920. I want to cover a variety of options, which will hopefully work with a wide range of budgets and needs. Again, this is a small sample of what's available. These offerings will be listed in order of price, not preference.
For our control I measured the weight of my stock Colt fire control group. This trigger is just broke in, with about 1000 or so rounds on it. Using my Lyman Electronic trigger pull gauge, the Colt GI trigger measured an average of 7LBS 8oz over five pulls. While this is lighter than it feels, that's a heavy trigger. I know from experience with this rifle that shooting groups at distance can be challenging with this heavy of a trigger, even when shooting at a standard NRA D-1 target at 500 yards.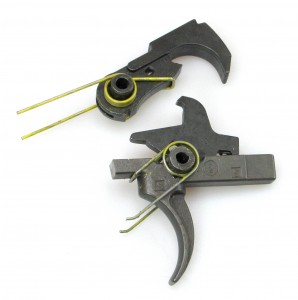 This is where our first, and most affordable option comes into play; the JP Enterprises reduced power Spring Kit for the AR-15. Also referred to as JP yellows, this simple to install and inexpensive (about $12) spring set will turn your heavy GI trigger into a much more pleasing unit. JP notes that this set drops your pull weight down to 4 – 4.5LBS with standard trigger parts, or 3.5 – 4.5LBS using their trigger parts. With these springs installed on my Colt trigger, I averaged 4LBS 11.7oz over five pulls. This isn't quite in the range they noted, however it's worlds better than 7.5LBS. These weren't new springs either, as this specific setup has been in my lovely wife's rifle for some time, and I used it in my rifle for a few matches as well; so I'd guesstimate the use is somewhere between 1000 – 1500 rounds. What really sold me on the JP yellows was on our long range (500 yards). I saw a considerable drop in group size when using the yellows over the stock springs; shooting at a D-1 target on the same day. 
While I have never had a problem with this, I do want to note that some people on various gun boards have noted some light strike issues with JP yellows. Again, I have never had this issue, whether shooting IMI M855 or hand loads. But, it is something to be aware of. If your budget is tight, yet you want to improve your trigger to help increase your odds of hitting that small critter; the $12 JP yellows are a solid investment in my opinion.
Colt GI with JP yellows Specifications:
Price – $12 for  the spring set
Installation – simple swap
Included – trigger, hammer, and disconnector springs
Pull weight as tested – 4LBS 11.7oz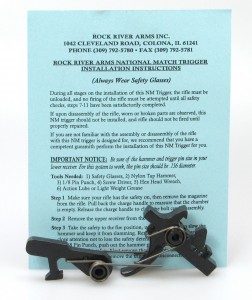 Next we are going to look at a very popular offering, one that is also quite affordable; the Rock River Two Stage National Match trigger. I was first turned onto this trigger by some of my high power and service rifle shooting buddies. I purchased a couple factory built Rock River rifles, and instantly understood why they were highly recommended. The RRA two stage match is a solid trigger, which offers a very nice pull weight and a clean break. I had two different examples in to test, a brand new Two Stage National Match, and their Two Stage Varmint model.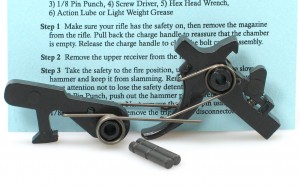 Here we can see the two stage national match. After install (which went like any normal AR trigger install goes) and a few dozen dry fires, this trigger measured an average of 4LBS 13oz over five pulls. It offered a clean first stage, with a pleasing break. For anyone who plans to shoot a service rifle match, this trigger will pass weight. While my test subject was a bit over the claimed 4.5LBS pull weight, it's possible that over time the unit will settle in at a bit lighter pull after some use; which was seen with one of the other test subjects.
RRA Two Stage National Match Specifications:
Price – $120
Installation – simple drop-in
Included – complete fire control group, mil-spec trigger pins, install instructions
Pull weight as tested – 4LBS 13oz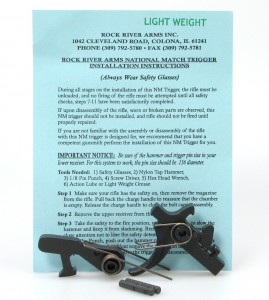 Up until I started to do research for this article, I was not aware of RRA's Two Stage Varmint offering. After meeting with them at SHOT Show 2014, I requested a sample. While the standard NM model is quite nice for precision and match style shooting, it still offers the "service rifle" pull weight; ~4.5LBS. The two stage varmint is essentially the same exact trigger, however RRA claims that it offers a reduced pull weight of 3.5-4LBS. Our sample measured 3LBS 14.7oz over five pulls, and felt noticeably lighter than the above RRA unit. This was actually the lightest trigger of all that I tested. The reduced weight could lend to improved accuracy, which is a plus. If you don't need a service rifle legal trigger, this is the one you want out of the other RRA offerings.
With either unit, I feel that the Rock River Arms two stage match offers some of the best bang for your buck when looking at AR trigger offerings. At about $120 retail, it's almost half the cost of its competition. While I've had wonderful success with this trigger group, I do want to note that there are some out there that have expressed some disdain for these triggers. The issue that they claim is that the RRA triggers lose their first stage quickly, and become a mushy single stage. I have not seen this in my personal RRA triggers, all of which have seen at least a 1000 rounds down range. Thankfully, RRA has amazing customer service, and if you were to have an issue I'd be willing to bet they would take care of you quickly.
RRA Two Stage Varmint Specifications:
Price – $120
Installation – simple drop-in
Included – complete fire control group, mil-spec trigger pins, install instructions
Pull weight as tested – 3LBS 14.7oz
The above photo is courtesy of Geissele Automatics
For those of you who are looking for a great all around, do all trigger, here we have the Geissele SSA (Super Semi-Automatic). This is one of my personal favroties for an all purpose rifle, whether it's your HD, match, or hunting rig. This unit offers a very nice pull weight at approx. 4LBS 12.1oz, with a fresh "carrot" like break. I've sent quite a few rounds down range with this trigger, and it's the one I recommend most for those who want a do all trigger. It does well for a defensive rifle, a match service rifle, or a designated marksman / hunting rig. This one retails for about $210, and includes Geissele's pins, grease, assembly oil, etc. When you look at this trigger, you can see the quality and attention to detail Bill provides. For those that don't need the trigger to make weight for match use, Bill also offers the SSA-E (Super Semi-Automatic Enhanced). This unit offers a bit lighter trigger pull, at about the same price point ($230).
Geissele SSA Specifications:
Price – $210
Installation – simple drop-in
Included – complete fire control group, Geissele trigger pins, installation grease and oil, install instructions
Pull weight as tested – 4LBS 12.1oz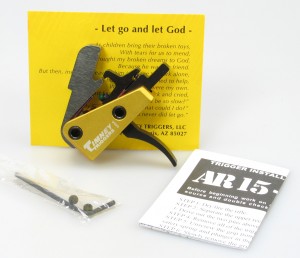 So far we've only covered two stage triggers, so it's time we brought in a popular single stage unit; the Timney AR-15 Competition. If you've been around guns for any amount of time, especially bolt guns, you've probably heard the name Timney before. That's because they make some of the best drop-in triggers for popular bolt actions, like the Remington 700. Their AR-15 trigger system comes with a standard curved bow (as tested) or a skeletonized bow (which is about $60 more). You can choose a break weight of between 3 – 4.5 pounds. One of the key selling features of this model is that it's a true drop-in unit. The entire fire control groups components are contained into one single unit, so you don't have to install the trigger, then hammer. Also, no adjustments need to be made, minus tightening some set screws to put tension on the trigger pins. I will say that trying to get the set screws into place was a choir, since the hammer springs are laying right over the holes. You can move them side to side some, but it was still tough.
If you are used to the trigger on a bolt gun, you'll love the feel of the Timney. If you're like me and you're used to two stage AR triggers, it will take some time to get use to not having any take up; due to the first stage. We opted for the 4.0LB version of the Timney, and after 5 pulls with my Lyman gauge, it averaged 4LBS 1.5oz. As for the feel of the trigger, our eval unit offered a nice clean break. One thing that surprised me with this unit was that Timney does not include any trigger pins. This is something that's included with every other trigger we tested. While those of you who are upgrading can use your old pins, if you are installing the Timney in a new build, you'll need to order a set of pins. While they are inexpensive, I was surprised that they did not include a set when you consider the retail price of this setup. At about $220 or so, this is a solid option if you are looking for that single stage feel, with a nice clean break.
Timney AR-15 Competition Specifications:
Price – $220
Installation – Drop-in with two set screws
Included – set screws, Allen wrench, instructions (no trigger pins are included)
Pull weight as tested – 4LBS 1.5oz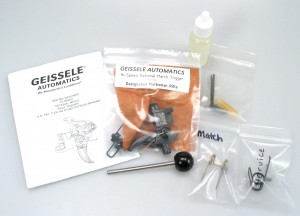 Last, but certainly not least is the Geissele Hi-speed National Match DMR (Designated Marksman Rifle) trigger. This is the most expensive trigger of the bunch, however it's also the most versatile. For starters, Geissele includes three sets of springs for this unit, as it can be setup for various jobs. You have a spring set for Match (lightest), Service (heaviest), and DMR (middle ground) roles. These spring sets allow you to move the pull weight from around 2.5 – 5.5 or so pounds, not to mention with each set you can tweek the trigger to fine tune the pull weight, sear engagement, over travel, etc. I found the DMR springs to be perfect for my needs, which offered a pull weight of around 4LBS. Installation of this trigger is much more in-depth than all of the others, and Geissele offers some very detailed instructions to help you get the job done. Even a novice user can successfully install and tune the Hi-speed with these instructions. They also include all the tools necessary for the job, save a screw driver or allen wrench to remove your grip screw.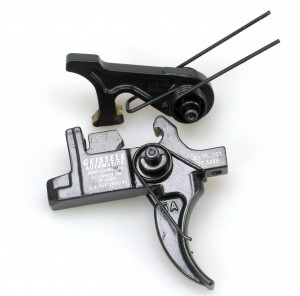 Once I got the Hi-speed DMR installed and adjusted to my liking, I measured a pull weight of just over 4LBS. After a few hundred rounds down range, I got the Lyman gauge out and found the pull weight averaged 3LBS 15.8oz (.2oz under 4LBS). This is spot on, and I was not surprised to see such numbers so close to their claimed pull weight. Geissele seems to strive for perfection, and it shows in their triggers: and rail systems for that matter. The pull on this trigger is quite nice, with a smooth first stage and a "candy cane" type break; Bill's words there. To see Bill explain the differences of many of his popular triggers, you can see his YouTube video here.
This trigger helped me shoot the smallest group to date at 100 yards with my hunting rig, which measured .30″ center to center. This was only a 3-shot group (quite you!) using some of my new 55gr V-max hand loads. I was not necessarily shooting for groups that day, but rather confirming the ballistics of my load at 100 yards; with a 50 yard zero on my scope. I was blown away at how much difference a fined tuned trigger can make. While I've been successful in making shots in the past on ground hogs and other small game with all of the options listed above (save the Timney), this trigger definitely gives me some additional confidence. At $279, you may think that's a lot of coin for a trigger. However, I can tell you that it's well worth it, especially when you take into account the extras you receive (the installation tools, assembly lube and oil, spring sets, etc.), and Geissele's amazing customer service.
Geissele Hi-speed National Match DMR Specifications:
Price – $279
Installation – detailed with some tuning required
Included – complete fire control group, Geissele trigger pins, installation grease and oil, trigger pin tool, trigger pin guide (for tuning), allen wrenches, multiple spring sets (DMR, Match, Service), detailed installation instructions
Pull weight as tested – 3LBS 15.8oz (DMR springs installed)
Closing thoughts
When I decided to put together a trigger article, I wasn't looking to compare a bunch of triggers and pick a winner. Rather, I wanted to show you some of the options out there, no matter what your budget is. That said, if someone asked me, "What is the best trigger for a hunting/precision rig, budget is not a concern?", I'd immediately recommend the Geissele Hi-speed DMR. I was that impressed with the unit, and it's the trigger I'm going to personally run in my hunting and precision MSRs from here on out. However, if someone mentioned they are on a more frugal budget, I feel one of the Rock River Arms triggers would fit the bill nicely. All of the options I've listed will likely satisfy the average shooter, and help improve their ability to shoot at small critters; as will some practice. While we tried our best to cover a wide range of triggers, there are various others that we would have loved to get a hold of. Hopefully in the near future we can update the article with some more options. Until then, shoot straight, shoot safe.
AR-15 Trigger Guide – Options to Help Improve Your MSR – Article by: Will Chambers

Latest posts by Will Chambers
(see all)
Share This: