Share This:









Cache Carlson met with ICOtec Chuck (Chuck Ames) at the 2023 SHOT Show in Las Vegas to speak with him about the ICOtec Game Callers that are new for this year, including the Nightstalker+ unit and the Rascal Bluetooth Game Call (100 yard range) unit. The 2023 line of callers have upgraded units, as well as new, advanced remote features, which are a great compliment to their numerous other available callers/decoys/etc. In this video, Chuck discusses in detail what the predator hunting community can look forward to with their new products. Their new Bluetooth features are also something that will change up how hunters use their ICOtec products in the field. We are listing some of the specifications below of the calls covered in the video.
Night Stalker+ Programmable Call with Bluetooth: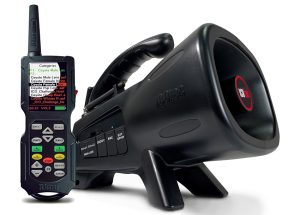 • Includes Bluetooth connectivity up to 100 yards from unit
• The industry-leading 300 yard no-line-of-sight remote range
• The most amazingly crystal clear sound quality
• Easiest & quickest sound file downloading in the industry
• Download sounds from your smartphone, tablet or computer (no specialized software or computer with an SD card slot required)
• Remote includes NEW category file organization (no more file numbering)
• Includes 165 call sounds (Featuring 15 sounds from Tony Tebbe)
• Play two sounds simultaneously
• Two separate play & pause buttons
• Store up to 2,000 sound files on a removable SD card
• Large, easy-to-read remote display
• Day & night remote screen display options
• Recall up to 20 favorites and one coax sound
• Plays 16, 24 and 32 bit .wav files
• Tremendous volume – 130+ dB
• USB & remote sync cables included
• Tripod mountable
• Long battery life
• Caller requires 10 AA batteries, not included (recommend ICOtec C4 lithium rechargeable battery)
• Remote requires 4 AA batteries, not included (recommend ICOtec TNT rechargeable AA battery kit)
• Animal Audio smartphone app recommended for highest quality industry sound libraries
—–
GCX+ Remote Control:

—–
Rascal Bluetooth Game Call (100 yard range):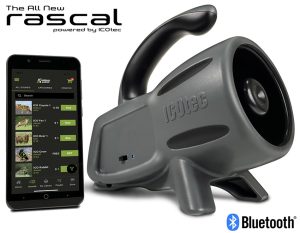 ICOtec introduces the all new Rascal Bluetooth electronic game call. The new and improved sound enhancement crystal audio technology boasts and incredible life-like audio reproduction of animal sounds like never before. The volume level has also been ramped up to explode the sound even farther than a typical caller of this size and price range.
Place four AA batteries in the unit, activate the Bluetooth on your smartphone, search for Rascal, connect and start streaming sound from your phone, online sites, apps and any sounds you have recorded to your phone. You will notice up to an amazing 100 yard range from your phone to the call unit. That is a longer range than most other call brands can do with their remote control.
We have also included an external speaker port for those windy areas and a decoy port for those who download and use the ICOtec Animal Audio App, available very soon. You can download sounds in the app for offline play in case you are out of cell phone service where you hunt.
The Animal Audio App also allows you to create playlists and save them for future use or future editing. When you create a playlist you can delay a sound activation, loop once or as many times as you'd like and play each sound in your list at different volume levels. And the cool part is that you can begin the playlist with a simple press of one button. The decoy also has an activation button in case you choose to start and stop the action during a stand. More info to come on the Animal Audio App to come.
ICOtec backs this unit with a 2-year warranty.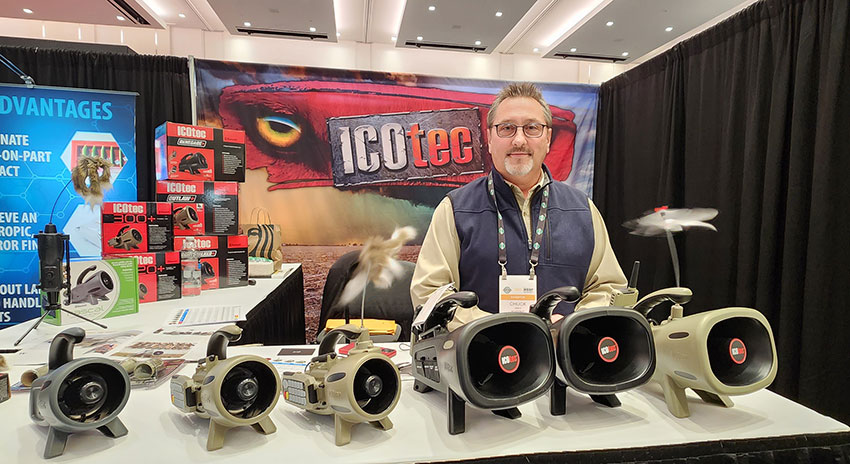 Latest posts by Varminter Magazine
(see all)
Share This: