Share This: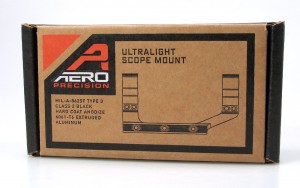 In the early summer of 2013, Aero Precision (also referred to as AP in this article), a name that's rising in popularity among the AR-15 community, announced a product that they'd been working on for quite sometime; their Ultralight scope mount for the AR platform. While many in the media will not admit it, the AR platform is quite popular amongst hunters and target shooters alike.
The want/need to mount a scope on an AR is in high demand, and there are already dozens of popular mounts out there. So, what sets the AP Ultralight apart you ask? Well, for starters it's extremely light. For me personally, weight is important. While I do bench rest shoot my ARs at times, I personally looked into mounting a scope on my AR for hunting purposes. I built up a SPR (Special Purpose Rifle) using high-quality components (like an ADCO 18″ SS SPRr barrel and Troy free floated hand guards) in order to get an accurate, yet maneuverable rifle. Since I already have a heavier barrel profile, adding more weight is not something I wanted to do. Enter the AP Ultralight.
The Ultralight scope mount weighs in at a scant 2.98 ounces (or 87.5 grams) for both their 1″ and 30mm offerings. This is over half the weight of most of its competition, or almost a 1/3 of the weight of the 8.7 ounce Burris AR-P.E.P.R. mount; a direct competitor to the AP Ultralight. Next is price. The Ultralight is very affordable, at just $84.99 + shipping direct from AP. This is a competitive price point, putting it in line with offerings from Burris and Nikon. When compared to some of the more expensive options, like those high-quality pieces from LaRue, the Ultralight is over half the cost.
So, we've covered the facts that the Ultralight is affordable and lightweight; but how well is it built? To start, this mount is proudly made in the USA. Being that the Ultralight was designed specifically for use on AR type receivers, the unit is made from strong 6061-T6 extruded aluminum, which is coated in a MIL-A-Type 3 Class 2 black hard coat anodize. This means the mount is not only tough and lightweight, but it will also match the finish of most mil-spec AR receivers.
What's in the box?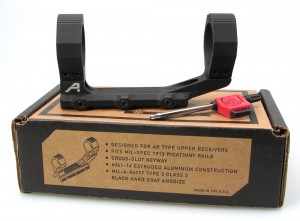 Upon receiving my eval units from AP, I frantically opened the box to gaze upon the new toys the UPS-Santa had dropped off. Inside were two familiar looking boxes (I've used their AR lower receivers for several builds in the past). The packaging is very nice, with a sharp looking box that has some marketing information / specifications on the top and side. They made sure the mount was safely packed with quality packing material (foam wrap) around the mount. What was really cool was that they included a very nice Torx wench, too. This wrench is a size T15, and it works for all eight of the Ultralight's mounting screws.
Up close look
Below you can see some different views of the mount. While eye appeal isn't something some AR owners will admit is important to them, it is to me. And, the AP Ultralight is a sharp looking little unit that looks great mounted on the rifle. Click to enlarge.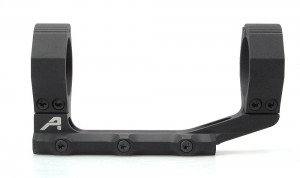 Here we can see the right side of the mount, which hosts the clamp and screws you use to attach the mount to your flat top upper receiver.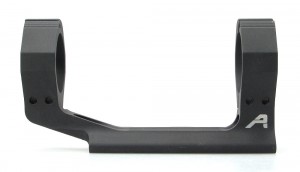 The left side is clean and free from any hardware.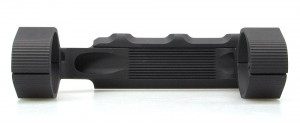 Top view with no scope installed

Bottom view, here you can see the keyways which fit into any mil-spec 1913 Picatinny rails.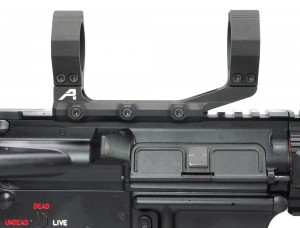 Above you can see the Ultralight mounted to my rifle. Note that the position of the mount was for photo purposes only. The actual position in which you place the mount will depend on the eye relief the scope you are using requires.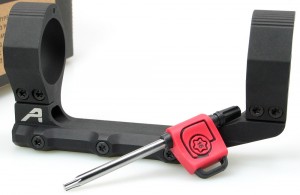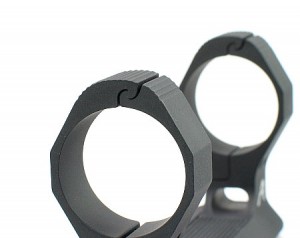 The mounting system on the AP Ultralight is unique when compared to most scope rings. Instead of using the typical ring caps that sit on top of the scope with two to four screws that you see on most mounts, the Ultralight uses vertical style rings versus horizontal; with the mounting screws being on the side rather than the top. At first I wasn't quite sure about this setup, since it appeared that you could not set the scope on the base to get the desired position, then tighten it all down. Once I went to install a scope I have in for testing (a Hawke Sidewinder 30 Tactical SF 4.5-14×42, more on that to come later), my suspicions were confirmed as I found that this setup is a bit tricky.
First, you have to remove both ring "caps" so you can insert the scope. You then have to hold the scope in place with one hand, while using the other to carefully attach the side portion of the rings, then drive in the four mounting screws. This would have been much easier if I had a third hand, or a helper. Once you have the ring caps loosely attached, it's easy to slide the scope forward or backward to set the maximum eye relief, as well as rotate the lens to ensure your reticle is level.
Once I had the eye relief set and leveled the scope with the receiver, I started to torque down the rings. Here is where I ran into another small problem. As I slowly torqued down the screws, working from the outside in, I found that once I got to the end of setting the torque to the desired spec, the scope was rotating ever so slightly; enough to where it was not level with the receiver anymore. This happened two different times, and I ended up having to purposely set the scope a bit off level, that way once I torqued the rings down it would "pull" the scope to level. While not a really big deal, it did add some time to the scope install, and it could have made for an unhappy shooter once I got to the range and noticed the reticle was canted.
One thing that I was surprised not to see from AP were instructions for installation. While those who have mounted a scope in the past may not need this, from a consumer's standpoint, it would be nice to have some basic directions included. Even something as simple as a picture with the parts listed, a brief description of the process and some torque specs would be nice. While no torque specs were listed, generally the torque specification for mounting a scope is between 25 – 30 inch-pounds for the base and about 15 inch-pounds for the rings.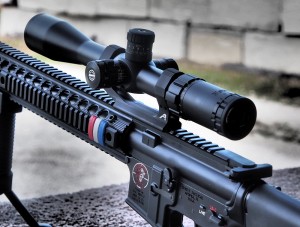 When mounting a scope on the AR platform, you want to ensure the mount you are using allows you to acquire a good solid, repeatable cheek weld, while still allowing you to look through the scope properly. One thing to also consider, is how far forward you need to mount the scope. With the AP mount, you are limited a bit, especially if you are not using a continuous rail surface or monolithic upper receiver. If you have standard hand guards, placing the mount all the way forward on the upper receiver may not give you the proper eye relief. I personally had to place the mount just past the front of the upper receiver, bridged over onto my hand guards. This isn't a big deal to me, considering I have a Troy rail that is solid and in line with my upper.  There are many that recommend you don't place the optic's mount over the upper and hand guards. However, I personally don't see an issue in my situation when you consider that the AP mount has a continuous base with three screws to clamp it in place securely and that I'm not using a drop-in rail that is only secured by the delta ring and hand guard cap. By installing the mount the way I did, I was able to achieve a proper eye relief of approx. 3.5″ on the scope I am using. This would not have been possible if I had just put the mount all the way forward on the upper receiver.
The AP Ultralight offers a good height for typical rifle scopes with 42mm or 50mm objective lenses, placing the center line of the scope about 1.5″ above the rail surface on the upper receiver. This allows the scope  to clear the hand guards with plenty of space between them, and the scope cleared my Matech rear BUIS. At that height, you can still use a standard A2 or collapsible stock without having to add a riser.  Now, some may find adding a little "tactical" padding to the stock might help them get a more consistent weld, or see through the scope better. This will all depend on the end user's habits and comforts.
The Ultralight does not include any type of MOA cant, such as the 20 MOA cant of the Nikon M223 scope mount.  The 20 MOA cant is not something I personally need from a mount on this rifle, since the longest distance I plan on shooting is 300-500 yards. But, I will possibly be shooting at much closer distances (50 yards or so), and that additional 20 MOA in elevation may hinder that ability, as the scope I have mounted may not have enough elevation adjustment to compensate for the built-in rise of the base. Thankfully, this is not something I have to worry about with the AP Ultralight.
The low down
Aero Precision has created, in my opinion, a quality option for both hunters and target shooters with their Ultralight AR scope mount. It offers excellent build quality, lightweight, and a price tag that won't put much of a dent into your wallet. My only real complaint was with the design of the rings. They look nice and clean once you have the scope installed, however that process takes a minute to get used to. While there are various options out there currently for mounting a scope to your AR, the Ultralight should be on your radar; especially if overall weight is a concern of yours. At just $84.99, it's very competitively priced, particularly when you consider the benefits it has over some of its competition.
Update 4/1/2014: When I originally wrote these articles, I never tested whether or not the mounts would "return to zero" after being removed and reinstalled. Since they are not QD mounts, I simply didn't test this. After receiving several questions on the subject, I decided to hit the range and see. I setup a target at 50 yards, and proceeded to shoot some groups to make sure my zero had not shifted since the last time I shot the rifle. I then removed the mount and scope completely from the rifle, and then reinatlled the setup. I was pleasnely surpriced to see that my 50 yard zero as still dead on. So, there you have it. So long as you install it in the exact position it was in previously, these mounts will hold zero.
Pros:
Lightweight
Rugged construction
Made from quality  6061-T6 extruded aluminum
MIL-A-Type 3 Class 2 black hard coat anodize will match most Mil-spec receivers
Affordable
Nice Torx wrench included

After being removed and reinstalled on our rifle, it held zero

Made in USA
Cons:
No quick-detach (QD) option as of 10/2013 (However, AP has noted that they are working on a QD option)
No instructions included
When tightening the scope rings, they can pull the scope to where it is no longer level with the receiver
The mount may not put the scope far enough forward in some situations; e.g. when using a large, variable power scope.
Options: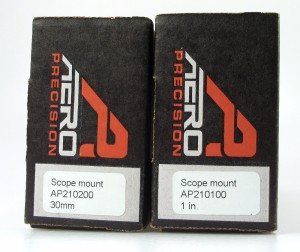 The Ultralight is currently available in 30mm or 1″ configuration.
By:  William Chambers
Note:  The Aero Precision scope mounts are available directly from the AeroPrecisionUSA website, or from one of the many fine dealers listed on their site.

William (Will) Chambers is a jack of many trades, who started his professional career behind the lens of a camera.After sitting behind a scoped rifle for many seasons, his passion and experience with glass naturally carried over to rifle optics.

Will is a professional writer, reviewer, editor, photographer, and webmaster, who also enjoys helping his beautiful wife run their small farm in Northern Ohio.As a certified CMP Master Instructor, he can be found at the local shooting range, directing monthly service rifle matches in his off time, as well as out in the woods chasing game.

Hunting is a passion of his, which started when he was a small boy shooting his Crosman air rifle. Will hunts ground hog and deer regularly, and plans on expanding into tree squirrel, predators, and fowl hunting in the near future.His favorite tool of choice is an AR-15, and he's on a mission to teach the world that the AR platform is great for hunting.His goal is to show that they are not just scary black rifles for military use;instead they are the most versatile hunting and shooting firearm available to today's modern sportsman and sportswoman.

Latest posts by Will Chambers (see all)
Share This: