Share This: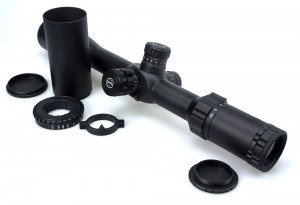 Choosing a scope for your rifle, whether it's an air rifle or AR-15, can be tough. This is because there are so many options these days. This may not seem like a bad thing at first, but once you really start to dive into your search, you may soon realize the frustration of picking the best scope within your budget can be quite difficult. The mass of features out there can be confusing, as can be the technical lingo.
Today, we are going to take a close look at the Hawke Sidewinder 30 Tactical SF 4.5-14×42. This is the first Hawke scope I've got the pleasure to test, and my initial impressions were good. The scope seemed to be very clear, and bright. The first thing that blew me away was the packaging. As you can see in the photos that follow, Hawke has included quite the carrying / storage case with their Sidewinder 30 Tactical SF scopes.
Specifications:
Manufactured by Hawke Optics
Model HK4022
Matte Finish
Waterproof, Shockproof and Fogproof
Can handle recoil from "All" firearm calibers
4.5 – 14x magnification
42mm objective lens
30mm tube
Fully multi-coated optics
Glass etched illuminated 1/2 Mil-dot reticle, second focal plane
Dual color illumination options (Red or Green)
5 steps of brightness adjustment for each option
Coil erector spring
Locking 1/4 MOA click turrets
Eye relief: 3.5 inches as tested
Side parallax correction from 10 yards to infinity
Locking "Fast-Focus" ocular adjustment
Removable 2-inch "tactical" parallax adjustment wheel
Add on reference pointer for use with the 2-inch parallax adjustment wheel
100mm removable sunshade
Accepts a CR2032 3V Lithium battery for reticle illumination (supplied)
Free BRC Software (downloadable from the Hawke website)
FOV of 23 ft – 6.9 ft at 100 yards (4.5x – 14x)
95 MOA of elevation adjustment (this spec was not listed, however we counted 6 full rotations at 15 MOA each, plus 5 MOA past the sixth rotation)
86.5 MOA of windage adjustment (again, this was found after we counted 5 full rotations at 15 MOA each, plus 11.5 MOA past the fifth rotation)
OAL Measures approx. 14.6 inches without the included sun shade
Weight of 27.3 ounces
Street price of approx. $450
Unboxing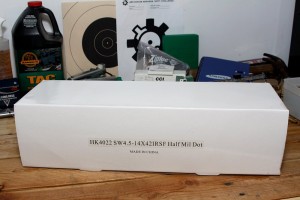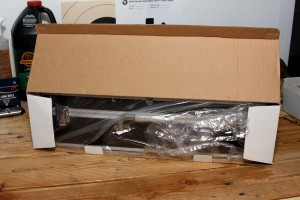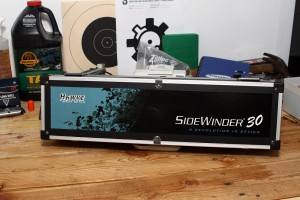 Like I mentioned earlier, Hawke ships the Sidewinder 30 Tactical SF in a very cool box, which can be used to safely store the scope when it's not mounted on your rifle.  Above you can see some unboxing photos I captured when I first received the scope for review.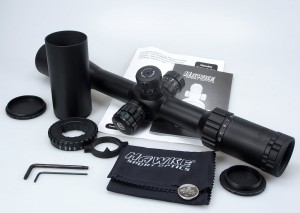 What's in the box?
Hawke Sidewinder 30 Tactical SF 4.5-14×42 scope
100mm sunshade
2″ side wheel
Pointer
Screw-in lens caps
CR2032 Lithium battery (our unit came with two)
Allen keys
Lens cloth
Instruction booklet
Up close look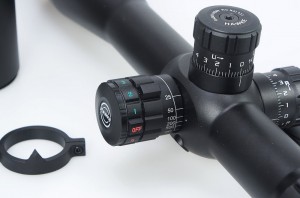 Here you can see the "side focus parallax" adjustment, with the illuminated reticle controls on the outside. The reticle illumination controls are very stiff, which will ensure you don't accidentally turn them on and waste your battery. You can choose from Red or Green, with 5 levels of brightness for each.
The side parallax control offers adjustment from 10 yards (great for air gunners) out to infinity, with marks for 10, 25, 50, 100, 200, 500 yards, and infinity. If you'd like an easier way to make fine adjustments, Hawke includes a 2-inch "tactical" wheel that you can attach to the parallax adjustment. This wheel has marks at 10, 15, 25, 50, 100, 200, 500 yards, and infinity. They even include a pointer that attaches to the scope's tube, since the 2″ wheel covers up the white reference dot that's on the scope's body. If you need an even larger wheel, Hawke offers a 4-inch model for about $30.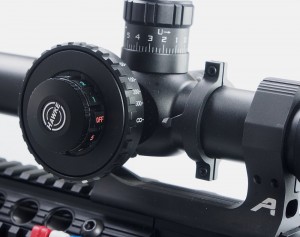 Above you can see the big wheel installed, along with the included big wheel pointer. Installing the 2-inch parallax adjustment wheel is a bit of a chore, and I wasn't too impressed with the pointer.  It's a bit too short if you want to line it up with the markings on the big wheel. While it's a great idea, it just doesn't work well in my opinion. I think making it a bit longer, and adding a white line or dot would make it much more usable.
At first, I wasn't quite sure about this large adjustment wheel on the scope. However, after using it, I really like it. On my first few outings with this scope, I left the big wheel off. While I could make parallax adjustments just fine, the big wheel definitely makes it easier and more comfortable. I don't think I'd like the 4-inch wheel option (it looks just too big), but I plan to leave this 2-inch unit on the scope (without the pointer though).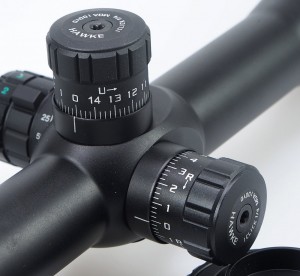 Now we can move on to the turrets.  This particular model offers 1/4 MOA clicks, with 95 MOA ( approx. 380 clicks) of elevation and 86.5 MOA ( 346 clicks) of windage adjustment. Hawke does not list this specification, so we had to count the adjustment ranges ourselves.  There are no stadia lines to remind you that you have passed 0, and the turrets do not offer a zero-stop feature. However, the knobs do show a "U" and "R" with arrows to help you easily see which way you need to rotate the turrets to make adjustments. Once you acquire your zero, you'll want to make notes anytime you add or subtract clicks from your zero; so you can easily get back to your zero dope.
These locking knobs offer good resistance between clicks, with a defined click that you can here and feel. I did, however, notice a little bit of a "mushy" feel to them. The caps lock securely when pressed inward, and you can easily pull them out to make a quick adjustment. Once pulled up, I did notice that the cosmetic caps would tend to wobble a bit, but it never affected my ability to make adjustments. This is just the caps themselves, not the turrets, which are quite secure. Once you've got your zero, you can use the included wrench to loosen the turret caps and set them to zero. I found that the reference lines on the turrets and the scope body lined up well when locked down. While making adjustments though, they are close, but don't line up perfectly.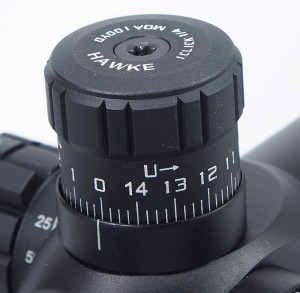 A close up look at the elevation adjustment turret. It has well defined reference marks at 1/4 MOA increments, with taller 1 MOA marks that are numbered from 0 – 14. One full rotation equals 15 MOA, or 60 clicks. Like mentioned above, the scope I tested had 95 MOA of elevation adjustment, which equals 380 clicks. At four positions around the turret you see a "U" with an arrow pointing right. This indicates that turning the turret left (counter-clockwise) will move your point of impact up. Having these directional indicators mounted all the way around the turret make it easy to obtain your orientation and make quick adjustments, no matter where you are on elevation adjustment.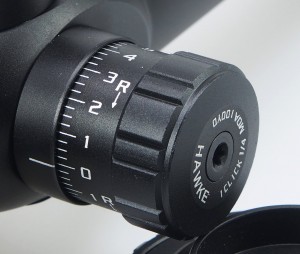 The windage turret is almost identical to the elevation turret, with the "U" being replaced with a "R". Like the elevation turret, there are 15 minutes of adjustment in one full rotation of the turret. We noted 86.5 MOA of total adjustment, or 346 click.  However, instead of being numbered from 0 – 14, you will see 0 – 7 in one direction, and 0 – 7 in the other. So, if you ever get to more than 7 minutes of windage in one direction, you'll see another 7 where the eight would be. This is because the turret is made so you can easily make windage adjustments left or right up to 7 minutes from zero, before you run into the other set of numbers. This is plenty of adjustment for most shooting conditions at 200 – 300 yards, and shouldn't be an issue until 600 yards or more; depending on the caliber and load you are using. For instance, Federal's Gold Medal match 77gr .223 cartridge has a wind drift of approx. .9-inches at 100 yards with a 10MPH crosswind, or approx. 27.9 inches at 500 yards with the same wind conditions. 7 minutes of adjustment at 100 yards is just over 7-inches (1 MOA actually equals 1.0475″ at 100 yards), or about 36.5-inches at 500 yards. So, even at 500 yards with this load, you still have more adjustment than you need in either direction with the 0 – 7 minute markings.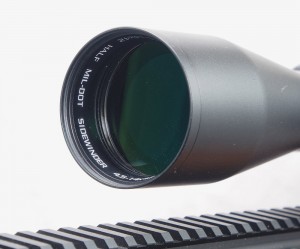 Here is a close-up of the 42mm objective lens. The green tint you see is from the multi-coating Hawke applies to help reduce glare. The barrel is threaded to accept the included screw-in lens cover or sun shade. When using the shade, you lose the ability to attach the screw-in lens cover.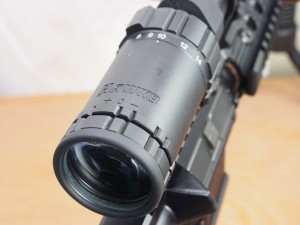 Here is the ocular lens, along with a view of the locking ocular lens "fast-focus" adjustment. The fact that you can lock the ocular focus adjustment is a nice feature, since you don't have to worry about accidental adjustments. However, making adjustments requires an added step once locked down. Thankfully, you shouldn't have to adjust this often. Like the objective lens, Hawke has also included a screw-in lens cover  for the ocular lens.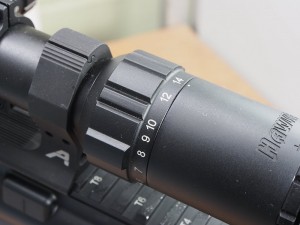 The magnification or zoom ring is located forward of the ocular lens. It has markings for 4.5, 5, 6, 7, 8, 9, 10, 12 and 14x. The ring has a several serrations to help you grip it, along with an elevated "knob". The resistance is good, allowing for smooth changes in magnification, without the worry of accidentally bumping the ring and changing the setting. During testing, I found that eye-relief remained constant from 4.5 – 14x.
Here's a look at the 1/2 Mil-dot 10x reticle that the 4.5-14x42mm model we tested uses. They also offer a 20x version in their higher magnification scopes. The 10x and 20x specifications indicate at what range the Mils are actually true, due to the reticle being positioned in the second focal plane. As can be seen in the Hawke illustration above, you can choose to illuminate the reticle in green or red.
Here's a real world view of the reticle with no illumination.  This is a floating style reticle, meaning the bars do not extend all the way to the edges of the frame. The dots are at 1 Mil spacing, with 1/2 Mil ties in between them. The bars are see-through, which I really like. Note that in this photo, it looks like there's a ton of CA present. This is not the case. While I did see some chromatic aberrations when looking at the resolution charts I posted up, it seems that while using my camera to take photos of the reticle, it exacerbated the visible CA.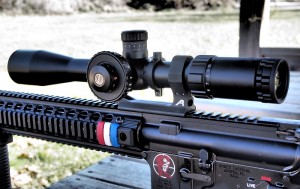 I chose to mount this particular Hawke to my AR for testing. I used Aero Precision's new Ultralight scope mount in 30mm (which I also reviewed recently), and got the proper eye-relief set (about 3.5-inches). Once I ensured the scope was mounted properly, I hit the range to zero.
Tactical scopes are quite popular these days, especially in the AR community. They typically offer Mil-dot reticles, which are designed for range estimation, as well as hold overs and hold unders. However, many of these scope models offer MOA adjustment knobs (usually with 1/4 MOA fine adjustments), versus Mil (usually with 1/10 Mil adjustments). This is true with the majority of your "affordable" scope offerings, like the Hawke Sidewinder Tactical 30 we are testing here. There is a large debate on whether or not it's a big deal that one would use a Mil-dot reticle with MOA adjustment turrets. I personally like to have matching systems on a scope, so Mil/Mil or MOA/MOA. Some of the higher end scope manufacturers even offer both setups. Can one effectively use a scope with a Mil-dot reticle and MOA adjustments. They sure can, people do it everyday. There's a bit more math involved if you are trying to range targets, but it can be done. There are also some math tricks that many have shared, like the one I use where 1 Mil = ~3.6MOA (1 Mil = 3.438″ x 1.0475″ = 3.6″ at 100 yards), which I learned from a post by Tomcat088 over on PAFOA (Pennsylvanian Firearm Owners Association). In this thread the poster shares a lot of good information about the Milradian and Minute of Angle systems; and how to effectively use a Mil-dot reticle with MOA adjustments. When zeroing the Hawke Sidewinder Tactical 30 on my 18″ ADCO assembled SPR, I had no problems getting my POI to match my POA at 50 yards. Knowing the math trick I learned from reading Tomcat088's post, using hold overs and ranging targets from 100 – 300 yards was a cinch when shooting at 10x magnification (more on that below).
Speaking of zeros, many may wonder why I chose to use a 50 yard zero, versus the typical 100 yard. My simple answer is deviation. The rifle I chose to use for varmint hunting, and scope testing, was setup to take shots at 250 yards or less. While the rifle is capable of taking shots at much greater distances, due to the area where I plan on hunting with this rifle, I'll likely not take many shots over 250 yards. This is because I'm hunting on small farms around a semi-rural community, where the opportunity to take a long shot is unlikely. However, there are instances where I may be shooting at just 25 yards. With a 50 yard zero, the maximum deviation from my POA is never more than ± 2.53 inches from 25 – 250 yards. With a 100 yard zero, the maximum deviation is ± 5.25 inches for this same range, with the particular load I'm using. While the latter would still be acceptable for larger game, for small to mid sized game (e.g. ground hogs and coyotes) it would not be my first option.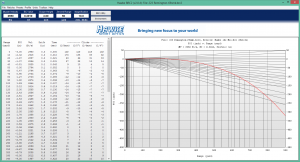 For those wondering where I came up with these numbers, I obtained them from several ballistic calculators, including the one Hawke offers for free via download from their website. The Hawke BRC is available for PCs running Windows or OSX, as well as mobile devices running on Android or iOS operating systems; and it offers quite a bit of versatility. While calculators are great, you'll never really know where your rifle is hitting unless you get out there and shoot; which is precisely what I did. What I found was that my 69gr SMK hand loads were flying a bit lower than what the calculator estimated. To get center on my target at 200 yards, I had to add two to three clicks off my 50 yard dope (that's 1/2 to 3/4 MOA up in elevation). The Hawke BRC software noted that I'd need to come down that many clicks. This is likely because my loads have yet to be chronographed, so my velocity estimation might be off. This is where getting out in the real world and testing before you take the rifle to work comes into play.
One thing you have to consider with this particular unit is that it is a Second Focal Plane (SFP) scope. Meaning the reticle is placed on the second focal plane between the ocular and erector lenses. What this means to you and I is that the reticle will not change in size as you zoom the scope. This might seem like a great idea, especially since the Sidewinder's 1/2 Mil-dot 10X reticle doesn't obstruct your view too much. However, if you are trying to use the Mil-dot reticle for range estimation, you can only do so accurately at one magnification setting (10x on this model) with a SFP scope. At any other magnification, the Mil-dots on the reticle are not true. On a First Focal Plane (FFP) scope, the reticle shrinks and enlarges as you zoom, so the Mils are always true. Each setup has is advantages and disadvantages. Typically, FFP scopes are much more expensive than SFP models. However, in this day and age we are starting to see more affordable FFP offerings. While these more affordable FFP models offer some of the features you want at a certain price point, you may be sacrificing optical quality. With the Hawke Sidewinder 30 Tactical SF 4.5-14×42, it may not have the most popular features that are currently being buzzed about (FFP, Mil/Mil, etc.), but it does have good optical quality for the price you are paying.
I spent some serious time looking through this scope, with many long hours at the local range; I know, my life is so hard. Some days I sat there looking through this Hawke specimen so long that I had some serious eye strain. This is at no fault to the scope, but more my vision. I've found that wearing corrective vision glasses when shooting with a scope can be hard on your eyes, and that using regular safety glasses and adjusting the scope's ocular focus is a much better option; at least for me. For a foreign made scope, the Hawke Sidewinder 30 Tactical SF offers very good quality for the price range this scope falls in; sub $500. The light transmission / gathering capabilities are very good, as I had no issues seeing hits on a steel target at 500 yards in the late afternoon when zoomed in at 14x; with the target being in the shade to boot. This was a target which was freshly painted black, so that aided in showing the hits at this range. Normally, seeing hits from a .223/5.56x45mm is quite difficult at that range, unless you have some serious magnification. When shooting paper at 200 yards, I was able to see my hits, again even in lower ambient lighting due to shooting during a rain storm.
One issue I did have with this scope was some shadowing when at the higher magnification settings (12 – 14x). The exit pupil at 14x is very small at just 3mm. While this is large enough for the scope to transmit adequate light to your eye, it's very unforgiving in terms of eye placement. If you do not have your eye set just perfect, you will start to see a hazing or whiteout of your subject; some may call it vignetting. This of course is cured by either ensuring you have super consistent positioning, or by backing down the magnification a bit. I found the 10x setting offered the best magnified FOV, without running into some of the issues with scope shadow.
Resolution is good for a $450 scope. The picture transmitted through it is bright and clear, with the only real drawbacks being the hazing I noted above and some chromatic aberrations. CA was most notable on bright sunny days, and it was only really apparent when looking at a paper target with strong contrast (white or tan target with a black bull). CA is something you are going to have to deal with on most any scope, unless you spend some serious money ($1000+).
FOV was good throughout the zoom range. Hawke notes a FOV of approx. 23 – 6.9 feet at 100 yards (4.5x – 14x), or 7.7m – 2.2m at 100m. As far as other distortions and glare (barrel distortion, pincushioning, etc.), I didn't see any during my time with this scope. One thing I did notice was the DOF (depth of field) is rather broad compared to other scopes I've used in the past; including my personal Bushnell Elite Tactical 4200 6-24x50mm FFP model. This isn't necessarily a bad thing, as it means more of the image you see is in focus as you are adjusting the side parallax knob. When shooting at 200 yards, not only was my paper target clear, but so was the backstop and trees at 300 yards. This is something many hunters will appreciate.
The low down –
When I first received the Hawke Sidewinder 30 Tactical SF 4.5-14×42, I wasn't quite sure that I was going to like this scope. But, after spending over a month with it, I can say that it has grown on me quite a bit. There are a lot of options in the sub $500 category, so the Hawke is in a competitive market. That said, I think Hawke's scopes may get overlooked by many shooters; which is their loss. Many users may be missing out on some pretty nice optics for the price. While the Sidewinder 30 Tactical SF 4.5-14×42 doesn't have some of the most appealing features (FFP, Mil/Mil, etc.), it does offer good optical quality, an illuminated reticle, parallax adjustment down to just 10 yards, Waterproof, Fogproof, and Shockproof specs, and an awesome box; all for about $450.
Pros
Waterproof, shockproof, fogproof
All firearm caliber rated
Turrets offer defined clicks you can hear and feel
All other dials had good resistance
Locking turrets help reduce accidental changes
Locking ocular focus adjustment
Clear optics with few distortions
Good overall value for $450
Add on big wheel (2-inch model included) makes parallax adjustments more comfortable
Plenty of windage and elevation adjustment (we saw 86.5 and 95 MOA, respectively)
Several included accessories and tools
Side parallax adjustment down to just 10 yards
Cons
Mil-dot reticle with MOA turrets
Shows some CA at the higher magnifications
Turrets are a bit mushy
Add on big wheel pointer is poorly designed
Eye-relief is unforgiving at the higher magnifications
At 27.3 ounces, the scope is a bit heavy when compared to the competition
Hawke Sidewinder 30 Tactical SF 4.5-14×42 Scope Review
By:  Will Chambers

Latest posts by Will Chambers
(see all)
Share This: