Share This:









Seriously, what is more fun than hunting varmints with classic rifles, chambered in classic cartridges? When it comes to hunting, there is NOTHING that tops it! At times you have to deal with sticky bolts, 8-9 pound trigger pulls, stocks that are lacking on the ergonomics and even optics that are from a day where fixed power was the thing to have. Earlier this year, we got to go on one of those hunts. This time, it was both of my Winchester Model 43 rifles, in .218 BEE and .22 HORNET! Talk about a classic combination!
For years, I have stated that the .218 BEE and the .22 HORNET were the most fun cartridges ever made. Light recoil, but a nice "sting" out to 250 yards (did you see what I did there 😉 ) on smaller varmints, there are only a handful of centerfire .224 caliber cartridges that are actually a joy to shoot. These two top the list for me!
The Winchester Model 43 Rifle Comparison: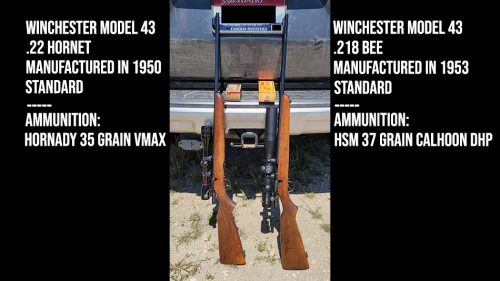 I purchased the .218 Bee about 30 years ago. It is one of the rifles that expanded my reloading. Because of the older action, I use Winchester 296 powder and have found efficient loads where I still get the speed I want, while also conserving my brass. It is a great powder for these early rifles. On this hunt, I was using some HSM (Hunting Shack Munitions) factory loaded ammunition, where they loaded the Calhoon 37 grain Double Hollow Point projectiles. These bullets are absolute dynamite on colony varmints. They are limited on the speed you can push them, but there are no concerns with that when you are shooting the .218 Bee (or .22 Hornet). The HSM loads shot well in my M43 and performed very well on the rockchucks we shot that day (see the video). Lastly, my .218 Bee is topped off with a Vortex Diamondback HP 4-16 power scope. I switched to that optic after my Bushnell 1.5-4 starting giving me issues. The latter is more of a classic period optic, but the Vortex works well for the field work I do. My Model 43 .218 Bee gets shot a lot, so upgrades are always nice.
The .22 Hornet was given to me by an old friend of mine who purchased it new, back in 1950. While my Bee has zero known history before I owned it, the M43 .22 Hornet has years of hunts and stories of those hunts attached to it. Listening to them brought me back to a time when varmint hunting was really in its heyday. Manufacturers were trying to fill the need for affordable rifles, chambered in cartridges that were developed specifically for hunting varmints. We Varminters just don't get that type of appreciation anymore. I normally load this .22 Hornet with some 33 grain VMax projectiles I bought on clearance years ago. They are loaded with the same load data as the 35 grain projectiles, but the results are a bit faster and definitely more devastating to the intended target. On this hunt, I dipped into my stash of Hornady factory ammo and brought along a few boxes of their factory .22 Hornet ammunition that is loaded with their 35 grain VMax. The fact that it is readily available and designed for varmint hunting, the 35 grain VMax probably holds the award for best varmint bullet in a slower, centerfire .224 rifle. I think they are GREAT and the video shows why I gush a bit about these projectiles. This .22 Hornet is topped with an original Leupold fixed 7.5 power riflescope, which was produced in the early 1960s. After purchasing the rifle, the previous owner traveled to the hills of Southern California, out to the prairies of the Dakotas and the mountains of Wyoming and Montana, hunting every type of varmint you can dream of, in environments that tested his Model 43 .22 Hornet in everyway possible. To say I am honored to now carry this rifle, seems to be a poor way to express the feelings I have when my hands are on this little piece of history. Its hard to believe, but to me, this rifle is the equivalent of a owning a classic Corvette, or the James Bond Aston Martin, even a Mercedes SL 300 Gullwing! It's that special.
The Rockchuck Hunt:
Back in May of this year, the stars aligned and the Varminter crew got together for a few hunts here in Idaho. May 20th was the day we chose for rockchuck hunting on a ranch where we help out a cattle rancher by removing these destructive marmots. Although they spend most of their time eating and digging escape holes in the pasture, most of them live in the rimrock surrounding the lush green grass. This gives them a secure place to live and breed, protecting them from the local predators. We hunted along the edge of the property, where the rimrock was especially rugged and hidden behind some trees. We hiked into the area and used an old piece of abandoned farm equipment to shoot from. It wasn't long after setting up when the rockchucks started to pop out, everywhere! I was shooting the .218 Bee, while Cache was shooting my .22 Hornet. David was running video and calling shots. The numerous targets made for some confusion in the beginning, but after a while we hit a rhythm and rockchucks started to die. As always, our mission is to cause a quick, clean, kill. Both Cache and I were able to have 100% success with one shot kills at the sub-150 yard targets we shot. No longer shots were available, due to the abrupt end to the rimrock at the far end of our shooting area.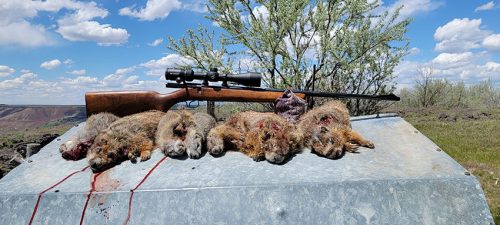 ".218 Bee hit. Double!" That was a quote from David after I took two rockchucks with the .218 Bee, with one shot! It's always nice to get those on video, just in case no one believes you. But, that wasn't the case with this shot. Two witnesses and a digital record, makes for good story back-up! After that shot, Cache jumped in and took a couple of them in a row with the .22 Hornet. So went the afternoon, with shot after shot connecting with rockchucks of all sizes out in the rocks. Their intrepid leaders would pop out, followed by mostly younger 'chucks, who didn't realize that following blindly would lead to their demise. It made for excellent shooting. About 40 minutes into the shooting, the wind picked-up and we decided to call the shoot in this area. Between Cache and I (with David popping a couple), we took ten rockchucks out of this small area. It was a good start and the rancher is ALWAYS okay with us leaving some seed behind for the next year's shoot.
.218 Bee hit. Double!" That was a quote from David after I took two rockchucks with the .218 Bee, with one shot!
Final Thoughts:
These days, we are inundated with new cartridges almost every year. While I appreciate the development of new options, I tend to look backwards when I want to find a firearm and/or cartridge that will excite me. I would rather pick-up one of my classics, then one of my wiz-bang, 1000 yard capable, modern cartridges that people fight over on Facebook. When these cartridges were developed, it was rare to hear anyone questioned their capabilities, without first shooting them extensively in the field at live targets. It was also the start of the golden years of varmint hunting. Unfortunately, the value of a varmint hunter with a wallet full of cash began to wain in the late 2000s and has all but died today. The bean counters and attorneys began to dictate the types of rifles to hit the markets. Innovation began to die, and along with it the chances of any of these classic cartridges to be reborn in a modern rifle capable of showing today's shooters the joy of a 40 grain projectile going 3000fps, with others telling him/her that was good enough. I'm a bit of an aberration. I enjoy shooting modern rifles, as well as AR15s. But, I still lean towards building them around the classic cartridges. As always, "Stay-Tuned".
Unfortunately, the value of a varmint hunter with a wallet full of cash began to wain in the late 2000s and has all but died today.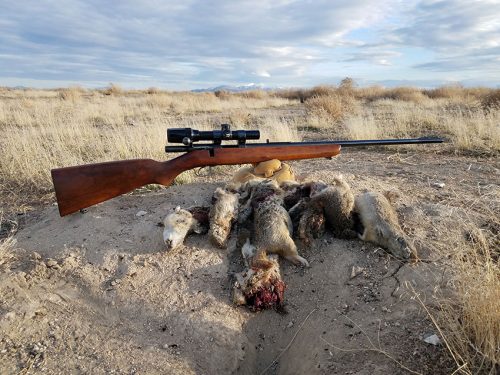 Latest posts by Eric Mayer
(see all)
Share This: