Share This: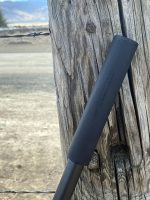 The Yankee Hill Machine (YHM) .22 Stinger is a lightweight, compact, fully serviceable rimfire suppressor that has been a favorite for rimfire shooters for years. Why then, would we be interested in completing an overview, review and hunt report using this suppressor? It's simple, we here at Varminter Magazine understand that many of our readers are not fully aware of the advantages of a good suppressor while hunting varmints. The majority of varminters who currently use them are mainly in the predator hunting portion of our community. However, as more of us use suppressors while we colony varmint hunt ground squirrels, prairie dogs, rockchucks and even rabbit and pest birds, we find that the need for sound suppression goes beyond hearing protection. It also extends to almost every varmint hunting situation, where quieting your shots is beneficial to the shooter. From helping to protect your hearing, to preventing varmints from being spooked at the sound of a shot, suppressors are vital pieces of equipment to our varmint hunting arsenals. So it made sense for us to choose a popular suppressor from a well-established company, with a history of great results in the field for this article.
We also work with the folks over at Silencer Shop, so we can request suppressors to bring in-house for a short time in order to fully use, give an overview and in many cases, review the item we have so we can help educate our readers on the benefits of shooting with a silencer/suppressor. This gives us a great deal of flexibility to cover suppressors of all makes and types, so you can make an educated decision on which ones will work best for your shooting and hunting situations. (see the last paragraph in the article where we explain our relationship)
Let's look at the details of this suppressor.
YHM .22 Stinger Suppressor – Specifications:
Caliber: .22

Rated for: .22LR, .17HMR, .17HM2, 5mm, .22Mag, .17WSM and 5.7x28mm

Weight: 6 ounces

Length: 5.5"

Build materials: 6061-T6 aluminum; stainless steel

Finish: stainless anodized matte black

Easy to disassemble/clean (the "dip" and ultrasonic cleaners available)

116 dB on 10/22, CCI std

1/2″-28 Threads

Full-auto rated
What Comes in the Box?
Suppressor

End Cap Tool

Disassembly Rod
Material and Construction:
6061-T6 aluminum

Stainless Steel

Stainless Anodized Matte Black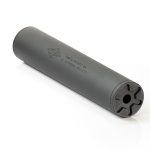 The first thing we noticed when pulling the .22 Stinger suppressor out of the box was how extremely light-weight it was in comparison with a few other suppressors we have worked with lately. YHM developed the Stinger to improve upon their Mite suppressor that preceded it. With a sealed baffle design, the Stinger separates the gases from the tube which makes the suppressor much easier to take apart. The Stinger is also quieter than the Mite, while only adding approximately 3 ounces to the weight. YHM also offers a conversion kit for the Mite suppressors, so you can pay a small fee, send it in and change the Mite to a Stinger configuration.
The next observation was the compact and slim design. Most varmint hunters try their best to keep their optics on their rimfires as low to the barrel as possible. This helps with adjustment and accuracy issues when sighting in with traditional rimfire rifle stocks. The Stinger sat nicely on the end of our rifles and did not impede our sights at all; even at low powers. This is a must have when shooting medium to heavy weight barreled rifles or with canted scope bases.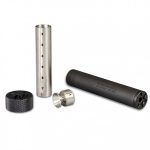 Lastly and probably most importantly, was the ease of unscrewing and removing the baffles for cleaning. When shooting a rimfire suppressor, there are times when lead deposition and carbon build-up can reduce performance. With the ability to quickly remove the baffles and scrub them by hand, drop them into an ultrasonic cleaner, or even pop them into a wet media tumbler with metal media, YHM took into consideration the need to keep your suppressor clean. Click HERE for a video showing the disassembly and reassembly of the YHM Stinger Silencer.
Sound Suppression Factory and Field Sound Suppression Results:
Yankee Hill Machine lists their sound suppressor results using CCI Standard .22 Long Rifle ammunition in a Ruger 10/22 rifle. They recorded 116 dB at the ear.
We did our testing differently. Our testing was geared towards hunters and the animals we target. A typical shot while hunting with rimfire rifles, is about 50 yards, out to 150 yards. We decided to set up our sound meter at 65 yards. We also chose to use a CZ Model 457 in .17HMR, using the CCI A17 ammo (which is slightly hotter than the standard .17HMR). Our average over six shots was 60.2 dB. This is less than the decibel rating of an electric razor. The .22 Stinger suppressor did a great job of cutting down the sound and the sharp crack of the 17 grain bullet traveling at 2650fps. While using this suppressor, any downrange varmints would barely notice the sound of the bullet passing them at typical varmint hunting distances.
Hunting with the .22 Stinger Suppressor:
We had many rifles/cartridges to choose from for testing the Stinger suppressor. Because of the time of year, we decided that Belding's Ground Squirrels in Northern Nevada and Columbian Ground Squirrels in the mountains of Central Idaho, would be ideal varmints to hunt suppressed. Our rifles of choice were a bit out of the ordinary for most, but we decided on the T/C Contender Carbine in 5mm Remington Rimfire Magnum and the Franklin Armory F17-X in 17 Winchester Super Magnum. The F17-X is an AR15 chambered in this cartridge and is typically not shot suppressed. We were still going to try!
Northern Nevada – Belding's Ground Squirrels – David's Report:
We received word from a local farmer that his alfalfa field was being destroyed by large numbers of ground squirrels. Although it was midday and hot, we decided to hit the field and assess the situation for the following morning's hunt (late season ground squirrels tend to stay in their holes during the hot portion of the day). You see, we had hunted this area earlier in the year, so the possibility of the ground squirrels being gun shy was also an issue. When we arrived, we were surprised to see dozens of squirrels zooming back and forth from the alfalfa to the sage that bordered the field. Eric and I quickly set-up the shooting bench and video camera. I took over the camera duties, while Eric pulled out his Thompson Center Contender Carbine chambered in 5mm Remington Rimfire and got situated on the bench. He attached the YHM .22 Stinger suppressor onto his threaded bull-barrel and verified that everything was lined-up and ready to go.
The area we shot was another "gauntlet" type situation. If you recall the 1977 action movie of the same name, starring Clint Eastwood. He was bringing back a witness to Phoenix and was forced to run a "gauntlet" of other misinformed police officers shooting at the bus he rigged to protect them while they made a run for City Hall.
Now, that may be a long explanation for something so simple, but what it boils down to is that we were the ones shooting at the ground squirrels running the gauntlet. They didn't have an armored bus, nor did they have any type of protection, other than their keen sight and hearing. Their sense of sight could not be tricked, but the sense of hearing could definitely be fooled into making the ground squirrel unaware of the bullets whizzing past him and into his buddies.
As we stated in the opening paragraphs, the YHM .22 Stinger suppressor is excellent for helping to protect our hearing while shooting, but also important is the ability to shoot numerous live targets without them running away in terror at the big boom they just heard 60-75 yards away from them. This allowed us to continue to shoot this one location for hours and put a huge dent in the ground squirrel population for the farmer. Please, read the last two sentences again. I cannot stress enough how our hunting conditions have improved since utilizing suppressors while hunting small game and varmints.
The hunting clips in our video proves this out. As Eric began to shoot, he realized that the shots being taken were much closer than he was sighted-in for. It took a few shots for him to adjust, but as you can see in the first clip, the ground squirrels in the area where Eric shot and missed, had absolutely no fear of the shot that had hit right near them. The Stinger suppressor knocked the decibels down enough to remove the loud noise of the rifle going off and gave the squirrels a false sense of security.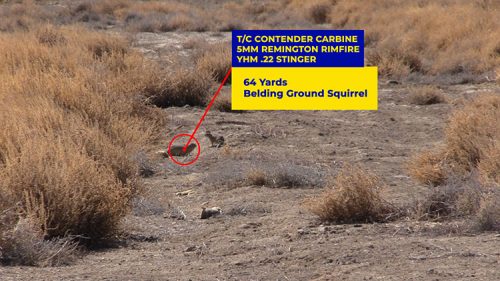 As the rest of the video continues, you will see many shots, with hits where the ground squirrels in close proximity to the shot show no reaction. See the clip at 2:44 for a perfect example of this (see video screenshot above). A large ground squirrel came out of the sage at 64 yards. Eric took the shot and hammered the squirrel. Normally, the loud report of the 5mm Rimfire (33k psi) would scare any other squirrels in the general area. However, a squirrel that was standing mere inches away did nothing but look at the squirrel that had just been shot. I wonder what he must have been thinking? Would he have any understanding of terminal ballistics and what a 30 grain bullet traveling at 2400fps does to a fat, alfalfa stuffed, ground squirrel! I do know that the report of the rifle did nothing to affect his immediate actions. Nor did it bother the other squirrel that ran out a few feet behind them.
Central Idaho – Columbian Ground Squirrels (Eric's report):
Approximately two months after we were hunting Belding's Ground Squirrels in the hot, Northern Arizona desert, David, Loren and I, headed up to the high country in Central Idaho to hunt Columbian Ground Squirrels. The Columbian Squirrels are much larger than their Belding's counterparts, but their numbers are not as great and the terrain where you hunt them is completely different. Picture mountains, giant granite boulders and dead falls, scattered within huge, green, meadows of grass and flowers.
We had switched the YHM Stinger to the Franklin Armory F17-X AR15 rifle, chambered in the 17 Winchester Super Magnum. Our shots were going to be longer and the chances of thermals and swirling winds, made us choose something with very little surface area and that would get to the target really fast, while staying with a rimfire cartridge. I was eager to see how well the Stinger would do on knocking down the report of the 17WSM and prevent it from echoing through the canyons we were hunting. This echo is a death-knell to your hunting in these areas, because the ground squirrels in the high country are not used to any type of noise, with the exception of the wind blowing through the pines and the occasional woodpecker rapping his head against a tree.
Unfortunately, the population of Columbian Ground Squirrels was down in the area we hunted, so we had limited opportunities for shots. However, the ones we did shoot at answered my question on how well the Stinger suppressor would cut down the report. After I missed a few shots, Loren took over and took some shots across a small canyon against a hillside. He took two ground squirrels at 133 and 135 yards (see video screenshot below), within a few minutes of each other, in the same general area (within 20 yards apart). The normal "crack" of the 17WSM was brought down to a small report that did not have near the echo as in years past (when shot without a suppressor). I was impressed! You will see the differing terrain in the last part of the video and you will also see the extreme mirage/thermals in the area. Loren made some really good shots and the F17-X / YHM .22 Stinger suppressor combo worked together perfectly!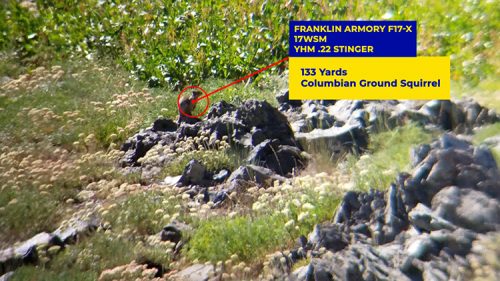 Conclusion and Final Thoughts: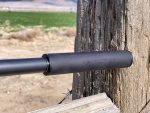 The YHM .22 Stinger suppressor is a lightweight, compact, fully serviceable suppressor that is rated for all smallbore rimfire cartridges (.22LR, .17HMR, .17HM2, 5mm, .22Mag, .17WSM and 5.7x28mm CF). It's 6 ounce weight, 5.5" length and 1' diameter, makes it a streamlined suppressor that does not turn the end of your smaller rimfire rifle into a hindrance while shooting. During our testing, we had no issues with the sight picture of our rifles with low-mounted scopes. The balance was not affected and the length did not get in the way of our hunting activities.
The YHM .22 Stinger was effective in the field and helped improve our hunt by keeping the targets available and allowing for an extended shooting time where we removed far more than if we were shooting unsuppressed. It proved to be very quiet in the field with no issues of any kind experienced. During our sound testing in the field, the Stinger did a good job of removing the report of the rifle even with supersonic CCI A17 – 17HMR ammunition.
This suppressor is well worth the cost ($311 currently at SilencerShop.com) and tax stamp wait. For those who are looking for a first time suppressor for their rimfire rifles, the YHM .22 Stinger should be strongly considered. The included options and well thought out design, make the .22 Stinger a great option for experienced suppressor owners as well. We believe this so much, that Eric ended up buying one during this process.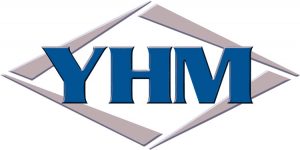 Btw, after owning one, you may find that just one will not do. That's alright. It is a commendable obsession, with only positive outcomes in the long run.
All of us at Varminter Magazine are huge fans of suppressors and have a very hard time hunting without one. This is why we have chosen to work very closely with Silencer Shop and are part of their "Silencer Shop Authority" group of independent reviewers. What this means is, even though Varminter Magazine is paid to complete our articles/videos covering suppressors sold by SS, we do not relinquish any control over giving our actual opinions and thoughts on the suppressors we review. This falls in line with our dedication to keeping our magazine free from influenced opinions often found elsewhere in the online shooting world.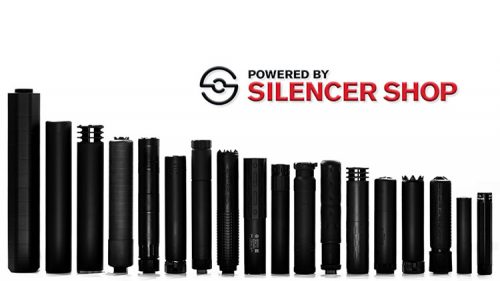 Latest posts by David Hillis
(see all)
Share This: