Share This: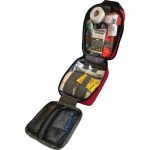 While hunting, or being in the outdoors in general, you should always have a well regulated medical kit with you at all times. Different situations call for different types of kits. We will be discussing the Rescue Essentials Compact First Responder kit in this article. While hunting, we at Varminter travel quite far from population centers and significant medical facilities. Because of this, I wanted a kit that would allow me to treat day to day cuts, burns, scrapes, and discomfort while still being robust enough to assist myself or others in case of an emergency. I separated the items in the kit into the "Ruin your Day Emergencies" and the "Ruin Your Trip to Significant Emergencies". It is fitting that this is the first article/video in our new "Safety Series", because it is probably the most important thing to have with you to keep you "safe" while out in the field. These are kits we carry with us in our vehicles, or on our persons and recommend that others do as well.
The Rescue Essentials Compact First Responder [CFR] kit.
Ruin Your Day Emergencies:
Small Cuts/Abrasions
Small Burns
Muscle Aches
Migraine
Stomach Upset/Diarrhea
Allergies (bug stings, pollen, etc)
Medications
1 Medications Module (contents listed below)
6 Ibuprofen, 200mg / pack
6 Diphen Antihistamine, 25mg / pack
4 Diamode Anti-diarrheal, 1 / pack
4 Alcalak Antacid, 2 / pack
6 Acetaminophen, 325mg / pack
4 Aspirin, 325mg / pack
Minor Wound Care
1 Cotton Tipped Swab (Pack of 2)
1 Water-Jel Burn Jel, Unit Dose
2 Eye Pads
2 Conforming Gauze, 3″ x 5yd
4 Gauze Sponges, 4″ x 4″ (packages of 2)
8 1′ x 3″ Adhesive Bandages
4 2″ x 4″ oval bandages
4 Knuckle Bandages
1 Pair Nitrile Gloves, Large
1 Cloth Tape, 1″ x 10 yds
2 Steri-Strip Reinforced Skin Closures, 1/4″ x 3″ (3 strips per envelope)
1 Glutose, 15gm
1 Tincture of Benzoin
1 Saljet Rinse, 30mL
2 BZK Antiseptic Towelette
4 Alcohol Prep Pads, Medium
3 Antibiotic Ointment, Unit Dose
Ruin Your Trip (Significant) Emergencies:
Lacerations/Deep Cuts
Sprains
Eye Injury
Apnea, or Severe Ventilatory Failure
Tactical & Severe Bleeding Control
1 Combat Application Tourniquet (C-A-T)
1 H&H Thin H Bandage, Flat Fold
1 NAR S Rolled Wound Packing Gauze
1 Hyfin Vent Compact Chest Seal, Twin Pack
1 Naso Airway with Lube, 28Fr
1 EMT Shears, 5.5″
1 ABD Combine Pad, 5″ x 9″
1 Survival Rescue Blanket, Compact
1 CPR Faceshield
Splinting and Sprains
1 SAM Splint, 24″
2 Triangular Bandages
Rescue Essentials makes a wide variety of kits from anything to a pack trip to a significant first responder kit. They also offer individual items so you can customize your own kit to suit your needs. Although we truly hope you will never need to use a kit for medical emergencies, having a kit like the IFAK or the CFR kit will ensure you are prepared for most circumstances.

**This article contains affiliate links. When you purchase using one of these links, it costs you nothing extra and you help support Varminter Magazine, which we really appreciate!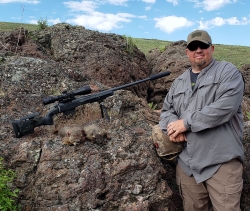 Latest posts by David Hillis
(see all)
Share This: