Share This:









This is the page to follow the progress of our .17 Remington Fireball and .221 Remington Fireball projects. What are the Fireball Projects? Simply stated, we have four different rifles that have been re-barreled to the .17 Fireball and .221 Fireball chamberings.
Howa 1500 Mini-Action – Re-Barreled to .17 Remington Fireball – 1:9″ Twist
Howa 1500 Mini-Action – Re-Barreled to .17 Remington Fireball with a threaded barrel – 1:9″ Twist
Howa 1500 Mini-Action – Re-barreled to .221 Remington Fireball – 1:12″ Twist
Savage 110 – Custom .17 Remington Fireball by Shaw Custom Barrels with a threaded barrel
Varminter AR15 .17 Fireball Build using a Deadshot Barrel
As we test these rifles, we will also discuss the project details and some of the steps we needed to take in order to allow them to function properly. We will also include complete accuracy testing with both factory ammunition (depending on availability) and handloaded ammunition.
These rifles will eventually be up for sale, so stay-tuned in to our progress!
__________________________________________________________________________________________________________________________________________
12/22/2022 Update – .221 Fireball Howa Build – Wyoming Prairie Dog Hunt – Short Video:
__________________________________________________________________________________________________
10/10/2022 Update – .17 Fireball AR15 Build Using a Deadshot Barrel:
The .17 Fireball AR15 build is complete. This Fireball is built around an 18″, 1:10″ twist, AR15 barrel from Deadshot Barrels. The ordering process was simple and the bolt we intended to use in the build was sent to Deadshot for head-spacing. The rifle functions extremely well and loves the 20 grain VMax HSM ammunition. This rifle is meant to be a lightweight, walking varminter for everything from small game and colony varmints, to predator hunting.
Parts Info:
– Barrel – @deadshotbarrels
– Handguard/Cerakote – @foundingfathersarmory
– Upper/Lower – @freedomflagproducts
– Trigger – @cmctriggers
– Stock/Magazine – @magpul
– Grip – @ergogrips
– Scope – @meoptasportoptics
10/03/2022 Update – Testing in the Field on Wyoming Prairie Dogs:
It's been a couple of weeks since I've been back from Wyoming and my prairie dog hunt. This was the first testing in a full hunting environment, with numerous rounds being loaded, ejected and fired through one of the .17 Fireball Howa rifles and out of the .221 Fireball Howa rifle. Both performed very well, though I did run into some magazine drag in one of the .17 Fireball rifles. This was remedied by sanding the feed lips just a tad when I returned to Idaho. I loaded up some 40 grain Mead Industries bullets for the .221 Fireball and was extremely pleased with the results! The .17 Fireball Howa shooting the HSM 20 Grain VMax ammunition performed very well, including hits at 100, 185 and 298 yards.
09/26/2022 Update – New Boyd's Gunstocks Stock for the .221 Fireball Rifle: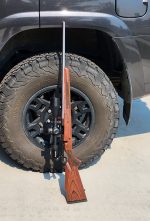 This .221 Fireball beauty will be heading to Wyoming for some Prairie Dog hunting. This is the same Howa Mini-Action that started its life as a .222 Remington. After being rebarreled with a Shaw Barrel to .221 Fireball, it was then fitted with Jefferson Outdoor bottom metal with the hidden/flush magazine, inside of a Boyd's Classic Howa 1500 Mini-Action, inletted with the standard detachable box magazine configuration, lightweight #1 barrel channel stock. It is much prettier in real life!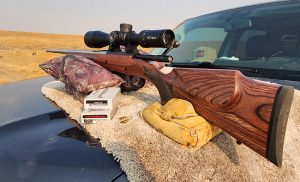 08/05/2022 Update – New Bell & Carlson Stocks for the .17 Fireball Rifles: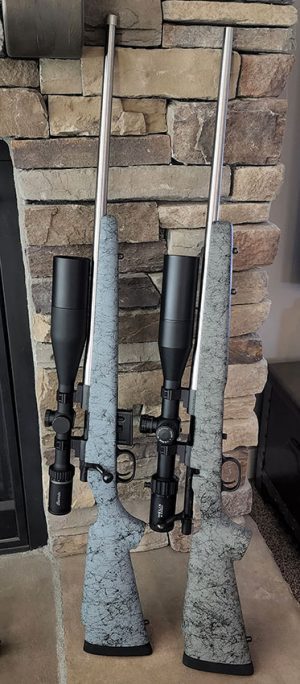 07/08/2022 Update – .221 Fireball Range Testing / Badger Hunt with Nosler Factory Ammunition:
04/11/2022 Update – Magazine Testing:

Latest posts by Varminter Magazine
(see all)
Share This: