Share This: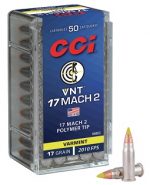 January 2, 2019 – CCI has announced a new 17 Mach 2 ammo round, loaded with the same Speer VNT bullet that was released last year in their 17HMR. This new 17HM2 ammunition solidifies another move towards keeping the 17 Mach 2 on the shelves for hunters and shooters of this devastating little rimfire round.
Here are the specifications on this new round, as well as their new .22 Magnum ammunition that also includes a new VNT .22 caliber bullet:
———-
VNT 17 Mach 2 & 22 WMR
Last year, CCI® extended the range and devastation of magnum rimfire with the VNT™ bullet design. Now varmint hunters and target shooters can get the same performance and precision in 17 Mach 2 and 22 WMR. The new loads feature a Speer® bullet with an extremely thin jacket and polymer tip that team up to offer flat trajectories, superb long-range accuracy and explosive terminal performance on impact.
Features & Benefits
• New 17 Mach 2 and 22 WMR loads
• Speer VNT bullet design
• Very thin jacket combined with precision-built polymer tip
• Devastating terminal effect on varmints
• Flat shooting and highly accurate to maximize effective range
• Consistent CCI priming
• Nickel-plated cases
Part No. Description UPC MSRP
948CC 17 Mach 2 17 grain, 2010 fps, 50-count 6-04544-64702-0 $10.95
969CC 22 WMR 30 grain, 2200 fps, 50-count 6-04544-64702-0 $15.95
———-
After we published the release of the 17HMR VNT ammunition last year, we used it in the field on varmints. We found that this bullet performed very well on paper, as well as colony sized varmints. Adding this line of ammo, in 17HM2 and with the VNT bullet, is GREAT news for varminters and will spell the demise of many varmints in the coming years!

Latest posts by Varminter Magazine
(see all)
Share This: