Share This:









While at this year's SHOT Show in Las Vegas, we met up with Steve from ATN Corp and took a look at the new products from ATN for 2023 <- This opens into a .PDF. To say we were blown-away is an understatement! Quietly and without fanfare, ATN updated many of their most popular products with advancements we've only seen in $15k+ optics. I will briefly discuss what Steve covers in the videos, but since the specifications are so detailed, I am including the actual specs from ATN's 2023 catalog.
ThOR 5 XD LRF Thermal Optic:
Steve first discussed the new ThOR 5 XD (extreme definition) LRF )=(laser range finding) Thermal Optic. With a 1280×1024 12 µm sensor and 60 frames per second recording capabilities at a $5,500 MSRP, this ThOR is sure to be popular with the predator hunting community. Check out the specs below and be sure to watch the video to hear Steve explain some of the main points of this new optic. Here are the full specs from the ATN catalog. (Click for Larger Version):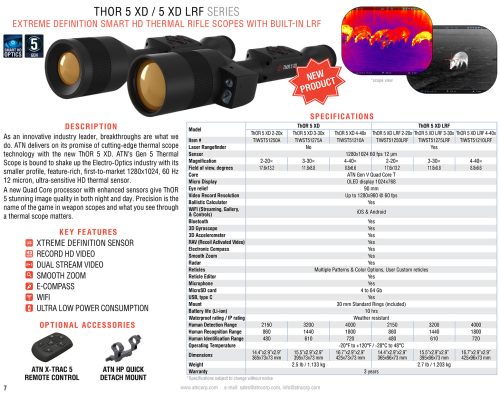 —–
X-Sight 5 LRF Day and Night Vision Smart HD Rifle Scope:
Upgrading their extremely popular X-Sight optics was expected, but the new X-Sight 5 LRF optic has received upgrades that have been eagerly awaited on by many current X-Sight users. Built in laser range finding capabilities (the LRF version), a 4K sensor with ambient temperature control, slow-motion and reticle editor are just some of the new features. Here are the full specs from the ATN catalog. (Click for Larger Version):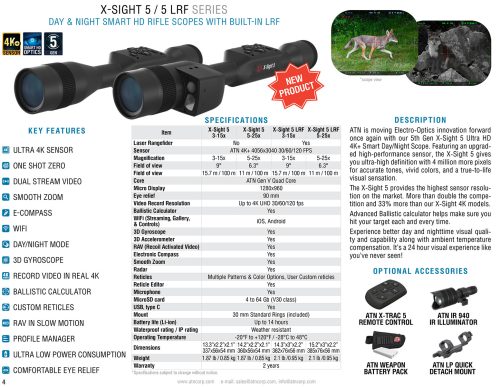 —–
ThOR LTV Thermal Optics:
The last item Steve covers in the video is the upgraded ThOR LTV Thermal Optic. The new ThOR LTV is an upgrade from the ThOR LT and now includes video capabilities. This is great for budget minded hunters who want a thermal optic with the ability to record their hunts. Again, check out the video and watch Steve's overview of this new option in the ThOR LTV thermal optic. Here are the full specs from the ATN catalog. (Click for Larger Version):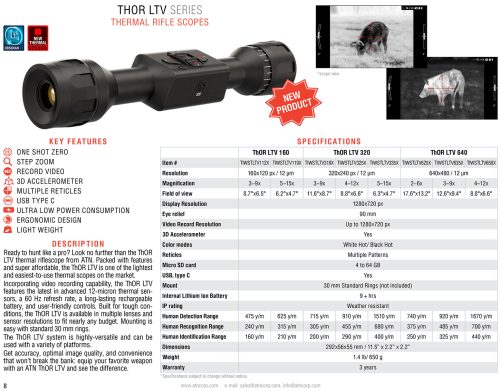 —–
Final Thoughts:
We are currently using two of the last version of the X-Sight 4K and the ThOR LT optics. As always, we put everything on our own firearms and spend time out in the field using the products. Based on the upgraded specs with these new optics, ATN seems to have thought out their newest products and took into consideration the requests of Varminters who currently use their products. They have also surprised many of us with things we didn't even think of. The question will come up about release date and availability. As Steve stated in the video, ATN Corp is working hard to put these into the hands of their users as soon as possible, so bear with them as they work towards bringing these to market.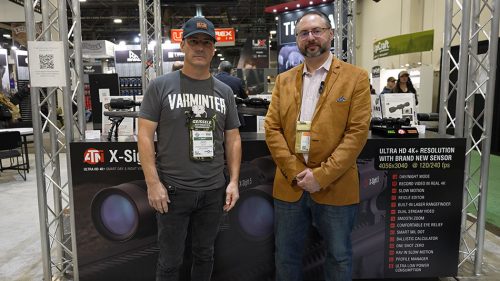 Latest posts by Varminter Magazine
(see all)
Share This: