Share This:









Our Season 21 Premier begins with an article and video on the Lithgow LA-101 Overview and Hunt Report. This is also the first of our "17HMR Series", where we will give an overview and hunt report on various, available, firearms chambered in the 17HMR. The Lithgow LA-101 is a great rifle to start off this series, because I feel it is one of the best factory produced rifles available right now. Made in Australia by Lithgow Arms, this little rifle has proven to be a workhorse in my stable of varmint hunting rimfire rifles. Lithgow is no stranger to the firearms world. In fact, they have been producing firearms for over 100 years and have a very large following with Aussie shooters.
We received, then purchased, this rifle from Legacy Sports International, who were the original importers. They have since sold these to Davidson's Incorporated, who are a large wholesaler to the gun industry. What this means, is you can hop onto their "Gun Genie" website and order one to have sent to your local dealer. Their MSRP is in the $1200-$1300 range. Based on the accuracy we achieved and the fitment, it is priced accordingly and worth the price to the "by-once-cry-once" gun buyers out there.
Specifications and Overview of the Lithgow LA-101:
The specs of the LA-101 in 17HMR are listed below. One thoughtful design is the ability of the LA-101 to accept CZ Model 452/455 magazines. Buyers do not have to worry about trying to purchase a non-obtainable magazine in the future, because the CZ mags are readily available both locally and online.
Overall Length: 39.65″ (Timber)
Weight: 7.28 lbs (Timber)
Barrel: Button broached, target crowned – Proprietary, military grade steel, cold hammer forged. Medium varmint weight, target crowned. Coated in Cerakote™
Barrel Length: 20.9055″
Rifling: 6 grooves 1 : 9" right hand twist
Muzzle Thread: (to identify your muzzle thread, please click here): ½" x 20 UNF or ½" x 28 UNEF Right Hand (rifle used for this report was 1/2″ x 20)
Receiver: High tensile steel with recoil lug. Weaver bases (Picatinny Rail available as an optional accessory) Coated in Cerakote™
Stock: Floated design with 2 sling studs, available in polymer (RH/LH), walnut (RH only) and laminate (RH only)
Length of Pull: 13.5827″ (Timber)
Trigger: Single stage 3.30693 lb release
Trigger Adjustment Range: N/A
Safety: Two position, with indicator. Safety catch blocks the trigger
Magazine: Removable, single stack box magazine, polymer construction. Compatible with CZ452/455 series.
Capacity: 5 round magazines available
Two issues I had with this rifle were:
1) The rifle used in this report had a 1/2 x 20 muzzle thread. We purchased an after-market thread adapter so our 1/2″ x 28 threaded suppressors were able to be used.
2) The trigger guard and mag-well base are plastic. Even though the plastic is not flimsy, but sturdy, a rifle of this price/quality should have metal.
Accuracy:
At the time of accuracy testing, I focused on only two of the available 17HMR offerings to gather our results. There were a couple of reasons for this, but the lack of ammunition availability was the main reason. I am very lucky to have purchased a large quantity of both the CCI VNT ammo and the Hornady Varmint Express ammo early last year. Therefore, these were the two rounds used for our testing.
As the chart below shows, the CCI VNT 17 grain ammunition performed extremely well in the LA-101. Having a factory rimfire rifle, shoot sub-1/2 MOA out of the box is extraordinary! With the average being "0.678", there was no doubt this rifle loved this lot of the CCI VNT ammo. While the Hornady ammunition did not perform as well, it was still very good performance and I would not hesitate to move to the Hornady ammo, if necessary.
Hunt Report:
The hunt report section of the video will show the performance, so I will keep this portion short and to the point. The accuracy on paper did not disappoint when I hit the field for some hunting. From ground squirrels, to cottontail rabbits, the LA-101 performed very well! Knowing the accuracy was there and consistent, I felt very comfortable feeding shots through thick alfalfa to make shots on targets where only a portion of a head, or chest, was showing. Even shooting in extreme heat, then single digit temps, the rifle never had a glitch and functioned flawlessly. Everyone who shot the rifle were also impressed by the accuracy. So much so, it started to be called the "laser beam". Check out the video and watch how I was able to take shots that were difficult and that I would normally pass on when using a 17HMR and the light 17 grain bullet!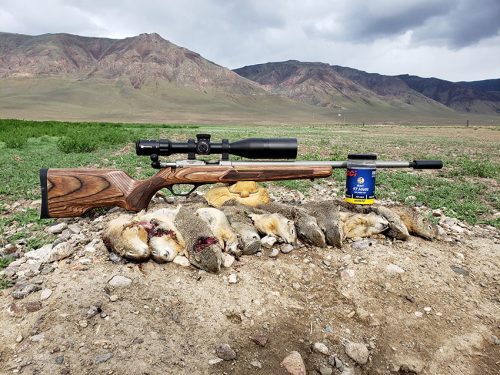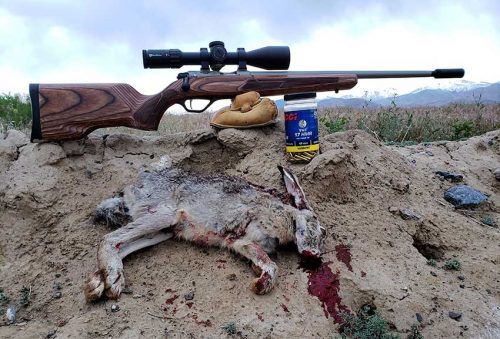 Latest posts by Eric Mayer
(see all)
Share This: