Share This: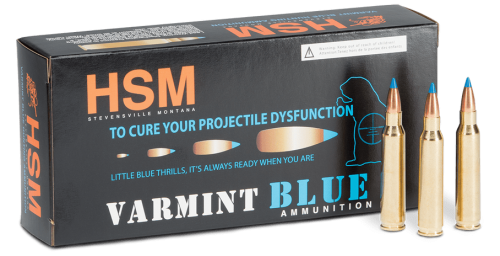 Earlier this year, while up in Stevensville, Montana, we visited HSM Ammunition to see if they still offered their "Varmint Blue .223 Ammunition". We had published a press release when it was first announced, but didn't see much coverage of it after that. We were hoping to get our hands on some and get it into the field for some range testing and varmint hunting! They were very nice and set us up with #100 rounds (#5 boxes) of the ammunition. Unfortunately, the weather had turned and the crisp spring days we experienced on the drive up from Idaho, turned into a cold, slushy, snowy, mess. There was not going to be any varmint hunting on this trip!
Ammunition Information:
The HSM Varmint Blue .223 ammunition is loaded up with a 55 grain Blitzking, with a bright blue tip. This blue tip, ties in with HSM's hilarious marketing of the ammunition! It's obvious that HSM meant to be very lighthearted about Varmint Hunter's "need" for the little blue pill and how we could use their ammo "to cure your projectile dysfunction".
Ammunition Specs:
.223 Remington

55 grain Sierra Blitzking "Blue Thrill" bullet

Loaded in Stevensville, Montana, U.S.A.
Velocity Information:
Factory listed at 3120 feet per second
Our 5-Shot Chronograph Results (we were running short on ammo after our varmint hunt):
3212-fps

3205-fps

3212-fps

3197-fps

3220-fps
The string we shot showed very good numbers, giving an average of 3209-fps, with only a 23-fps extreme spread and an 8-fps standard deviation! For factory ammo, these types of numbers are very consistent and show the time and quality HSM puts into loading this ammunition.
Accuracy:
Riley (@Shooter300 on Instagram) handled the range testing, as well as the in-field shots while hunting. Here are the results of his accuracy testing:
All 5-shot groups were shot at 105 yards:
0.63″ (0.58-MOA) – Group Size

0.40″ (0.36-MOA) – Group Size

0.84″ (0.77-MOA) – Group Size

0.87″ (0.79-MOA) – Group Size
The Remington VTR Bolt-Action Rifle in .223 Remington:
The Remington VTR ("Varmint-Target Rifle") is a unique rifle, with a triangular barrel contour and factory machined, integral muzzle-break. After speaking with Riley, I felt that this would be a great rifle to test the ammo at the range and in the field. He agreed and brought it along. With Riley behind it, the VTR performed very well and he cleaned-up on the varmints in the area we were shooting.
Rifle Specs:
22 inch triangular barrel
1:9″ twist rate
Aftermarket Timney Trigger
Machined-in, integral muzzle-break
41 & 5/8′ Overall length
Ground Squirrel Hunting in the Northern Nevada Alfalfa Fields:
Late April in Nevada is almost prime time for hunting the Ground Squirrels that inhabit the vast alfalfa fields and the bordering fallow fields around them. Their numbers are normally very high and the cooler weather means they are out most of the day feeding. What better time and place to test the performance of the Varmint Blue ammo on Ground Squirrels?
CameraMan Tom was handling the video camera (through a spotting scope) while Riley did all the shooting. They were set-up on the edge of the alfalfa field, going after Ground Squirrels on the perimeter, as well as in the alfalfa. Their shots ranged anywhere from 60 yards to approximately 150 yards. Due to the 3-Minute time constraint, we only showed a handful of videos, but the ones that are in the video show the explosiveness of the 55 grain Sierra Blue Thrill bullet. Many of the Ground Squirrels completely left the area the video was recording, only to land 10+ feet away. Or, blowing up and out of view, only to drop down after (what seemed like) a long delay! Check out the video for all the shots.
Here are some pictures of the aftermath:
Final Thoughts:
With all the funny marketing and jokes put aside, the HSM .223 Varmint Blue ammunition is no laughing matter. We found that out for ourselves, after the quick range test and witnessing the performance these rounds on Nevada Ground Squirrels (watch the video!). The 55 grain Sierra Blitzking is a perfect companion to the load that HSM developed for this line of ammo. Priced anywhere from $14.35 to $17.00 per twenty rounds, for quality hunting ammunition, it is affordable. If you are looking for factory varmint hunting ammunition, I recommend this HSM Varmint Blue ammunition, "To Cure Your Projectile Dysfunction"!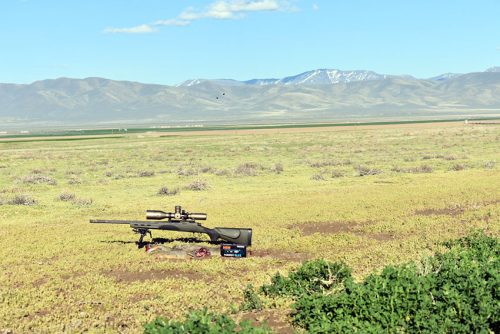 Latest posts by Eric Mayer
(see all)
Share This: