Share This: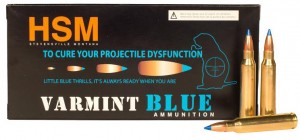 HSM Launches "Varmint Blue" 55 Grain Ammunition for the .223
This initial ammunition offering in .223, is loaded with a proprietary 55 grain Sierra Blitz King "Blue Thrill" bullet.  The HSM loaded "Varmint Blue" ammunition will push the 55 grain bullet at 3120 feet per second, with 1189 foot pounds of energy at the muzzle.  The new Varmint Blue ammunition will also function in standard AR15 magazines, so it is another high-quality offering for folks who hunt with their AR15s.  They are marketing this as an excellent varmint bullet, with more varmint calibers coming soon.
See below for the full press release from HSM:
For avid varmint hunters east to west, north to south, HSM Ammunition, Stevensville, Montana, proudly announces "Varmint Blue." The little blue thrill—always ready when you are! 
Initially offered in .223 Rem., with a proprietary 55 gr. bullet. The magic of "Varmint Blue" lies in the exclusive HSM blue thrill polymer tip. Great expansion, amazing penetration.
HSM "Varmint Blue" in .223 Rem. is available today at your favorite shooting sports retailer. Other choice varmint calibers will be added to this exciting new line soon. When you need a straight shooter. . .go to "Varmint Blue!"
All of the HSM "Varmint Blue" loads are/will be meticulously crafted with only premium components. The clean burning, temperature stable powder used allows for very consistent velocity and performance. To cure your projectile dysfunction! Ideal for all AR platforms.
HSM Ammunition has been producing outstanding metallic cartridges for nearly 50 years now. They have earned a well-deserved stellar reputation from hunters, law enforcement, and military world-wide. Besides the new "Varmint Blue" line, HSM produces excellent cartridges for virtually every caliber of pistols, revolvers, and rifles extant. Specialty lines include "Trophy Gold" and "Varmint Gold" featuring highest quality Berger bullets; a complete (both handgun and rifle) Cowboy Action subdivision, and; the exclusive "Bear Load," for when you need to stop a dangerous situation NOW. In all, over 950 specific offerings.
To learn more about the new HSM "Varmint Blue," the little blue thrill, and all the other superior products from HSM Ammunition, please visit the website at www.TheHuntingShack.com or e-mail mail@TheHuntingShack.com.

Latest posts by Varminter Magazine
(see all)
Share This: