Share This:









There is a funny thing about certain firearms. Manufacturers can spend time and effort creating a fine firearm, with unique features, chambered in a cartridge that can be arguably be called one of the greatest varmint hunting rounds ever, but still have troubles selling their firearm. It doesn't matter that it came from one of the finest manufacturers of rifles on the planet, nor does it matter that the firearm is accurate and fun to shoot. Some firearms just don't make the splash that they should have been expected. The Anschutz 17P 17HMR pistol is one of those firearms. It was never really popular when it was released, but when a large lot ended up on one of the clearance gun sites, shooters cleared them out at insanely low prices! I was a bit different. As these clearance pistols hit the varmint hunting pastures, the 17Ps started to grow in popularity. As they grew in popularity, finding them on the used market was very difficult. I had never seen one in person, but was surprised when one of them showed up at a local auction in very good condition. Not only was the Anschutz 17P up for auction, but it was topped with a Bushnell 3200 Elite Handgun Scope and included an attached Harris Bi-pod. The bidding was slow, but it ended up being me and one other person at the end. Every time he hit a price, I immediately outbid him, without hesitation. I had my top number in mind, but bidding stopped much lower than I expected. I was the owner of the Anschutz 17P package, for an out-the-door price of $350 (the fact that the Anschutz came topped with the excellent Elite 3200 scope, only made the deal sweeter)!
After finishing the background paperwork, I headed home and grabbed some Federal 17HMR ammunition I had on my reloading bench. Ten minutes from my house is 1000s of acres of BLM land, that are loaded with ground squirrels in the spring. Eleven minutes after I grabbed the ammo, I was pulling into the shooting area, watching ground squirrels dart back and forth in the dirt road in front of me. I had to talk myself down. I was there to check function and accuracy! "Don't even think about the ground squirrels!" I set-up a target and started shooting the gun. It function perfectly, shells were ejecting nicely and there were no signs of headspace issues, or light firing pin strikes. It was good to go! Next, I started shooting at the target I set-up and put three shots in a nice cluster. I could not wipe the smile off my face! I was enjoying this little pistol!

While looking through the scope to shoot one more group, I saw the shape of a ground squirrel standing directly behind the target. I consider myself a straight-forward kind of guy, who doesn't deviate much from my well thought out plans, but this was just too much! I slowly moved the crosshairs off the target and onto the ground squirrel's chest. I slowly squeezed the trigger and felt the pistol jump when it went off, but I was still able to watch the squirrel's reaction after the hit. The 17 grain bullet flung the squirrel back a few inches, landing without a quiver. "Oh, this is fun", I said out loud! I killed a couple of more squirrels, then packed-up and headed home. The pistol now travels with me on every hunt. Most of the time, I'm not shooting it. My crew, or other hunting buddies get in on the fun as well!
The Anschutz 17P Pistol:
Based off the left-hand version of the Anschutz Model 64 rifle.
It has a 12″ barrel and an approximate overall length of 21″.
The barreled action sits in a textured, black Choate pistol stock.
The bolt-action is fed by a 4-round magazine.
If you are right-handed, don't fret when you read that this is a left-handed version. Although the bolt is on the left side, when shooting the pistol with your right-hand, you can easily manipulate the bolt with your free left hand. With the short throw, the pull is very short and you are able to keep your shooting hand on the pistol for the next shot. If you are left-handed, the cycling time will be slightly slower, but with the short throw within easy reach, you won't notice any inconvenience. Because of this, I personally feel this pistol is great for both hands, or ambidextrous.
Range Report:
When tested for accuracy, the only limitation was the lower powered Burris handgun scope. That's not to say that the Bushnell Elite 3200 – 2-6x32mm scope is a great optic. I'm saying that the relatively low power makes shooting groups at longer distances (75< yards) difficult. For that reason, I did my final sight-in and range
testing at 50 yards. Even in a 12″ barrel, with the flat-shooting 17HMR it would allow for zero hold-over out to 100 yards on Belding's/California sized ground squirrels and Prairie Dogs.
As with any new (to me) firearm, the more I shot it in the field, the better my groups on paper got. The latest 5-shot group sizes averaged right at 0.378″ at 50 yards. That is a 0.550″ group minus the 0.172″ bullet diameter. These groups were done with the only bullet weight I have used in this pistol, the 17 grain 17HMR offering. The most accurate groups were shot with the Federal Premium ammo, with the Hornady V-Max coming in second with slightly larger groups (closer to a 1/2″ average after subtraction of the bullet diameter).
Hunt Report (Northern Nevada):
The Varminter Team travels to Northern Nevada frequently during the spring varmint shooting season. It is relatively close and our permissions normally have lots of live targets for us to shoot. This allows us to bring various rifles and corresponding ammo to test in the field, with a guarantee of a enough shots to prove out what we are testing/reviewing. As stated before, the Anschutz 17P does not stay at home during these hunts, so when a group of us descended on one of the big farms we hunt, the 17P got a chance to get out and do some depredation hunting on some fat, Belding's ground squirrels. The most productive hunt we had was this past April, which is an early hunt. This means the ground squirrels are out in force, because they are gorging after being underground for so long. They will move into the alfalfa fields and set up camp for most of the day, eating whatever they can and storing what they cannot. It's an amazing site to see, but very bad for the farmer's bottom line. These are the times we take care of business for 12 hours straight by shooting every ground squirrel we possibly can and kill them humanely and quickly. A far cry from what the modern poisons do to them.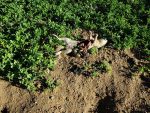 While I was shooting and recording drone footage with my buddy, David. CameraMan Tom and Riley (Guns America writer), pulled out the Anschutz and got busy. Tom was recording, while Riley was shooting the Anschutz for only the second time. The shots ranged from close-up, to one or two being in the 75 -100 yard range. As you will see in the video, Riley connected well with the 17P and was making difficult shots seem easy (head-shots on these smaller squirrels are tough enough with a rifle, let alone a pistol)! They were shooting the CCI A17 ammo and had a few shots that showed the energy of that 17 grain bullet, even out of the short 12″ barrel. None of the ground squirrels were safe. The ones that thought they were hidden in the tall alfalfa, were taken when they popped up to see what the ruckus was. All-in-all, it was a great afternoon and made a dent in the ground squirrel population in the corner of this one pivot.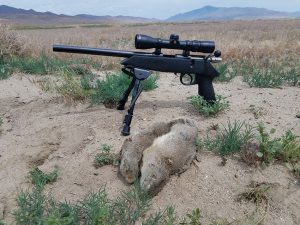 Final Thoughts:
I have never been a big pistol shooter, in fact, even the T/C Contenders I own have been made into Carbines with 18″+ barrels on them. The Anschutz 17P has made me a fan. The simplicity of this pistol, coupled with the ease of use and accuracy, has moved the 17P to my "must bring" list of guns whenever I am headed out on a varmint hunt. Initially, I purchased this pistol as a farce. Something to use for a while, then maybe trade it up for something else that I "really" want. That changed the moment I shot it and it was solidified after I shot a ground squirrel with it!
If you want a fun, accurate, bolt-action pistol, that shoots one of the most popular rimfire round in the world, then start checking your local, or online, auctions for one of these Anschutz 17P pistols. Chances are also good, that someone you know has one sitting in their safe, not having been shot in years. Ask around, seek them out and pick up an incredible little pistol that did not get the recognition it deserved when it was first released. If you're also feeling bored with today's rifle offerings and varmint hunting, find and shoot an Anschutz 17P – 17HMR pistol. It may change your entire outlook on varmint hunting in general (unfortunately, this has not yet been proven to work with anti-hunters).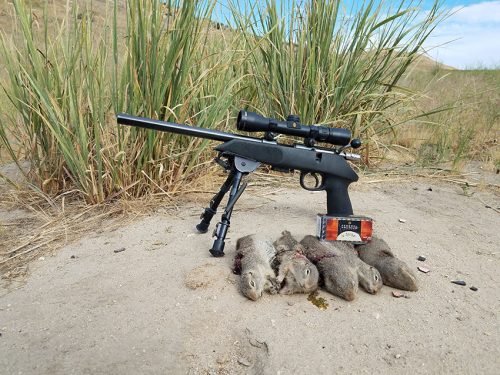 Latest posts by Eric Mayer
(see all)
Share This: