Share This:









Yes, airguns are legal to use for small and upland game in Idaho. This does not include migratory game birds, or waterfowl. At this time, there are no limits on caliber, or any recommended foot pounds of energy minimums.
Airguns of all calibers are legal for the take of Small Game, Non-Game Animals and Upland Game Birds (does not include Migratory Game Birds, or Waterfowl).
Traditional Airguns, such as break-action (aka: Springers), pump & PCP are allowed, with no caliber restrictions (.30 caliber is now the minimum requirement for Turkey).
– Calibers include .177, .20, .22, .25, .30, <.
– We recommend quality airguns and pellets for ethical kills (higher FPE). We here at Varminter do not recommend the cheap types of airguns found at Walmart (ie: Red Rider BB gun, etc).
– Airguns are not classified as "firearms" by the State of Idaho.
18-3302.(1)(d): "Firearm" means any weapon that will, is designed to, or may readily be converted to expel a projectile by the action of an explosive;.
Idaho is already allowing big bore airguns for hunting big game animals (see text of law below). This clarification on small and upland game makes Idaho one of the best States for airgunners who hunt!
Stay-Tuned for an upcoming article on recommended beginner airguns for hunters.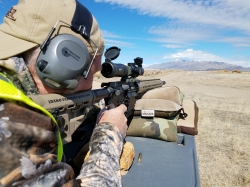 Latest posts by Loren Lunsford
(see all)
Share This: