Share This:









Inspirations can come from many places, sometimes in the shower, others while driving, while the inspiration for this project came from a discussion with Dale Troutt of Stiller's Actions at Shot Show 2020. We discussed that there are a multitude of articles and forum posts where handloaders are searching for that one magical combination of brass, powder, and bullet that best suits their factory rifle. There are several issues with assuming that one load combination will work in a similar rifle, even from the same manufacturer. First, rifles that come from a production facility are just that, a production rifle. Now I am definitely not stating that a production rifle will not shoot well, I am stating that no two rifles are identical. Just because your Remington 700 in .270 Winchester prefers a certain load is no guarantee it will preform as well in mine. The second issue with this methodology is that there are a large number of shooters who are not handloaders. This will limit these shooters with factory rifles to available factory ammunition. Often due to the looser tolerances in factory rifles, when compared to a custom rifle, the combination of factory loads and factory rifles does not always produce the desired results. However, what if you started with a custom rifle build and tested all available factory ammunition. How accurate would this combination be? Would the results be adequate for the intended use? This is the question we will be answering in this project.
The first question we needed to answer is what caliber will be used for this build. As we are first and foremost varmint hunters, heavier slower velocity calibers are not as appealing as faster, smaller diameter calibers. We decided that the largest diameter we would consider is 6.5 mm [.2644″] and there needed to be enough factory ammunition in current production to have a large enough sample size. This eliminated wildcat cartridges and some up and coming cartridges like the 22 Creedmoor. In the end it was determined the 6mm Creedmoor was the most appealing cartridge for this test (see dimensions on left – courtesy of Sierra Bullets). The 6mm Creedmoor will push a 87 gr Hornady V-Max around 3315 fps and a 108 gr Hornady ELD around 3030 fps, based on our testing. This results in a drop of roughly 1.6 inches and 2.1 inches at 200 yards respectively, based on our shooting conditions.
The Rifle Action:
The next step was to determine the components to be used in the build. The heart of any good rifle begins with the action, and this rifle is no different. The Stiller Predator short action with a .308 boltface was the clear choice. This action was generously supplied by Stiller Actions of Garland Texas. You can see their complete line of actions at www.stilleractions.com . Stiller strives to build the highest precision actions available in the world today. This action is machined from 416R stainless steel and is a Remington 700 style footprint. The Predator actions are offered in long and short action with a variety of boltfaces. It has an extended magazine well for the handloader who likes to seat his bullets longer than factory ammo. It uses the most dependable extractor available today and has an enlarged primary extraction camming surface. The bolt is one piece and hand lapped to the action and fluted for better in field function. The firing pin is fluted for faster lock time and is fully supported within the bolt body. Finally the bolt handle is threaded for the bolt knob.
The Barrel:
The barrel I selected is a 26″ stainless steel Rock Creek, 8 Twist, Sendero Contour. This barrel is a 5R, single point cut precision rifle barrel. Rock Creek Barrels are manufactured on twin spindle hydraulic Pratt & Whitney rifling machines. The barrel was then hand lapped to a superb interior finish with proprietary compounds.
The Trigger:
The trigger I went with was a Bix'n Andy Dakota Trigger. Bix'n Andy manufacturer some of the finest triggers on the market. They are crisp with a consistent pull every time. The pull weight is adjustable from 1.0 lbs to 4.5 lbs, for hunting purposes I kept this one at 2.5lbs.
These triggers are fully weather resistant with a searless design. They also fit Remington 700 style actions with safety. They also boast patented ball bearing designs with precision machined parts with a retail price under $200. Our Dakota trigger was generously provided by Bullet Central. A full line of triggers and shooting products can be found at www.bulletcentral.com .
The Rifle Stock:
The final core component of the rifle was the stock. This is where Grayboe stepped up to the plate and provided a beautiful stock for this build. The Grayboe Ridgeback stock paired with their Remington 700 Bottom Metal was the clear choice for this rifle. Feature for feature, it is one of the best buys in rifle stocks available. It features an adjustable comb, and comfortable buttpad with adjustable length of pull using the supplied spacers. The Aluminum pillars are bedded with an integrated bubble level. The Ridgeback includes an integrated M-Lok system and has a cavity for additional weight if desired. The forend is wide which was perfect for my hand. The forend is also flat in case you would wish to use a front rest. There is an integrated QD cup on the rear of stock and with the ample M-Lok room available an external QD cup could be installed easily. The bottom metal accepts AICS style magazines. Please check out their entire line of stocks at www.grayboe.com. For the rifle graphics, we let Steve at Applied Hydrographics have complete creative freedom and we were not disappointed. The amazing Black Multi-Cam pattern looks fantastic with the sniper Grey Cerakote applied by Vestals's. Check out www.appliedhydrographics.com for a complete selection of camo and other patterns available for your rifle.
The Magazine:
We chose Accurate Mag for our AICS style magazines. These are simply one of the best magazines available. Past experience has proven these to be durable, with consistent feeding. At ShotShow 202 Accurate Mag announced an aluminum version of their magazines but they were not quite ready for release. We hope to bring you more information about these in the future. Check them out at www.accurate-mag.com .
Our Gunsmith:
For the rifle assembly we required an experienced gunsmith with a proven track record when it comes to competition, hunting, and extreme long range accuracy. Our guy was Robert Vestal of Vestal's Gunsmithing in Bristol, VA. Robert took great care to chamber, assemble, Cerakote, bed, and thread the barrel of this rifle. He did a phenomenal job! Thank you Robert for your continued support. Please find Vestal's Custom Rifles on Facebook or visit them at www.vestalscustomrifles.com .

6mm Creedmoor Reamer and Go/No Go Gauges:
Our gunsmith, Robert Vestal, used our go to reamer company, Pacific Tool & Gauge, for cutting the chamber. We have built many rifles using PT&G's products, including bottom metal, actions and other miscellaneous rifle parts. As much as possible, we use PT&G's reamers and go/no go gauges. We have found that their reamers are paramount in building an accurate rifle. While they carry all of the most popular cartridge reamers, they also have a large offering of unique cartridges for anyone looking to build a wildcat rifle. Go check them out!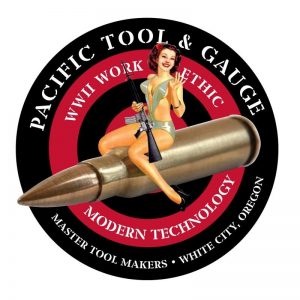 Scope Mount:
Durability and accuracy was what we were seeking in this rifle and when it comes to scope mounting the first choice that came to mind was the Spuhr ISMS mounting system. The Spuhr SP-4001 is a 34mm mount machined from one piece of material for perfect concentricity. ISMS stands for Ideal Scope Mounting Solution and it truly lives up to the name. It features an integrated leveling system to perfectly level your optic parallel to the picatinny rail by indexing from the base of the turret housing. It also features an integrated bubble level and the turrets are easily visible because of right angles in the mount on the elevation and windage sides of the optic. The rings are cut at 45 degree angle and feature ridges where scope rosin can be applied. Lastly if you are seeking a customizable scope mount where you can add accessories like an RMR or laser range finder the Spuhr offers integrated accessory holes. The Spuhr is a flawless mount and highly recommended. Head over to www.milehighshooting.com to see the complete line of Spuhr mounts.
Bipods and Support:
For our front support we used two different bipod setups. One for accuracy testing and one for hunting. These two setups were needed for a couple reasons including mobility, ease of deployment, and weight. For accuracy testing stability was the name of the game. To help us achieve the most stable platform possible we paired the Accuracy Solutions Bipod XT with the Accu-Tac HD50. Talk about stable! Accuracy Solutions Bipod XT is a bipod extension which extends the resting point of the rifle forward reducing unintentional movement. This assists with recoil mitigation, faster target re-acquisition, and helps reduce unintentional movement in the rifle system. The system comes with a complete assortment of rails and attachment options. The extension has a large QD level mount system and is extremely well built. For more information on this innovative system head over to www.accuracysolutions.com . The Accu-Tac HD50 is a heavy duty bipod which was designed for the .50 caliber rifles. It is easily adjustable from 7-10" through 9 different settings. The spring loaded legs easily retract with the push of a single button. The stance will range from 13.5-14.5" in width at the base. It also features an adjustable cant with heavy locking lugs. The first time you handle one of these bipods the first thing to pop into your mind is STOUT! Accu-Tac has a complete line of bipods, check them out at www.accu-tac.com .
For a mobile front rest we utilized the B&T Industries Atlas Bipod BT46-LW17. These bipods have a huge following in a number of shooting disciplines. We have covered other models in the past and am continually impressed with their innovation and commitment to quality. The model we used in the hunt testing features an American Defence quick disconnect lever, 30 degrees of possible travel (- 15° + or – of cant or pan), and non-rotating legs. The height can be adjusted from about 5-9" over 4 stop positions. The stance will range from 8-11" in width at the base. This bipod weighs in at 10.5 oz. The BT46-LW17 and other models can be seen at www.accu-shot.com . We would like to thank B&T Industries for their continued support.
Optics:
For optics we chose the Vortex Strike Eagle 5-25×56 FFP MRAD. This scope has a 34mm tube with 31 MILS of elevation adjustment and 23 MILS of windage. The parallax is adjustable down to 15 yards, which is great for some close range ground squirrels. This scope was crystal clear with plenty of magnification to spot impacts on the target at 100 yards. We will be doing a complete review of this optic in the future, so look for that release.
Suppressor:
The last component used on the rifle is the OSS Supressors Helix HX-QD 762 suppressor. This suppressor is amazing and was provided by the OSS staff. We had the opportunity to test this at ShotShow 2020 and were blown away. The Helix is built with patented and proven Flow-Through® technology, and it delivers 136-139 dB performance, is full-auto rated up to 5.56, and is cross-platform compatible up to .300 WM. The folks over at OSS claim "there's no other suppressor like it on the market" and we would have to agree. The included QD break worked effectively as a stand alone unit with a clear dissipation of muzzle blast when compared to the no break condition. The break has left hand threads for the compatible threads within the suppressor. The suppressor was clearly marked for the proper direction to tighten and remove the can. While shooting the sound at the target must have been very minimal because follow up shots at Rock Chucks were possible. We will be doing a complete review on the Helix in the near future but for now check out their complete line of products at www.osssuppressors.com.
Once the build was complete, we moved on to Step Two, which was shooting a wide-variety of factory ammunition at the range. Click below for that report and the range video.
Read Part Two of our Series: http://www.varminter.com/how-accurate-is-factory-ammo-when-paired-with-a-custom-6mm-creedmoor-rifle-part-ii-the-range-report/
Read Part Three of our Series – The Hunt: http://www.varminter.com/how-accurate-is-factory-ammo-when-paired-with-a-custom-6mm-creedmoor-rifle-part-iii-the-hunt/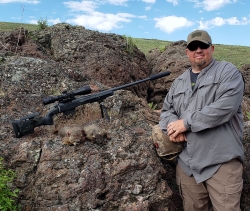 Latest posts by David Hillis
(see all)
Share This: