Share This:










The Daystate line of airguns are some of the most advanced on the market today. Their Delta Wolf airguns are, without question, the height of airgun technology. However, this article/video is going back to the extremely powerful, zero electronics, Daystate Wolverine airgun. The Daystate Wolverine HP-R in .25 caliber is an excellent airgun for small varmints, like ground squirrels and rockchucks.

Daystate Wolverine R HP Side-Lever Laminate: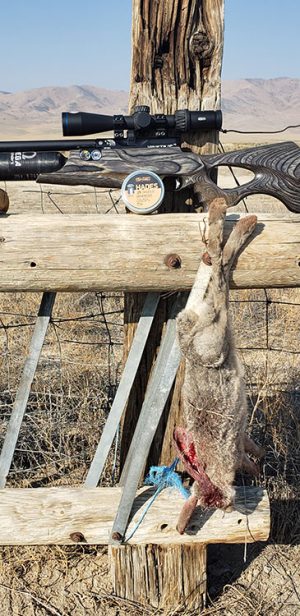 Caliber: .25
Overall Length: 44″
Barrel Length: 23″
Weight: 8.75 lbs.
Cylinder Volume: 480cc
Shots Per Fill up to 45-50
Magazine: 10 Shot
Scope Rail: 11mm
(as tested)
Optic: Meopta Optika-6
Power: 2.5×14-44mm
This video shows our hunt, with the small Piute ground squirrels being the first varmints we targeted. To give you an idea of the target size on these ground squirrels, you can place a quarter on their head and cover the entire skull. They range from 4″ – 6″ in height and only about 2.5″ wide. When you add in environmental factors, such as wind, grass, etc, it makes for a very challenging hunt! More so, with an airgun! Thankfully, the Daystate Wolverine is an accurate rifle. The second part of the video covers our rockchuck hunt. These are big, tough animals that live in rimrock areas around farmland. They do extensive damage to pastures by digging large holes in areas where livestock, horses and other farm animals feed. We hunted on a windy day, so shooting was tough, as was shot placement. The power of the Daystate Wolverine HP-R was more than enough, even on chest shots (yes, I said that).
For the ground squirrel hunt, we used the Predator Polymag pellets, which had a slightly larger average group size than the Hades, but still performed very well. For the rockchuck hunt, we used the JSB Hades pellets. I have found that both hit very hard and are quality ammo for varmint hunting. But, with all airgun shooting, shot placement is paramount for clean kills. Therefore, always shoot the pellets that are heavy enough for the job, but the MOST ACCURATE in your airgun! Here is a sample of our groups at 75 yards using the JSB Hades .25 caliber pellets.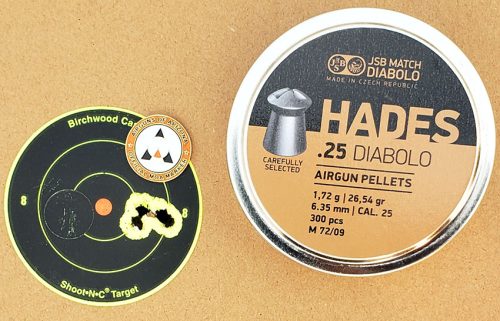 If you are in the market for a high-end, powerful airgun for varmint and target shooting, take a hard look at the Daystate Wolverine line of rifles over at Airguns of Arizona.
Latest posts by Eric Mayer
(see all)
Share This: