Share This: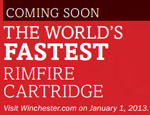 Updated 01/02/2013 – Petersen's Hunting has now released an introduction to the new 17 Winchester Super Magnum. Confirming our update from December 18, 2012, it is a new .17 caliber rimfire that comes in a 20 grain bullet offering (which the author states reaches 3000 feet per second) and a 25 grain bullet offering (reaching 2600 feet per second). The new Winchester Rimfire is definitely pushing bounds that have not been touched by any other commercial rimfire. Even Hornady's 17 grain 17 HMR is only traveling at 2550 feet per second (manufacturer specs). The 20 grain bullet, traveling at 3000+ feet per second, is something that will be untouched by any other rimfire for some time! The PH video also states that there are currently two Savage Rifle prototypes (single shot and repeater bolt-action), although the Low-Wall Winchester 1885 rifle used in the video would be another great option for some of the rimfire hunters and shooters (hint-hint).
I am currently waiting for more detailed specs from Winchester, but in the meantime, check out Mike Schoby's blog over at Petersen's Hunting (link above) for his real-world results!
Updated 12/18/2012 – The word is out that Winchester Ammunition is going to announce " The World's Fastest Rimfire Cartridge " on January 1, 2013. They will be making the announcement on their website ( Winchester.com).
The information that is leaking now shows that this may be a new .17 Caliber rimfire. There are various ammunition wholesalers who are now showing a new Winchester ammunition in the ".17 Winchester Super Magnum". It shows three offerings in the 20 to 25 grain versions. If the 25 grain V-Max that is being shown can really surpass 3000 feet per second, out of a rimfire, we may have a game-changer! It looks like my guesses of a .20 caliber were incorrect!!
I was trying to get more information on this, but there is little available. The information originally came out after a small blurb was included on a hand-out at the NASGW show (see image above). From what I was told 2 1/2 weeks ago, this will be a NEW caliber and at least one rifle manufacturer has committed to chamber a rifle for it (CZ would be nice, but doubtful).
Two bloggers have posted what they are allowed to about the new ammunition. One blog on the Outdoor Life website posted by John Snow, stated few facts, but offered some thoughts about the firearms that will be chambered for this new cartridge. He stated that at least one gun maker has signed-up to make a rifle, with possibly two more by the end of next year (2013). Another blog post by Ron Spomer on the North American Hunting Club website says that he has actually shot the round. He then gives us more insight on the new round. He states that the round will be 500 feet per second faster than any other rimfire cartridge he is "aware of". He also brings up an interesting bit of information that surely had ballistic calculators working overtime, saying that at 250 yards, this new round retains "nearly double the energy of the next-best round in their class".
Now that we have this information, the speculation begins on what the cartridge will be. My guess is either a .20 Caliber (necked down .22 Magnum) with a light bullet, or… a .14 Caliber (doubtful). Since the Centurion 5mm Remington Rimfire Magnum is already pushing their Varmint ammunition at over 2500 feet per second, with a 30 grain bullet, we know that it is definitely doable to surpass the 2550 feet per second that the 17 HMR reaches. (If you want to join in on the speculation, visit the discussion thread on our Varminter Rimfire Forum)
Other knowledgeable shooters around the web have reacted very differently. Some rimfire aficionados see this new cartridge as something interesting, exciting and worthy of the buzz it is receiving; While others give it a yawn, stating definitively that everything you could want in a rimfire is already covered by the .17 rimfires, 5mm rimfire and the .22 rimfires. Although I fall somewhere on the interesting and excited side, I cannot discount the feeling of the latter. Unless this round brings the rimfire to the level of a .22 Hornet, or .218 Bee class centerfire, I cannot see it gaining much of a fan base. However, if the specs are true, this should eclipse the 3000 feet per second mark and put it solidly into the realm of the Hornet and Bee, but in a rimfire!
I will update everyone when I find out more information. This round will be available for me to shoot as soon as January at the SHOT Show in Las Vegas. I will have a detailed report once I see it for myself and get a chance to speak with the Winchester reps.
Lastly, I want to say that I believe whenever we have a ammunition manufacturer put out a new offering for the rimfire crowd, we should give them kudos for taking the risk. When you think about it, if it wasn't for Hornady or Centurion, we would not have the .17 rimfires, or the re-release of the 5mm rimfire. Whatever this round turns out to be, forum posters all over the internet owe it to other shooters and hunters out there to back off on the negativity before we even get a chance to shoot it.
Timeline of the popular rimfire cartridges:
1887 – .22 Long Rifle
1960 – .22 Magnum
1969 – 5mm Remington Rimfire Magnum
1977 – CCI .22 Stinger
2002 – .17 HMR
2004 – .17 Aguila / .17 PMC
2004 – .17 HM2 (.17 Mach II)
— By:  Eric Mayer
Latest posts by Eric Mayer
(see all)
Share This: