Hey guys,
I was trying to get more information on this, but there is little available. Winchester announced that they are releasing the "world's fastest rimfire", with the announcement coming on January 1, 2013.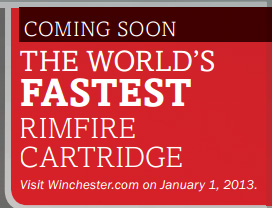 From what I was told last week, this will be a
NEW
caliber and at least one rifle manufacturer has committed to chamber a rifle for it (CZ would be nice, but doubtful).
My guess is either a .20 Caliber (necked down .22 Magnum) with a light bullet, or... a .14 Caliber (doubtful). Since the Centurion 5mm Remington Rimfire Magnum is already pushing their Varmint ammunition at over 2500 feet per second, with a
30 grain bullet
, we know that it is definitely doable to surpass the 2550 feet per second that the 17 HMR reaches.
Any thoughts or speculation is welcome and feel free to re-post this elsewhere (please give us some type of credit).
Eric