Share This:









We have been using both the Vortex Fury HD and the Vortex Fury HD 5000 AB Laser Rangefinding Binoculars for quite a while, so we wanted to give a quick overview of these vital pieces of our varmint hunting equipment.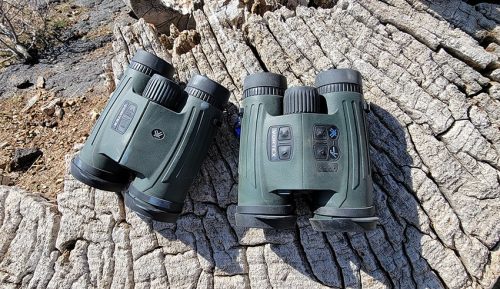 Up until 2019, my rangefinding was done with a standalone rangefinder. The best I can say is, it worked, but it was not ideal for most of the hunting we do. Being stationary while sitting at a bench shooting varmints, or on the move spotting and stalking coyotes (and medium/big game) means constantly looking through your binoculars to scan for and verify targets. Having to drop your binoculars, reach for a handheld rangefinder, then reacquiring your target with the binoculars was cumbersome and cut down on shot opportunities with skittish varmints. The first time I took the Vortex Fury HD binoculars out, I was excited on how quickly I could scan, spot, range and shoot! The rangefinding feature worked spectacularly and helped increase my kill ratio. Waiting for the technology to improve and become more affordable, was definitely worth it!
Rangefinder Specifications: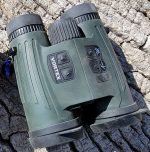 I'm going to start with the newer of the Vortex Fury binoculars, the Fury HD 5000 AB 10X42 rangefinding binoculars with Applied Ballistics. David (@david_varminter) uses these and discusses more on how he utilizes the "Applied Ballistics" that are built into the optic in the video above. The specs almost match the Fury HD Binoculars that I use, but the added features of linking up to the ballistic app on your phone, makes it perfect for his type of longer range hunting.
Vortex Fury HD 5000 AB:
Objective Lens Diameter –
42 mm
Linear Field of View –
321ft/1000 yds
Angular Field of View –
6.1 degrees
Interpupillary Distance –
58-72 mm
Range Reflective 5-5000 yards
Range Tree 5-2400 yards
Range Deer 5-1600 yards
The next generation Fury HD 5000 AB takes the guess work out of dialing long-range shots with in-display ballistic data and built-in environmental sensors and wind bearing capture mode, which means less time calculating ballistics and more time putting rounds down range. With the Applied Ballistics Elite solver built right in, you can pair with the FURY HD app to create custom ballistic profiles, and with popular Kestrel and Garmin devices for the ultimate in real-time precision. Put simply, it's a smarter way to shoot.
Set-up Video from Vortex Optics:
FURY HD 5000 10X42: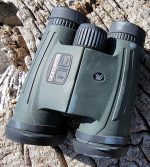 The Fury HD 5000 binoculars are what I have been using for a few years. Although they do not have the ballistic capabilities of the "AB" version, they are a very capable set of rangefinding binoculars. I have used them during 100s of hunts, for varmints, predators and even big game, killing a lot of animals at various distances out past 500 yards. During one particular hunt for Antelope in Montana, I found them to be invaluable. In fact, I credit the Fury HDs with helping me harvest a Pronghorn Antelope doe at 468 yards using my Stag Arms .224 Valkyrie AR15.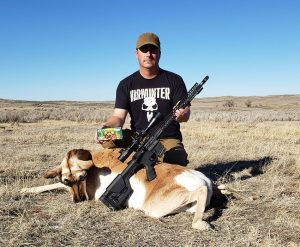 I had already killed my buck Antelope, but had another tag for a doe. As my hunting partner and I crested a ridge, there was a herd of Antelope feeding down in a valley below us. As I set-up for the shot, I handed my Fury HDs to my partner and had him start calling out the ranges of a small group of does that were on the edge of the herd. As he did, one of the does started to clear the group, so he called out 468 yards. I adjusted and made the shot with the .224 Valkyrie. The 69 grain Sierra Blitzking dropped into the upper end of her chest, blowing up her heart, causing her to drop instantly! My partner was impressed and I was elated about how well the equipment worked out for this kill! I'm almost embarrassed to say that these binoculars have been to hell and back during many of my hunts, but they still work perfectly and continue to make spotting and ranging so much easier. I don't know what I'd do without them now!
Objective Lens Diameter
–
42 mm
Linear Field of View
–
321.6 feet/1000 yds
Angular Field of View
–
6.1 degrees
Interpupillary Distance
–
58-72 mm
Range Reflective 5-5000 yards
Range Deer 5-1600 yards
Two of the most important pieces of hunting gear combined into one powerful, long-ranging unit, Fury HD 5000 rangefinding binoculars make glassing and ranging ultra-fast and efficient. Right-side button controls make one-handed manipulation of both functions quick and easy, cutting down on set up time in the field. And don't forget—these Fury HD 5000 binoculars join all other Vortex products in that they are completely covered by our unbeatable VIP Warranty, and that includes electronic components!
Overview Video from Vortex Optics:
Final Thoughts:
If you've been on the fence about spending the money for a set of rangefinding binoculars, it's time to jump off! I guarantee you, once you begin using them, you will wish you made the move earlier. There are many different options available now, with prices ranging into the 1000s of dollars. The Vortex Fury HD line does a lot for the investment. You won't find yourself lacking while using these for varmint, predator and even medium/big game hunting!

Latest posts by Varminter Magazine
(see all)
Share This: