Share This:









We dropped by the Rock River Arms booth at the 2022 SHOT Show to discuss their Coyote Tag Out Contest and the Fred Eichler series of rifles they produce. If you haven't seen the flyer yet, RRA is putting on an online coyote contest beginning February 1, 2022 and ending on February 25, 2022.
The Contest:
The rules are simple and straight-forward:
Tag-out as many coyotes as you can legally take and submit high-quality photo entries daily through the Rock River Arms website for a chance to win. The winners will be selected in three categories on March 1, 2022.
Simply put, you hunt coyotes, day or night, in a legal manner and then submit your pictures through the RRA website for a chance to win three prizes.
The Prizes:
Rock River Arms has three of their Fred Eichler Signature Predator Series AR15 .223 Wylde rifles as prizes in three categories. The Grand Prize is open for everyone who enters the contest and is a signed Fred Eichler "one-of-a-kind" special edition rifle and a 30mm hi-rise scope mount. There are also prizes for other categories, as listed below: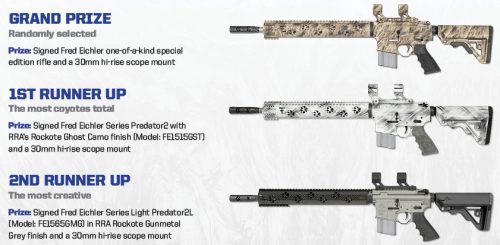 The Fred Eichler Series of Predator Hunting Rifles:
Fred Eichler is a long-time predator hunter, trapper, rancher, big-game hunter and has appeared in numerous hunting shows and articles. He and Rock River Arms collaborated on this line of rifles, with Fred designing what he wanted in a predator rifle he would use. There are numerous rifle options available, in both camouflage and non-camouflage options. I've included a gallery of the different current options below. All are chambered in .223 Wylde and include the signature handguard and brake. If you haven't already, go check these out the Rock River Arms website, where they include all the specifications of the rifles.
Latest posts by Eric Mayer
(see all)
Share This: