Share This: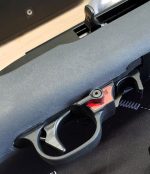 During the 2020 SHOT Show Media Range Day, I got the chance to shoot the newly announced Franklin Armory 22-C1 Binary Trigger for 10/22 platform rifles. It was a BLAST and to me, one of the most exciting products to be announced at the show. As a varmint hunter, who often finds himself in the middle of large populations of colony varmints (ground squirrels), I saw the potential beyond its use in rimfire competition (where allowed), target shooting and plinking, to use while hunting varmints!
Like everyone else, we were chomping at the bit to get one of their triggers in for testing and use in the field. Fast-forward to a few days ago, when I received a call from Franklin Armory informing me that one of their new 22-C1 triggers was on the way!
We were sent a trigger assembly that was easily installed in a stock Ruger 10/22 that I had just purchased the week prior to receiving the trigger. This Ruger is going to be the main gun used to put this trigger through its paces, shooting 100s of rounds, that included a half-dozen types of .22LR ammo. The first thing I did, was clean the Ruger and put everything back together after installing the trigger. I applied a small amount of lube on the 10/22 bolt and cycled it a dozen times (this machining in this new Ruger was a bit rough). Afterwards, I was off to the local desert shooting area with three types of .22LR ammunition and the 10-round magazine that came with the rifle. I proceeded to shoot magazine, after magazine through the rifle, in both semi-auto and binary. After a few mags, I started shooting only in binary. I was literally giggling after emptying the 10-round mags. You could not wipe the smile off my face!
All together, I shot about 700 to 800 rounds, of the following brands/offerings:
CCI Mini-Mag HPs
CCI Stingers
Aguila Super Extra
Browning .22LR
Winchester "White Box"
Winchester Wildcat
Federal "Black Box" (the packs sold last year with rebates)
I did not run into any issues at all during this ammo testing. As most of us know, .22 rimfire ammunition is dirty and can be coated with material that can gum up your action. I am assuming that with the heat that will be generated by using this trigger, it will compound the issue. Pay attention to your rifle and clean when needed.


Final Thoughts
If you love shooting your 10/22, you will up your enjoyment exponentially with the new 22-C1 Binary trigger from Franklin Armory! We will be following this with a more detailed review, as well as a hunt report, so stay-tuned!
————-
Franklin Armory's website lists the following on the 22-C1 sales page:
The Binary Firing System ™ GEN 3 (BFSIII™) is a 3-position trigger. In position 3, it fires one round on pull and one round on release, making it the fastest semi-automatic trigger on the market. This trigger is ideal for having more fun than you thought was possible with your 10/22®. The ultimate .22 plinker upgrade!
TRIGGER OPERATION:
Position 1 – Safe –Will not fire
Position 2 – Semi – Fires 1 round per pull
Position 3 – Binary – Fires 1 round on pull and 1 round on release
FEATURES:
* Release round can be canceled by simply moving our Patent Pending selector out of Binary mode while holding the trigger back
* Positive reset on release phase
* Works in most 10/22® firearms
* Great for competition shooters, tactical shooters, and recreational enthusiasts
* The most fun you can have with a .22!
* Gunsmith Installation Recommended
Latest posts by Eric Mayer
(see all)
Share This: