Share This:









Earlier today we started hearing rumors that yet another organization that offers print magazines to the shooting industry was shutting its doors.  We confirmed through a few sources this afternoon, that Harris Publications is shutting down.  Although Harris publications has print magazines in other verticals, their magazines geared towards the shooting community will be missed by readers of this magazine.  Their flashy covers, and annual, or bi-annual, magazines focused on tactical rifles, as well as handguns.  If you spent any time browsing the magazine section of your local Walmart, chances are you saw their magazines, but apparently, did not buy one (based on this closure).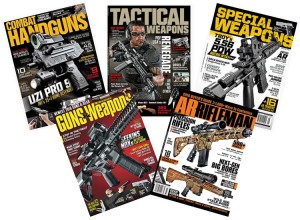 Some of the titles covered by Harris Publications included the following:
Guns and Weapons (for law enforcement)
Tactical Weapons
Special Weapons
Ballistic
Combat Handguns
Guns of the Old West
Annual and Bi-Annual Releases:
Black Guns
The Complete AR Rifleman
AK47 and Soviet Weapons
Gun Buyer's Annual
Complete Book of Rimfire
Harris Publications joins the ranks of the Precision Shooter, Varmint Hunter Magazine, Small Caliber News, and other print magazines that could not survive with the new dynamics of visual, online and social media formats, so they went out of business.

Latest posts by Varminter Magazine
(see all)
Share This: