Share This:









Editor's Note: WOOX has created a unique stock ordering/building process. Whether you want to build your own, or speak with one of their consultants to help build your stock, they have a lot of available options for your rifle stock build. We checked them out at the 2022 SHOT Show and were impressed by what we saw. There may be a WOOX stock on an upcoming build, so stay-tuned!
---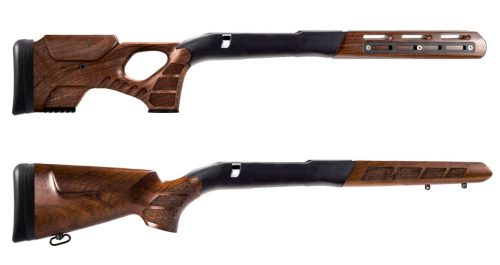 (HICKORY, NORTH CAROLINA, April 5, 2022) – WOOX, producer of exceptional accessories for the outdoorsman made in the U.S.A. and Italy, is excited to unveil the new WOOX Custom Shop for build-to-order stocks.
"At the core of the WOOX system is our modular chassis and while customers have enjoyed buying individual components for their rifles to make up their build, now they have full control of the entire process and can see their stock come to life on
wooxstore.com
," said Danilo Minelli, CEO of WOOX.
Visitors to the WOOX website start by selecting a chassis compatible with their rifle, then choose one of four WOOX shoulder stock models in six finishes, four different styles of recoil pads, and four foreend models also in six available finishes.
The WOOX modular chassis is at the core of the custom stock system and is currently compatible with Remington 700 and clones in both short and long actions, Ruger 10/22, Savage 110 short and long actions, Tikka T3/T3X, Sauer 100, and short and long action variations of the HOWA 1500 and Weatherby Vanguard.
In support of the Custom Shop and the tremendous interest in WOOX rifle stocks, WOOX has also launched WOOX Garage, a free consultation service to help customers considering a WOOX product or seeking assistance after the purchase. Customers can schedule a one-on-one consult that best fits their schedule and the video format enables them to show their rifle or see the solution to their question, not just hear it.
"WOOX Custom Shop and WOOX Garage are a result of the fantastic interest in WOOX products supported by an executive-level shopping and service experience," said Chip Hunnicutt, Vice President of Marketing for WOOX.
WOOX Custom Shop and WOOX Garage are available now at
wooxstore.com
.

Latest posts by Varminter Magazine
(see all)
Share This: