Share This: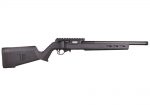 January 8, 2019 – Volquartsen Firearms just announced that they will be chambering their Summit Rifle in .17 Mach 2 (17HM2). This comes barely a week after the announcement by CCI of their new VNT line of .17 Mach 2 (17HM2) ammunition. Once again, now that the .17 Mach 2 (17HM2) ammunition is readily available, there seems to be a resurgence of this once, extremely popular round.
Specs
A suppressor-ready 1/2 x 28 threaded barrel
Crisp, clean 1.75 lb trigger pull
Made in the USA
Magpul Stock Available Colors: Black, FDE, OD Green and Gray
Build Your Own in the Volquartsen Custom Shop
———
Here is the announcement sent out by Voltquartsen:
After much anticipation, we are proud to introduce the Summit chambered in 17 Mach 2. Its straight-pull toggle bolt system is the perfect platform for the 17 Mach 2.
The Summit features a lightweight carbon fiber barrel design that provides pin point accuracy in an easy to carry lightweight rifle. The barrel is also threaded 1/2 x 28 to accommodate the suppressor of your choice. The Summit comes standard with a 1.75 lb trigger pull.
The 17 Mach 2 Summit might just be the most fun you've ever had squirrel hunting!
It has been quite the journey developing this rifle. A couple of years ago I was hearing the same rumors that you were hearing – the 17 Mach 2 round was going to be discontinued. Many of us were hoping this was nothing more than a rumor. There are few cartridges better than the 17 Mach 2 on small varmints inside 100 yards.
And then, almost out of nowhere, 17 Mach 2 ammo was available everywhere. Our staff was receiving inquiries daily as to what we had available for the Mach 2. On top of that, CCI has just released a brand new 17 Mach 2 cartridge, the CCI 17 Mach 2 VNT.
Title Photo Credit: @22Plinkster

Latest posts by Varminter Magazine
(see all)
Share This: