Share This: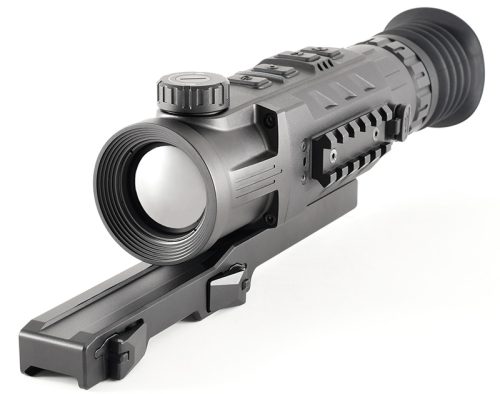 Fort Worth, TX (December 23, 2021) – iRayUSA, a Texas-based designer, manufacturer and distributor of premium thermal night vision devices is proud to announce the US availability of a new thermal rifle scope, the RICO MK1 640 35MM, from InfiRay Outdoor.
The RICO MK1 640 35MM features the same high performance iRay Micro II core and high contrast AMOLED HD found in the existing RICO MK1 line, but introduces a new 35mm lens option. With its 35mm lens, the RICO MK1 640 35MM provides a 2X base magnification for customers that demand an increased field of view while hunting.

"Since the release of the RICO MK1 line, we have had customers asking for a scope with a wider field of view," stated Angelo Brewer, Director of Operations, iRayUSA. "The addition of the RICO MK1 640 35MM confirms InfiRay Outdoor's commitment to its customers base and ability to continually produce products that are being are asking for," continued Brewer.
The RICO MK1 640 35MM is available now for a suggested price point of $4999 through the authorized iRayUSA dealer network. As with all iRayUSA products, the RICO MK1 640 35MM comes with a 5-year warranty that includes a 1-week turnaround process. A full list of RICO MK1 640 35MM specifications and an authorized dealer locator can be found on the iRayUSA website, www.irayusa.com.
5-Year Warranty with 1-Week Turnaround Process
At iRayUSA we are first and foremost hunters and users of our products, and we understand that failure is not an option. One of our primary objectives at iRayUSA is to greatly improve the customer service level for the end user. We accomplish this through offering our industry-first 1-week repair guarantee, and by only working with highly qualified Authorized Dealers. During the published warranty period, iRayUSA will repair or replace, at its discretion, any optic that becomes defective from normal use. If we cannot repair an optic in less than one week, we will offer a replacement in like or better condition.

About iRay USA
iRayUSA is a designer, manufacturer, and distributor of premium thermal night vision devices. Our company was established in 2020 by industry experts with more than a decade of experience in thermal sales, product development, and field use. We are proud of our industry experience and time spent in the field using thermal products, and that is what drives us to make the best products possible; products that we want to use as night hunters.

This commonality with our customer base is what sets iRayUSA apart from other manufacturers. It allows us to bring the most relevant products to market, as well as understand and provide the same level of customer support that we would want as end users ourselves.

Latest posts by Varminter Magazine
(see all)
Share This: