Share This: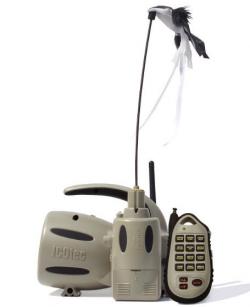 The ICOtec GC320 Predator Call/Decoy Combo utilizes our outstanding remote technology that connects to call unit from up to 300 yards with no line of sight required to activate the speaker and the decoy. The unit comes with 24 deadly call sounds, and you can play two calls simultaneously. Additionally you have the ability to activate the electronic decoy with the same remote control. ICOtec has developed this decoy with a speed control, LED light for night hunts, 2 quick change toppers and it has its own power source so it will not drain your call batteries. The AD400 Decoy is included with the GC320 caller.
Light weight, compact, easy to operate, superior quality audio calls, extreme long range remote, low power consumption, feature filled electronic decoy and one of the lowest prices available for a great call. The ICOtec GC320 is how predator calling was intended to be. ICOtec offers quality, performance and value. Dead Serious! Retail price around $150.

Varminter Magazine is a free online varmint hunting magazine with articles and videos on varmint hunting, as well as full rifle, ammo and product reviews.

Latest posts by Varminter Magazine (see all)
Share This: