Share This:










Beginning this year, Varminter Magazine plans on doing more coverage of bowfishing.  Including information on how to get started in bowfishing, what types of fish that can be targeted, and listings of local contests.  We are glad to see that the Bowfishing Association now offering free memberships.  We do not know how long this free membership will be offered, so take advantage of it while you can!
Madisonville, KY:   The Bowfishing Association of America is currently hosting a membership drive and offering free memberships.
"We know there is power in numbers, and with the exponential growth in the number of sportsmen enjoying the sport of bowfishing, we at BAA want to welcome bowfishers to the only true national bowfishing organization that will address conservation and regulatory issues for them." Said Jody Acosta Vice President of BAA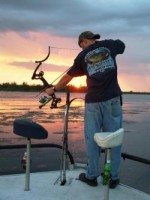 The Bowfishing Association of America (BAA) has recognized the rapid growth within the sport of bowfishing and associated industries and is currently hosting a membership drive to introduce bowfishers to the benefits of belonging to a national organization that will help its members track bowfishing regulatory, conservation, and legislative issues, work with researchers and biologists in the fight against invasive aquatic species, provide education and support activities, and truly represent bowfishers across the board at a national level. Additionally, BAA works with multiple state and local bowfishing clubs to provide support for tournaments, events, and when regulatory and legislative issues arise at a local level.
Bowfishers, and those interested in bowfishing, the fight against invasive species, and those who work in the conservation of our fisheries and waterways are encouraged to take advantage of this membership drive.
Membership can be obtained by visiting www.baamembers.com to sign up. As an incentive to help grow its membership rolls, the BAA is offering two Oneida Osprey bowfishing bows as prizes during the membership drive. One Oneida Osprey bow will be randomly drawn from all membership registrations received prior to April 16, 2016. The drawing will be held at the 2016 BAA World Championship tournament. A second Oneida Osprey bow will be awarded to the member who recruits the largest number of new members buy July 9th 2016. The winner will be announced at the 2016 Bass Pro US Open.
The BAA was founded in 1990 as an effort to track, sanction and award points for bowfishing tournaments across the United States. Since then the sport of bowfishing has evolved and the role of the BAA has evolved with it. Over the years, BAA has shifted its focus to becoming a conservation and sportsman's organization that while still continuing to offer sanctioning, points, awards, etc. for bowfishing tournaments, works with a network of BAA state representatives and members on conservation and regulation issues. The Bowfishing Association of America has positioned itself as the premier national organization for addressing regulatory issues, conservation issues, and providing education for those new to the sport. A particular area of focus is with the issues surrounding the invasive Asian carp that continue to destroy fisheries and ecosystems at rapid rate. Bowfishing will never completely eradicate these invasive species, however, it is a proven method to help keep their numbers in check and in some instances drastically reduce them. The development of local, state and national sanctioned tournaments bring not only excellent competition opportunities to bowfishers, but also contributes to often struggling economies in areas that depend on bowfishers as part of their economic base each year.

Latest posts by Varminter Magazine
(see all)
Share This: