Share This:




Anschutz North America Announces the 8002 Black Air Hunter
In an age where airguns are promoted for their speed, or energy, Anschutz North America has chosen to go a more unique route, by offering a hunting air rifle that concentrates on accuracy.  The new "Black Air Hunter" air rifle is based on the 8002 S2 Match Rifle, but "features some unique upgrades which are not offered from the factory in Germany", and is geared towards varmint hunters and target shooters (the latter being able to practice in more urban locations without disturbing your neighbors).  Here are some specifications from the Anschutz North American website: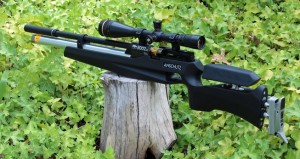 ANSCHÜTZ
 

8002 S2 Black Air Hunter:
Caliber: .177"

Energy: 7 joules
Action: Single Shot – Pre Charged Pneumatic
Moderator made by Tactical Solutions
Fully adjustable, moisture resistant coated, beech stock
Tested for maximum accuracy before shipping
The Black Air Hunter will be offered in an extremely limited run of only 20 units, and is now available, please visit http://www.anschutznorthamerica.com/black-air-hunter.html
—–

Varminter Magazine is a free online varmint hunting magazine with articles and videos on varmint hunting, as well as full rifle, ammo and product reviews.

Latest posts by Varminter Magazine (see all)
Share This: