Share This:




Ruger recently sent an email out with the announcement that they were temporarily discontinuing the 77 Series of bolt-action rifles.  As expected, this announcement sent varmint hunters into a bit of a frenzy (both buying and worrying).  Although the email stated that they were "temporarily" discontinuing their very popular line of 77 Series, the majority of the discussions on forums and social media, were focused on the latter part of the Ruger email where they also stated that "This may be your last chance to get one of these great rifles".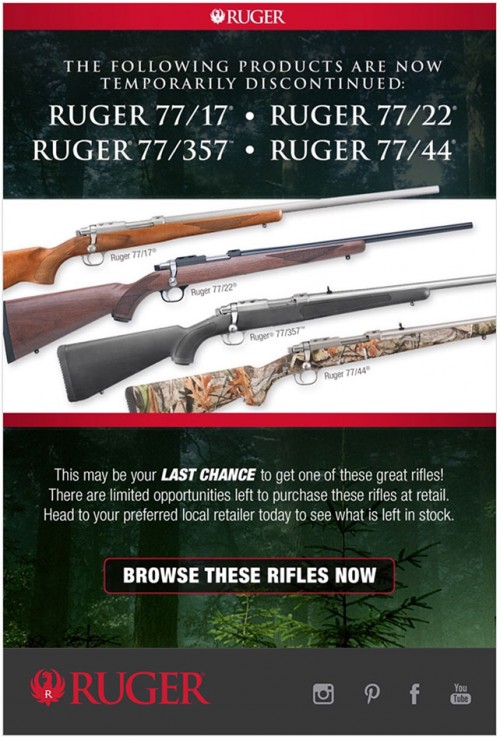 The 77-Series rifle line includes the following rifles/calibers which are popular with Varminters:

The 77/17 line includes the following calibers:

The 77/22 line includes the following calibers:
The 357 and 44 Magnum lines are also included in the list.
We will be speaking with Ruger at the next SHOT Show in order to get specific details on this announcement, and to clarify some of the points being discussed by Ruger fans.  Also, keep an eye out for some possible new models coming from Ruger, that "may" replace the 77 Series in the future.

Varminter Magazine is a free online varmint hunting magazine with articles and videos on varmint hunting, as well as full rifle, ammo and product reviews.

Latest posts by Varminter Magazine (see all)
Share This: