Share This:










Geissele established itself in the AR15 trigger world years ago, by producing high-quality, very efficient, fast triggers. Now they are expanding their trigger expertise into the bolt-action rifle world, starting with the new Geissele Super 700 trigger for the Remington M700. This new trigger is available for pre-order from Brownell's (if you buy through this link, Varminter makes a small percentage from each sale). Here is the information listed on the Brownell's Super 700 Trigger page: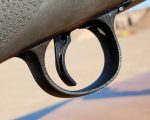 The Geissele Super 700 is a revolutionary trigger assembly engineered as a drop in upgrade to the Remington 700 series rifle platforms currently in the field today. This trigger is fully adjustable to meet any shooters preference. The trigger is adjustable for total pull weight from .75 lbs. to 3.5 lbs. The most unique feature of the Geissele Super 700 is its ability to be configured as a single stage or a two stage without the need to swap out any parts. This adjustability will allow a shooter to configure their trigger to be a single or two stage trigger, and will also for the adjustment of weight distribution between first and second stage, and finally the total pull weight. This level of adjustability makes the Super 700 trigger perfect for any shooters needs whether it be military/law enforcement, hunting, target or bench rest shooting.
Available as either preset 2-stage or single stage
User adjustable pull weight from .75lbs – 3.5lbs
Triple redundant safety mechanism
This trigger system is manufactured from high quality aerospace grade materials and includes state of the art high CNC machining and exclusive Nanoweapon. The Super 700 also utilizes a triple redundant safety mechanism which blocks three key trigger components when placed in the safe condition
There is not a lot of information out there yet, but our video with Dan from Geissele helps explain a lot of the missing information.
Latest posts by Eric Mayer
(see all)
Share This: