QUOTE (Eric Mayer @ Dec 19 2005, 11:00 PM)
You know the one. It happens one of two ways.
First way: You are in a gunshop and you suddenly see it. The gun you've read about, thought about, but never bought because you've never seen one in real life. The moment you see it, you cannot wait to get your hands on it and the "burning feeling" starts. The seconds seem like hours as the salesperson stumbles to grab the rifle. Finally, he hands it to you. By this time, the "burning feeling" has engulfed your entire body. Nothing can stop you from buying this gun. It has overwhelmed any sense of prudence left in your brain. Add another one to the funsafe.
Second way: You see a rifle in a gunshop that peaks your interest a bit. You see the price and not knowing that it is a killer deal, you decide to investigate it a bit more before buying. So, you get home, log into your favourite hunting/gun forums and start asking about the rifle. As you start to read the responses, how this rifle normally goes for 2 times what they are asking. Or the rifle is very rare and if you do not want it, tell them where it is and they will buy it tomorrow. Even worse is that the rifle is in the most fun caliber ever made, that kills like a lightening bolt and blows up all critters it hits into tiny little chunks! The "burn" starts. You start kicking yourself for not buying it when you first saw it.
The night takes forever, you wake up the next morning, only to find when you arrive at the gunshop that they are closed!! Holy Crap!! Your brain is going a mile a minute. Though it is 30 degrees outside, you are only wearing a light jacket because your body is going through "Manopause" and the hot flashes are burning you up. Did someone else buy the gun yesterday? You press your face against the gunshop's window to see if it is still there. ARGH!!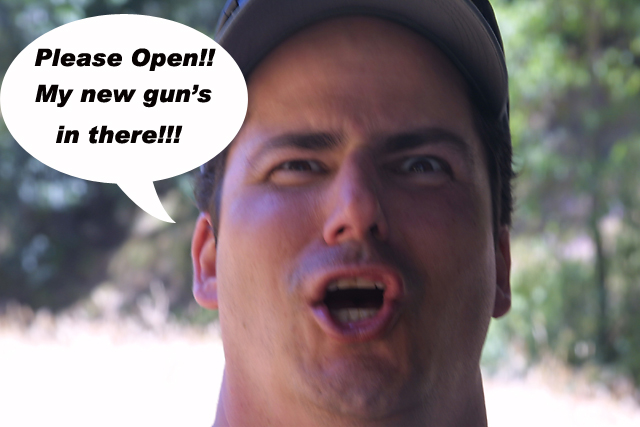 So, have you felt the "burning feeling"? I have and many times I have missed some pretty good opportunities, as well as lost a bunch of sleep. Over a gun...
I feel dirty.
Eric A. Mayer
Last time I had the "burning" was in 1966 but penicillian took care of it.