I got a chance to go out and help one of the local ranchers with his varmint problem today.... I took my 2260 HPA and my .35 cal BRod.... The .22 cal shoots 18.1 gr. JSB Heavies at 960 (37 FPE) and gets 50-60 shots per fill on the 3000 psi 13 CI bottle.... It is regulated at 1600 psi, and has a 3-12X Hawke SF scope.... The .35 cal BRod is regulated at 2200 psi and has a 500 cc 3000 psi bottle.... It shoots the 83 gr. NOE Hollowpoint at just under 900 fps (150 FPE), and has just a 3-9X Leapers scope....

I used the .22 cal for all the "gopher" shooting (we have Columbia Ground Squirrels here), and got at least 60, of which about a third were small kits, not long out of the burrow.... Interestingly, the late morning was mostly adults, while about 2PM was almost all kits, which are a tiny target, only about 1" across.... I tagged the GS's anywhere from 10-90 yards, with most shots between 40-60 yards.... The "best" shots of the day were taking 4 kits with 4 shots at 80 yards (lasered), which is 3 MilDots of holdover at 12X.... Here they are where they fell....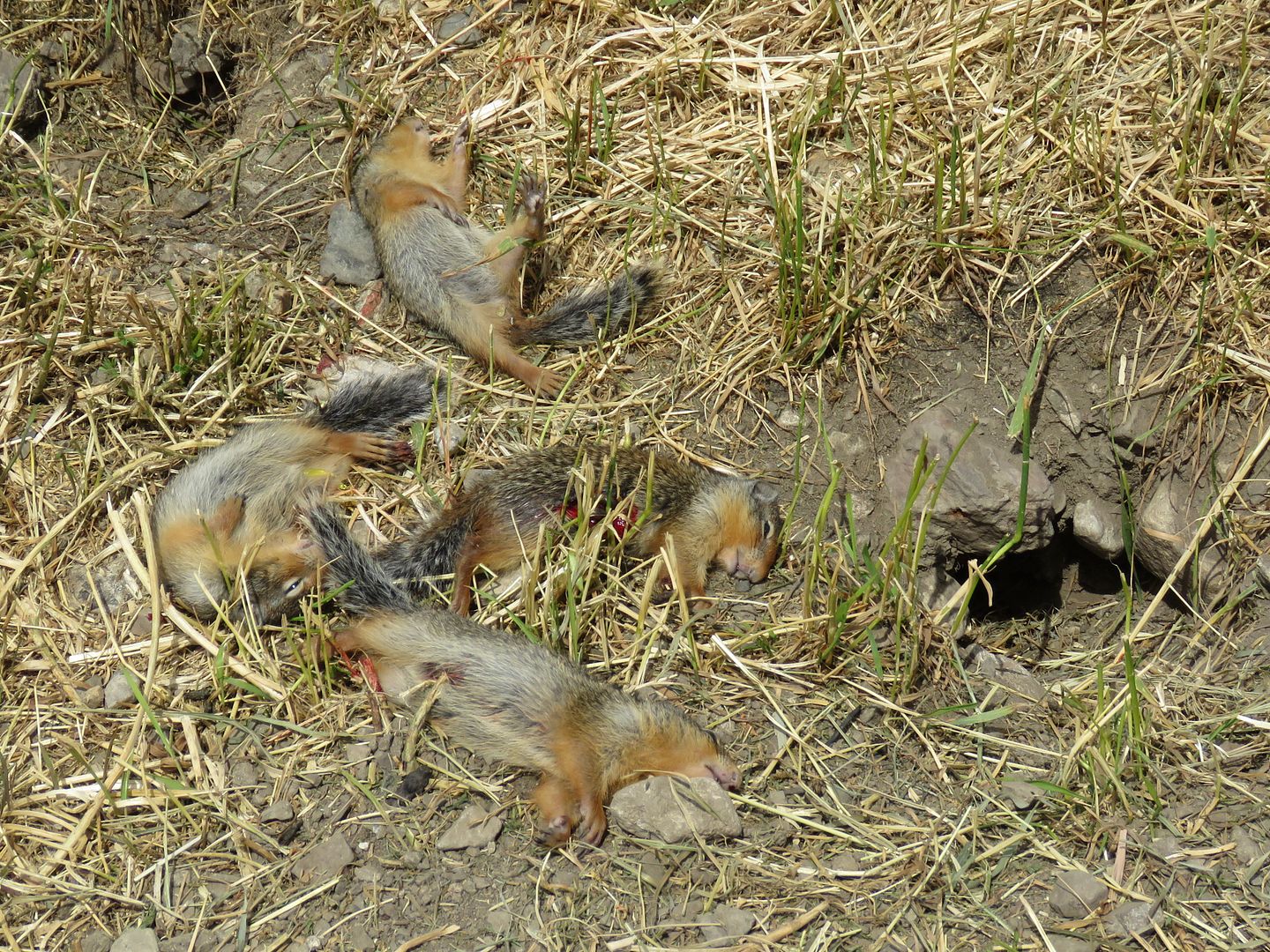 No, seriously, that was exactly the way they were laying when I got to them!.... After I shot the first one, the others kept coming over to see what was happening.... The young ones sure are dumb and curious, but in a month will be eating a lot of alfalfa in that field.... I got 4 Marmots with the .35 cal, the reason for using it was to see how the HPs performed on something larger than a GS.... They pretty much turn a GS inside out.... All the Marmots were a 1 shot kill at 40-50 yards.... I have shot a lot of Marmots, and I have never seen anything anchor them like that .357 cal HP.... They all dropped where they were, except the one I hit in the head, which knocked it backwards about 4 feet!.... The exit wounds are really nasty, hence no pics....

It was a great day, and the rancher was as pleased as I was.... and I am over the moon about the performance of those 83 gr. NOE HP's.... They are far superior to a .22LR high velocity HP.... 



Bob