So I see a lot of people like to use shooting sticks. The only problem is I don't have much moolah as I'm a student, and hike to most of my locations which means the shooting sticks need to be very portable.
I made a pair out of 3/8 fiberglass rod. 3/8 rod is commonly used in electric fence posts, and is very cheap. However, I made mine out of "driveway markers" which I got at Canadian Tire. They were 58" long, so I had to cut them down. Came in at $8 Canadian each.
https://www.canadian...03330p.html#spc
I purchased a bunch of camo paracord from Michael's for about $8.
I spray painted the rods brown, used a cobra stitch for the tops where the rifle rests, and used a prusik knot to tie them together.

This is how it turned out: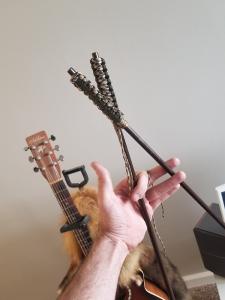 Total cost was around $24 plus tax Canadian.

Edited by Tetroniker, 13 January 2019 - 08:40 AM.