**This Contest is OVER** - July 12, 2014  -  EM
I first reviewed the Savage B.MAG and the 17 Winchester Super Magnum Ammunition in July 2013.  It included a video that showed the rifle and ammo in action.  The first video, as well as the two that followed, have resulted in over 185,000 views, equaling over 420 days in actual time spent watching the videos!!
Unfortunately, this popularity and the current ammunition situation, has caused a shortage of ammunition for people who have rifles, but no ammo to shoot.  So, If you have NO 17 Winchester Super Magnum ammunition for your rifle, this is your chance to win some here!
This is going to be a tough contest, but it will be worthwhile to the winner, as that person will win two boxes of the 17 Winchester Super Magnum ammunition.  One box of the 20 grain and one box of the 25 grain, shipped to your door.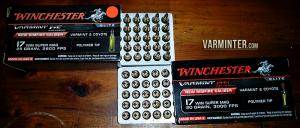 Here are the "rules":
1)  You must have a delivery address within the Contiguous 48 States (no Alaska or Hawaii) and be allowed to accept ammunition at your home address.
2)  You must post a photograph of your Savage B.MAG, with a print-out of the image linked here (Click Here), in this thread.
3)  If you do not have a Savage B.MAG, but have another firearm chambered in the 17WSM cartridge, you must contact me via PM and include your telephone number.
4)  If you have ammo, please do not participate in this contest.  If you are caught lying, you will not be able to participate in any other giveaway contest in the future (we have some rifle giveaways coming soon, so you may not want to take the chance).
5)  I am requesting (not requiring) that you post some pictures of your kills with your rifle after receiving the ammunition.
6)  You must be a member in good standing (Current or New).
7)  The contest will end when we have at least 15 seperate entries, or when I deem it is time to end it because it is dragging on.
8)  Winner will be drawn randomly in a unique manner.
If you have any questions, please ask in this thread.  Participants must post in this thread.  If you just want to cheer folks on, you can also post in this thread!
Good Luck!!
Eric A. Mayer