I was adding some pictures to the main site's Photo Gallery and came across some of my old pictures, so I thought I would repost a few on here.  These are all scanned in, so the quality isn't very good.
Here's an old picture of something I hope to be doing sometime next week, Bowfishing!: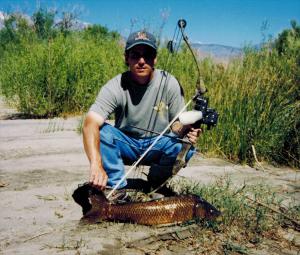 Some long-range shooting up in Central California.  We were shooting about 400 to 500 yards at the huge rock pile for rabbits and ground squirrels.  Do you notice the dead cows out in the field to our left?  When the wind would swirl, we would taste their rotting flesh!  They drowned in the aqueduct and the farmer move them out to the field to "disappear".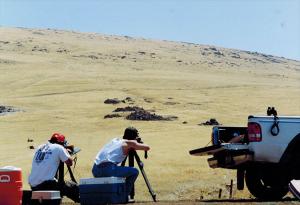 I hunted predators with my Remington Model 700 in .17 Remington most of the winter, so I would practice with it during the summer.  Here are some cottontail that were out at 530 yards.  We would hold about 10 feet high, then watch as a "puff" of dirt hit behind the rabbits.  They would walk a few feet, then keel-over dead.  The 25 grain bullet just punched a clean hole through their chests without expanding at all.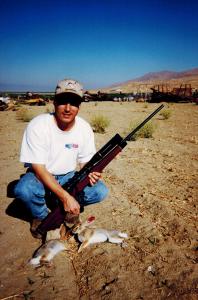 I shot a cottontail at about 75 yards with my 220 Swift.  He was facing away from me, so I put the crosshairs on the back of his head and squeezed.  When the bullet hit, we saw his face flying in the air and it landed about 20 yards away.  I was in shock, but it also confirmed my belief that the best way to go is a well-placed bullet into the head.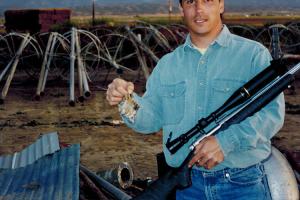 Here is me with my 220 Swift again, up in the mountains of Northeast California.  I shot this rockchuck at a few hundred yards, but I remember the area better than the shot.  It was beautiful!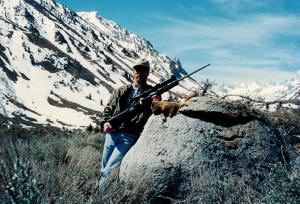 Last one for now.  Here is one of many winter coyotes I took in the high desert of California.  During winter, we would seek out the sand dunes because the predators would work the brush for rodents.  They were littered with rodent and predator tracks, so it never failed that we would call one in.  This trip was one of my first forays into videoing my hunts.  A buddy of mine and I went in halves on a $1300 Sony video camera that was as big as a Foxpro FX3!  We got some good video, but transferring the tape to a computer, then editing it, was too much of a pain in the butt!  We wanted to go hunting, so that idea quickly went away.  Btw, the rifle isn't purple, the scan distorted the image of the Remington Model 700 in .17 Remington.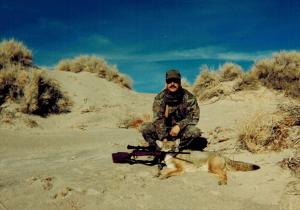 -----
I hope you enjoyed the pictures!