Ok so this is my first real post her so here we go.
Like most after picking up the bmag I immediately knew that its in desperate need of a better stock so as soon as boyds announced that there Bmag stocks were ready to be ordered I went ahead and got one. This isn't really a review, its more of a first impressions of the Boyds tacticool stock that I received.
To start off I will say that the stock is really good quality and the textured paint is really nice. The overall finish was really nice and it feels really solid. The problems started when I placed the action in the stock. Boyds does say that there stocks often will need minor fitting to get a perfect fit and I was fine what that but my stock needed more than just "minor fitting". At first I noticed that the barrel was nowhere close to being free floated as it hugged the left side of the stock all the way to the end. So after a half hour of sanding Its still not exactly where I would like it but its better than the factory stock it doesn't bend. The next problem was when I put the rotating mag in the gun it would not fit so I had about an hours worth of sanding to get the mag to even click in and its still really stiff and requires a good amount of pressure to click in. The trigger guard that is included is really disappointing as its made of a really cheap plastic and mine cracked just by snugging the screws but is still useable. So would I recommend? Yes I would as long as you don't mind doing some work to get it to fit just right. This stock is 10 times better than the factory one and really makes the B-mag feel more like a rifle than a toy. I will be posting about the accuracy when I get the chance to shoot the gun. Its a snow storm in Ohio right now so I can't really say when that will be. Thanks
NOTE
: Be sure to reuse the factory escutcheons
that are used in the original stock! These act as spacers and if not used the safety on the gun will not operate correctly. I learned the hard way!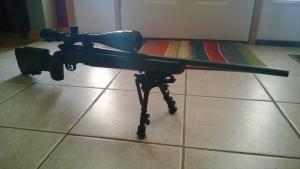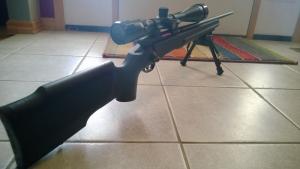 Edited by ohiohunter, 26 January 2014 - 08:04 PM.