After many hours of research, my buddy Tom and I finally got the chance to head up north to try and get permission on some new hunting areas. Many of my regular areas have been shut-down, or just don't hold varmints like they used to. I spent a lot of time on Google Maps, using the Satellite feature to scour the crops up in the area I wanted to hunt. I knew there were ground squirrels (our main quarry) in the area, but with some of the clean farms that are being run today, it leaves little room for these varmints to find a long-term home. One area caught my eye because I could see what looked like ground squirrel trails and burrows on the image! I printed out some grids so that we could work our way back and forth, investigating and hopefully confirming what the satellite images had shown me.
On this trip I was determined to travel light. I wasn't expecting to find an area to hunt, but I was expecting to approach land-owners, so I also dressed appropriately as well. I packed two guns, my new Daystate Huntsman XL airgun and my old favorite, a CZ Model 452 American in .17 Mach2 caliber. My buddy Tom brought his Benjamin Marauder and his lever-action .22 Magnum. We both had our pellets, as well as the new Hornady NTX lead-free ammunition for each of our guns.
After a quick stop to pick-up some McDonalds (to go!) and a stop to get some gas for my truck (ouch!), we were able to hit the area around 9:00 or so in the morning. After winding around some farms in the area, we saw a few ground squirrels, but not enough to pursue permission to hunt. At one point, I realized I was actually headed in the wrong direction, away from the area I wanted to explore! I did a quick U-Turn and made a beeline for my target area. To make a long story short, once we found the area I had researched, I realized that my information was dead-on. We passed field after field of ground squirrels eating, playing and lounging in the sun. Now came the difficult part, finding the owner of the property. We stopped and asked various people if they knew who owned the land. We were directed to either houses with nothing but pissed off dogs that we did not want to meet outside of my truck, or areas with lots of people who didn't know anything. I was getting frustrated because the anticipation of a great hunt was killing me. I did not want to leave this area without securing permission and maybe getting in some shooting!
Then it happened, we finally met a couple of workers who did not speak English. I tried to explain what we wanted to do and where. I think one of them finally got sick of me making gestures like I was shooting things and pointing at mounds of dirt (each one of them had ground squirrels sitting on them) 100's of yards away! He gave us the name of the owner and his phone number! The owner, we'll call him "Bob", was very nice when I spoke to him and didn't even let me finish my sentence before telling me that we should "kill every ground squirrel you see"! We met up with him face-to-face and got information about the property, as well as his full name and contact information for our permission slip! Finally, about an hour and a half after finding the spot, we could pull out some rifles and do some hunting!
I pulled out my Huntsman, filled it up (just below 200 BAR, as I was still using my old tank), grabbed some pellets, a shooting stick, rangefinder and was on my way into the field. My first kill was only about 45 yards away. He was sitting on top of a mound and I popped him right in the head/neck area. He dropped immediately, barely making a quiver. I worked my way along a fence line and was able to shoot a bunch more. They were not very long shots, with the majority of them within 50 yards. I hit many that were impossible to retrieve due to flimsy fences. I wasn't going to take any chances to try and scale them, just to collect a dead ground squirrel. I was very happy with the performance of my Huntsman. Even with the lower fill, I was able to connect with authority on some very large ground squirrels late into my shot count. This allowed me to walk quite a ways without having to worry about heading back to my truck for a refill.
We spent most of the day exploring the property and picking off ground squirrels when they gave us the opportunity. I admit that I made a few bad shots, which resulted in misses or necessary follow-up shots. It goes to show you that when it comes to airguns, you really need to know your yardage and your gun. By the end of the day, I was doing much better with longer shots and placement.
A Few of the Large Ground Squirrels taken with the Daystate Huntsman XL: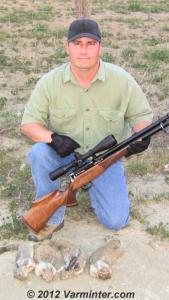 Comparison with an 8" Water Bottle: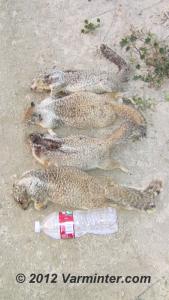 As the sun started to go down, we pulled out our rimfires and I decided to clean-up some ground squirrels that were staying just out of range of my airgun. I slowly worked my way along another fenceline and set-up in the shade of a large post. I had three fields to shoot, so the opportunities were numerous. One thing that amazes me still with the 17HM2 (17 Mach2), is the ability to hold almost dead-on any small varmint out to 150 yards with devastating results. The new 15.5 grain NTX lead-free round I was using put down very large ground squirrels with one shot. It is a dynamic, accurate little round!
124 Yard - One shot kill, DRT :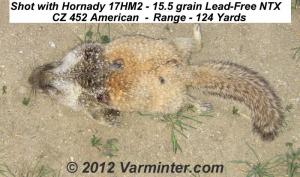 These were taken at various distances over 75 yards, with the middle squirrel ranged at exactly 139 yards, using my CZ Model 452 American: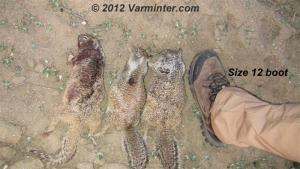 ------------------------------------------
Eric A. Mayer