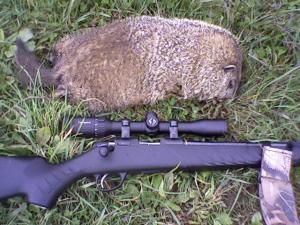 56 F 55 Percent RH Overcast and Winds about 5-10 MPH. Raindrops here and there on the windshield, but it didn't rain. I drove through the dairy farm and walked a bit with my Lab who attempted to roll in some cow dung, or something. Fortunately it was dried. I let him run about a bit when it was clear that there were no Charlies for him to spook.
I went by the pumpkin patch and the Charlie(s) had quite a party. I couldn't see any, and it is pretty hard to pick out targets with so much visual noise in the midst of pumpkin patch.
I bumped into the farmer and he asked if I had shot the Charlie at the big barn. I hadn't, so I went back. The barn is on the top of hill, and chuck had made his hole on the down slope of hill with the entrance facing downhill. I left the Lab in the SUV. No point in letting him spook any Charlies now. I approached from the barn and as I got to the hole I saw his head and he quickly dropped back into his hole. I backed away and naturally stepped in a pile of cow manure. I continued to back up about 30 feet away uphill and after LOOKING AROUND for a clear spot, sat down, set up my shooting sticks and got my Sako Quad set up. I dialed down my Zeiss Conquest to 2.5 power checked the sight picture looking at the hole, tripoded the gun and shooting sticks and waited. I knew the chuck would have to exit looking away from me, downhill, so I would likely get a shot. I was low and had a camo hat and jacket and not likely to startle him if I remained still even if he saw me right away. I didn't have to wait long. I don't think a minute went by. He crept out slowly facing downhill as I expected, I raised the Sako Quad to my shoulder but he stopped with just his head showing. I put the crosshairs on the back of his head. I could see grass and weeds in my scope picture. It was a bad shot. I waited. He crept out. Suddenly he was all the way out on top. He stood up. I put the crosshairs the back of his head and squeezed off. The 22 Mag 30 Gr Hornady V-Max report snapped out across the hillside as the chuck fell forward. I watched through the scope as just his tail twitched for a few seconds and then stopped. I got up and walked up to him, nudged his body with my shoe to make sure he was done with this dimension and time and space, picked him up by his tail and tossed him up hill for his post mortem photo.
He was eating pretty well. Nice and fat.
Edited by Songdog1, 02 October 2009 - 11:53 AM.